NSF Funds Machine-Learning Research at UNO and UNL to Study Energy Requirements of Walking in Older Adults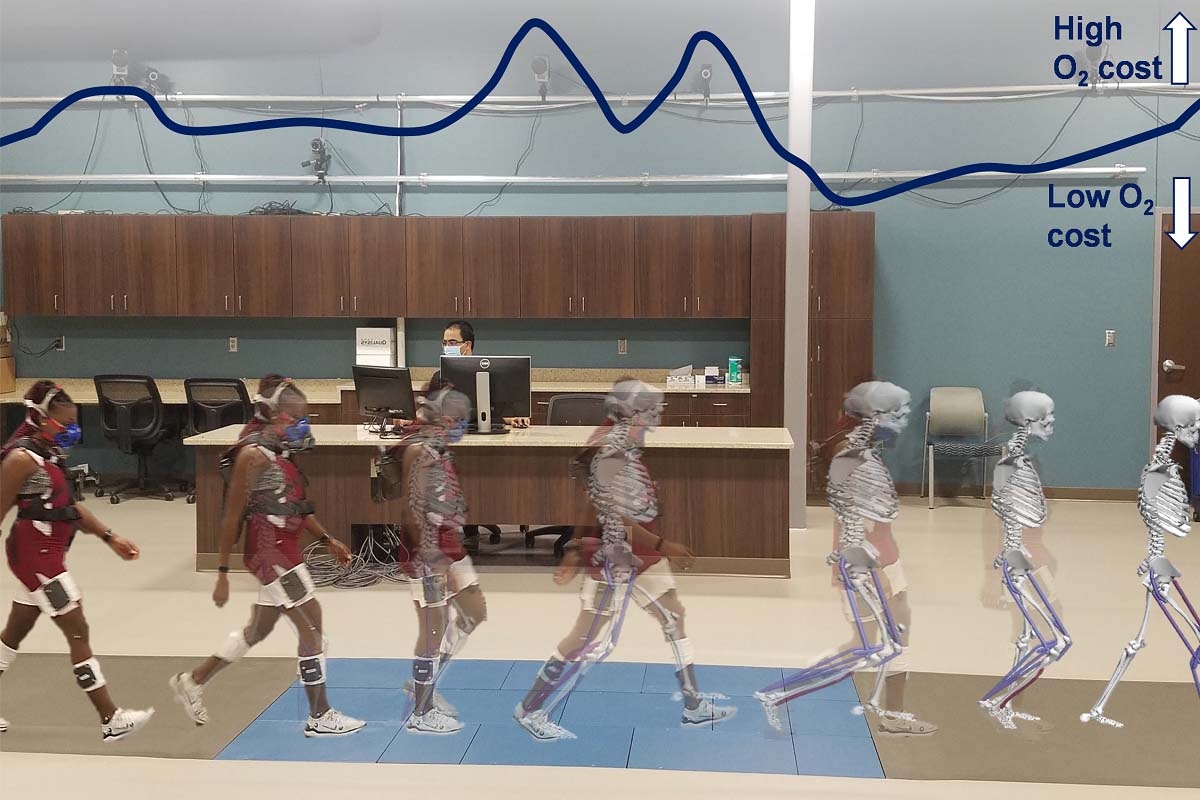 Estimation of the metabolic cost of different phases of the gait cycle from previous musculoskeletal simulation research at the University of Nebraska Omaha.
For a healthy young adult, walking for ten minutes consumes less energy than the calorie content of one slice of bread. However, as we grow older, our bodies become less energy efficient, turning simple daily activities like walking around a block into a daunting effort.
Although the effect of aging on the energetic costs of walking is well-documented, we do not yet have a complete understanding of what causes the progressive increase in energetic cost. One of the challenges to understanding this phenomenon is that current technologies for assessing metabolic energy consumption require measuring several minutes of breathing. These measurements are too slow to gain insight into the energetic cost of different phases of the gait cycle.
The Disability and Rehabilitation Engineering program (DARE) and the Established Program to Stimulate Competitive Research (EPSCoR) from the National Science Foundation (NSF) are funding a collaborative project at the University of Nebraska at Omaha (UNO) and at the University of Nebraska at Lincoln (UNL) aimed at investigating the metabolic cost of different phases of the walking gait cycle.
It is expected that this inter-campus collaboration between researchers from different disciplines will enable the development more creative solutions than single-discipline research. Biomechanics researchers at UNO will conduct motion-capture experiments in which they will influence different phases using a robotic waist tether will use data from these experiments to develop machine learning algorithms that estimate fluctuations in the energetic cost at a sub-stride cycle resolution.
"By leveraging algorithms developed in machine learning research, we aim to estimate the metabolic cost of different gait phases in a more model-free and robust way than previous research that used musculoskeletal modeling," Keegan Moore, Ph.D., the principal investigator at UNL, said.
This research is expected to create practical applications for gait rehabilitation. "Being able to detect the energetic cost of different phases of the gait cycle would enable us to design improved assistive devices such as orthoses or exoskeletons that specifically target the costliest phase of the gait cycle," Philippe Malcolm, Ph.D., the principal investigator at UNO, said.
In addition to the research component, the NSF funding will also support both principal investigators in teaching courses for older Nebraskans at the Osher Lifelong Learning Institute (OLLI). Course content will include the health benefits of walking and introductions to machine learning, thereby serving the NSF's mission of integrating research and education for all.
This material is based upon work supported by the NSF under grants no. 2203143 and 2203144. Any opinions, findings, conclusions, or recommendations expressed in this material are those of the author(s) and do not necessarily reflect the views of the NSF. The collaboration that led to this award was formed through a University of Nebraska Collaboration Initiative grant.
About the University of Nebraska at Omaha
Located in one of America's best cities to live, work and learn, the University of Nebraska at Omaha (UNO) is Nebraska's premier metropolitan university. With more than 15,000 students enrolled in 200-plus programs of study, UNO is recognized nationally for its online education, graduate education, military friendliness and community engagement efforts. Founded in 1908, UNO has served learners of all backgrounds for more than 100 years and is dedicated to another century of excellence both in the classroom and in the community.
Follow UNO on Facebook, Twitter, Instagram, TikTok, LinkedIn, and YouTube.