UNO Hockey Coach Jerrard Works to Make the Sport More Inclusive, Diverse
published: 2021/12/20
contact: Tavion Davis - University Communications
email: unonews@unomaha.edu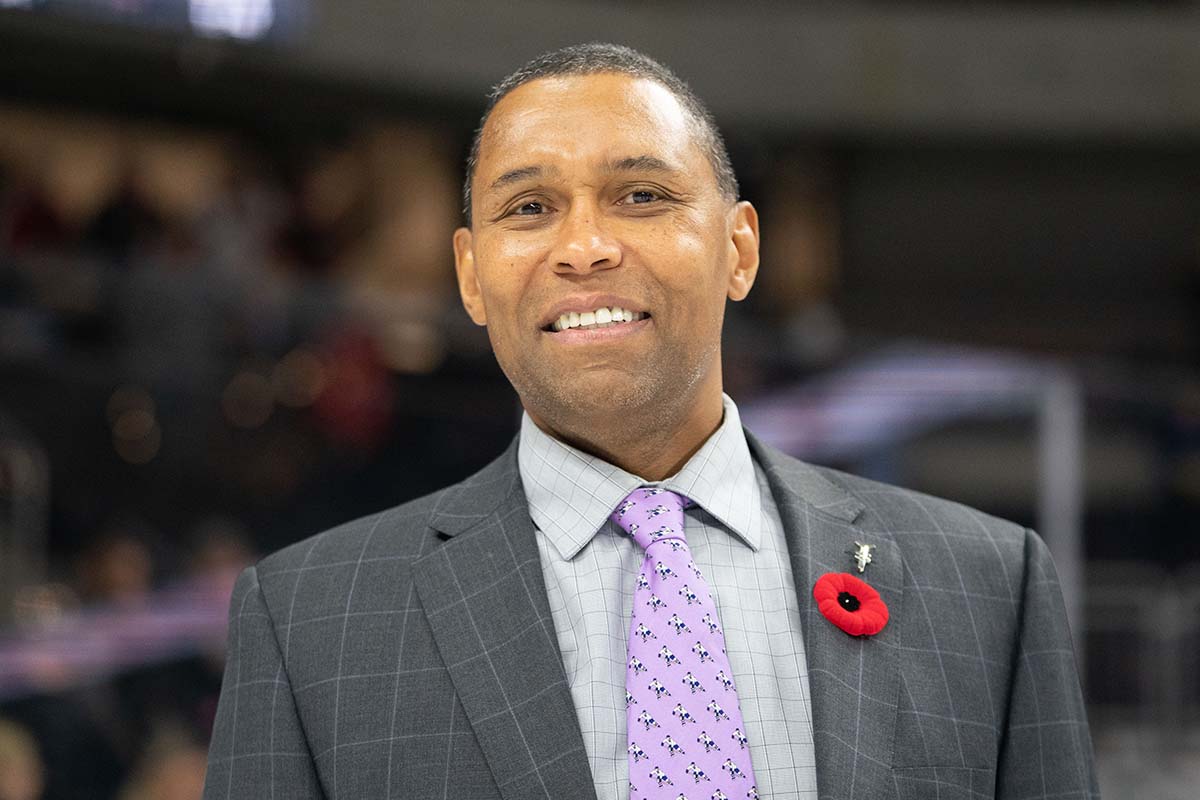 Paul Jerrard, UNO Mavericks assistant men's hockey coach, is one of a small pool of Black coaches in the NCAA, and he uses his position to promote diversity and inclusion initiatives in the sport.
Jerrard grew up playing hockey in Winnipeg, Manitoba. He'd go on to play for Lake Superior State University before continuing to skate at the minor league level with the Colorado Rangers of the IHL. He reached the NHL level with the Minnesota North Stars for a brief stint before returning to the minors. He remained in the minors playing for various IHL teams for the rest of his playing career.
The end of his career as a player marked the beginning of his life as a coach. Jerrard worked as an assistant coach in college hockey for his first four years before moving on the coach professional teams. He wouldn't return to coaching college hockey until being offered an assistant coaching position at UNO in 2018.
As one of the few Black coaches in college hockey, Jerrard thought it was important to support a cause that worked towards making hockey a more diverse sport for future players. That's why he started getting involved in an initiative called College Hockey for Diversity, Equity, and Inclusion (or #CollegeHockey4DEI).
"College Hockey 4DEI is a group of players, coaches, and administrators from all across US College hockey. We are a group that is committed to making college hockey a safe place that respects the individual differences of everyone," Jerrard said.
Jerrard's role with College 4DEI is as a representative for UNO and the National Collegiate Hockey Conference (NCHC) to help spread the word. To help today's youth, and the players he interacts with he helps educate them on topics surrounding diversity, equity, and equality.
"My hope is that they will take what they have learned and become better humans once they leave our program," Jerrard said.
It has been a priority for Jerrard to embody College Hockey 4DEI's mission to his team at UNO. For example, there was a big discussion he had with his team after the incident where George Floyd was murdered while in police custody about the importance of bringing awareness to differences of people.
"We have adopted a 'cooperate and compete' motto, which simply states that we respect individual differences and cooperate regardless of them, in our competitive environment," Jerrard said.
"I have also had several side conversations with players talking about the adversity players of color have had to battle through," Jerrard said. "I also share many stories about the adversity I had growing up in a predominantly white sport."
Something that Jerrard wishes to pass on to other BIPOC coaches entering the profession is to never give up on your dream. If you want it, go after it, he says.
"I did that and am living proof that anything can happen if you dedicate yourself and put your mind to it," Jerrard said.
"I have really enjoyed my time with College Hockey 4DEI," Jerrard said. "It has been a great place to share stories, meet new people and devise a plan on how we are going to make a difference, and let the world know that College Hockey is a safe, welcoming environment for everyone."
College Hockey for Diversity, Equity & Inclusion is dedicated to creating positive cultural change across their sport through communication, education, allyship, and advocacy.
About the University of Nebraska at Omaha
Located in one of America's best cities to live, work and learn, the University of Nebraska at Omaha (UNO) is Nebraska's premier metropolitan university. With more than 15,000 students enrolled in 200-plus programs of study, UNO is recognized nationally for its online education, graduate education, military friendliness and community engagement efforts. Founded in 1908, UNO has served learners of all backgrounds for more than 100 years and is dedicated to another century of excellence both in the classroom and in the community.
Follow UNO on Facebook, Twitter, Instagram, TikTok, LinkedIn, and YouTube. 
Contact Us
If you have a story idea, news tip, or other question, please email the UNO News team at unonews@unomaha.edu.