Celebrating Our Newest Alumni
For more than 1,000 students, Friday marked the end of one important journey and the beginning of a new chapter in each of their lives. With family, friends, and thousands of other alumni behind them, it was clear to see that once you're a Maverick, you're always a Maverick.
published: 2021/12/18
contact: University Communications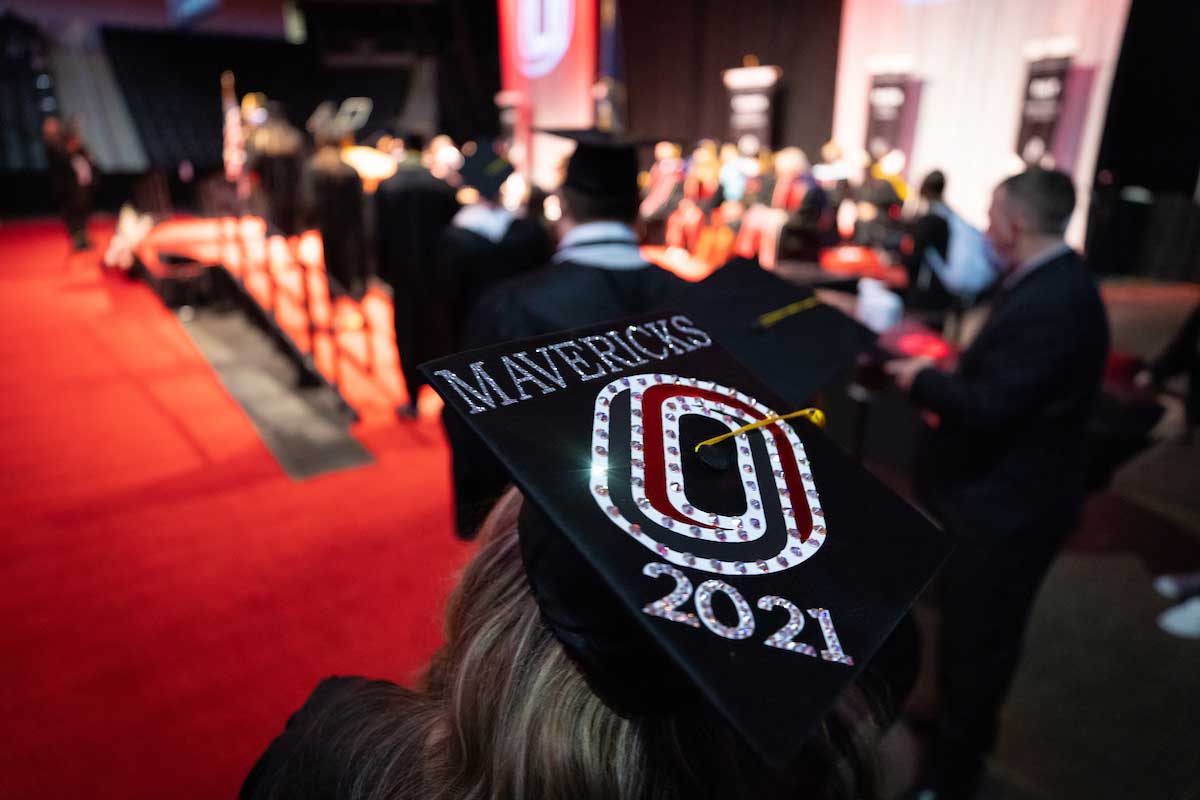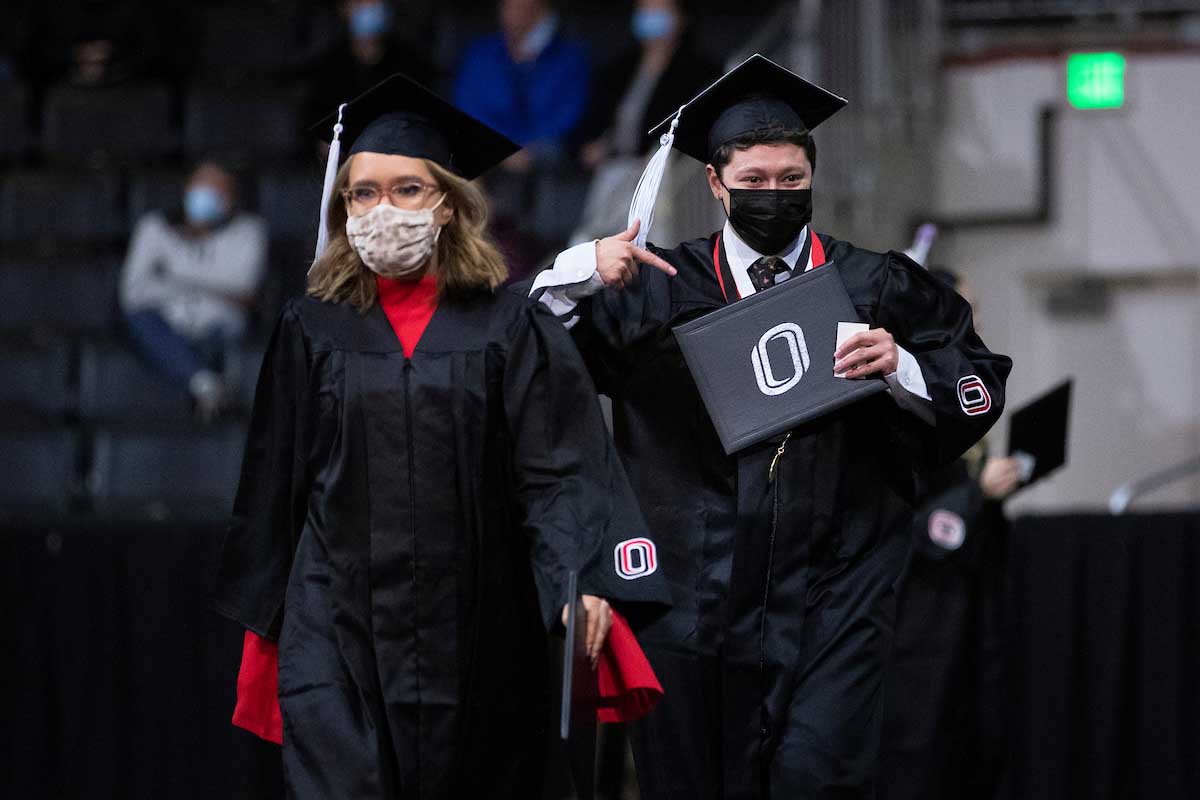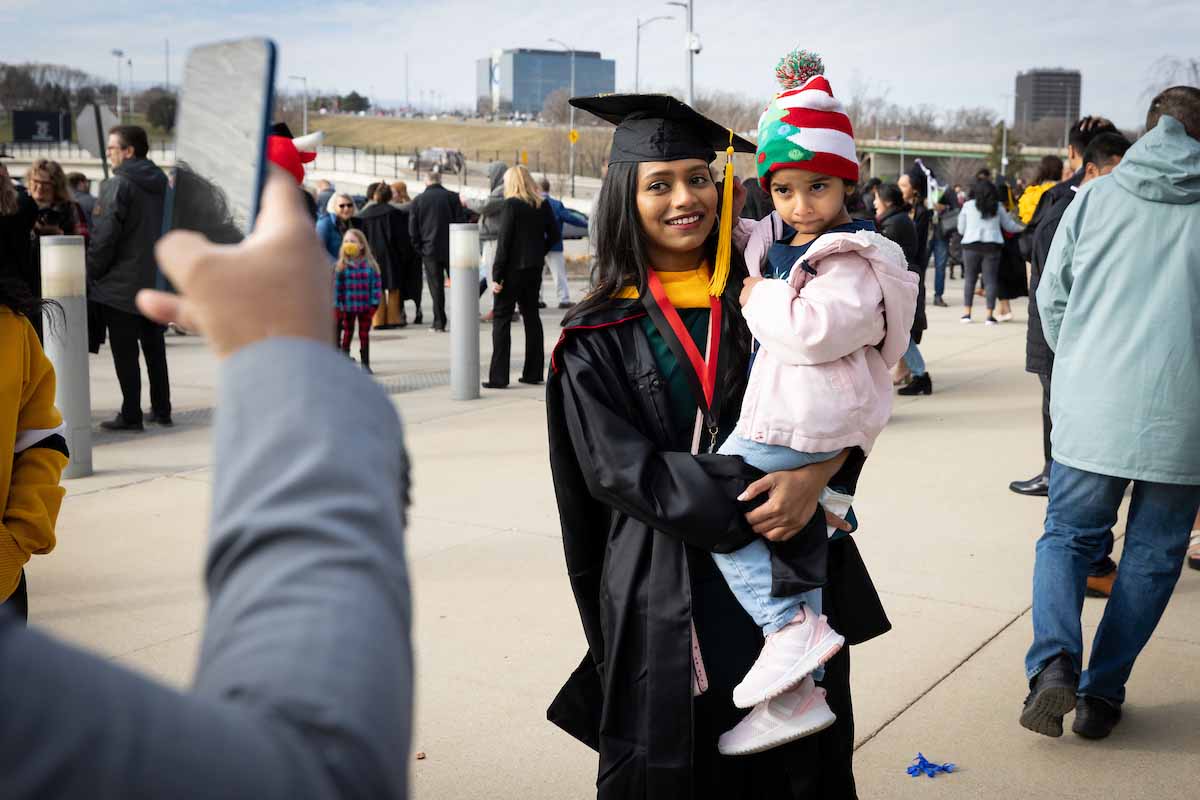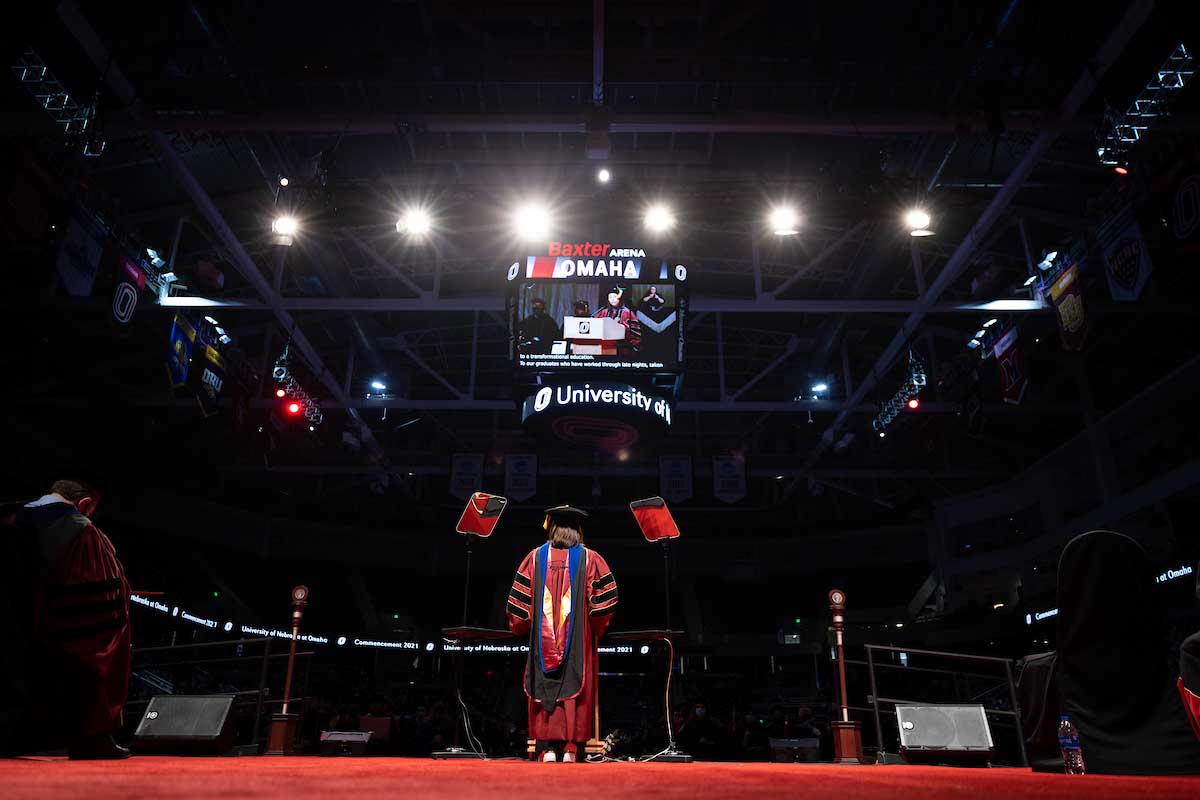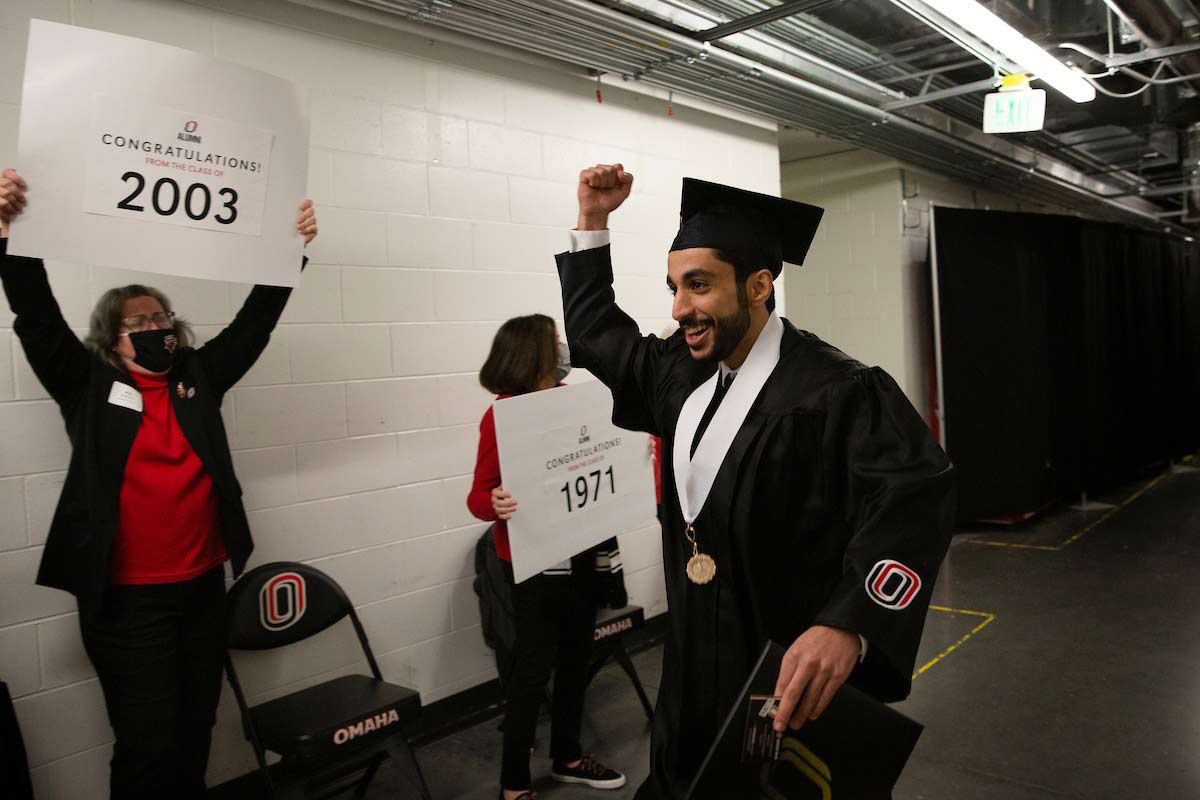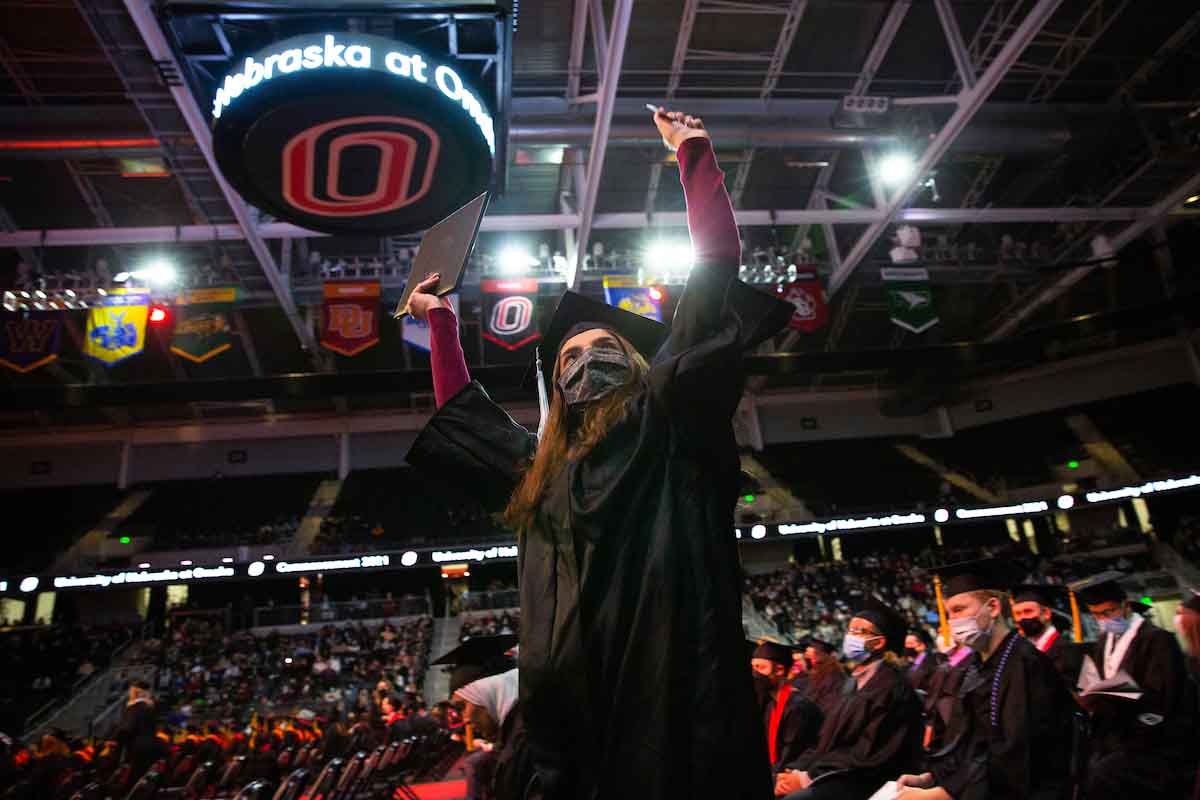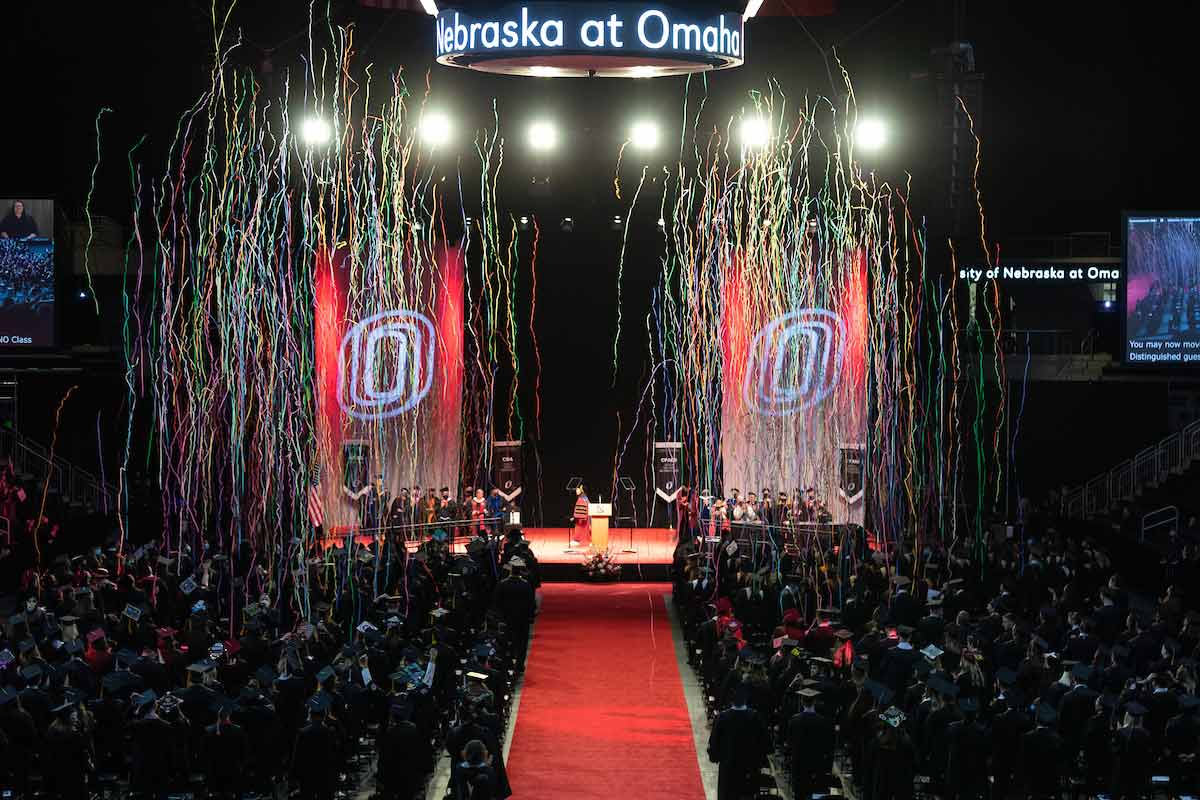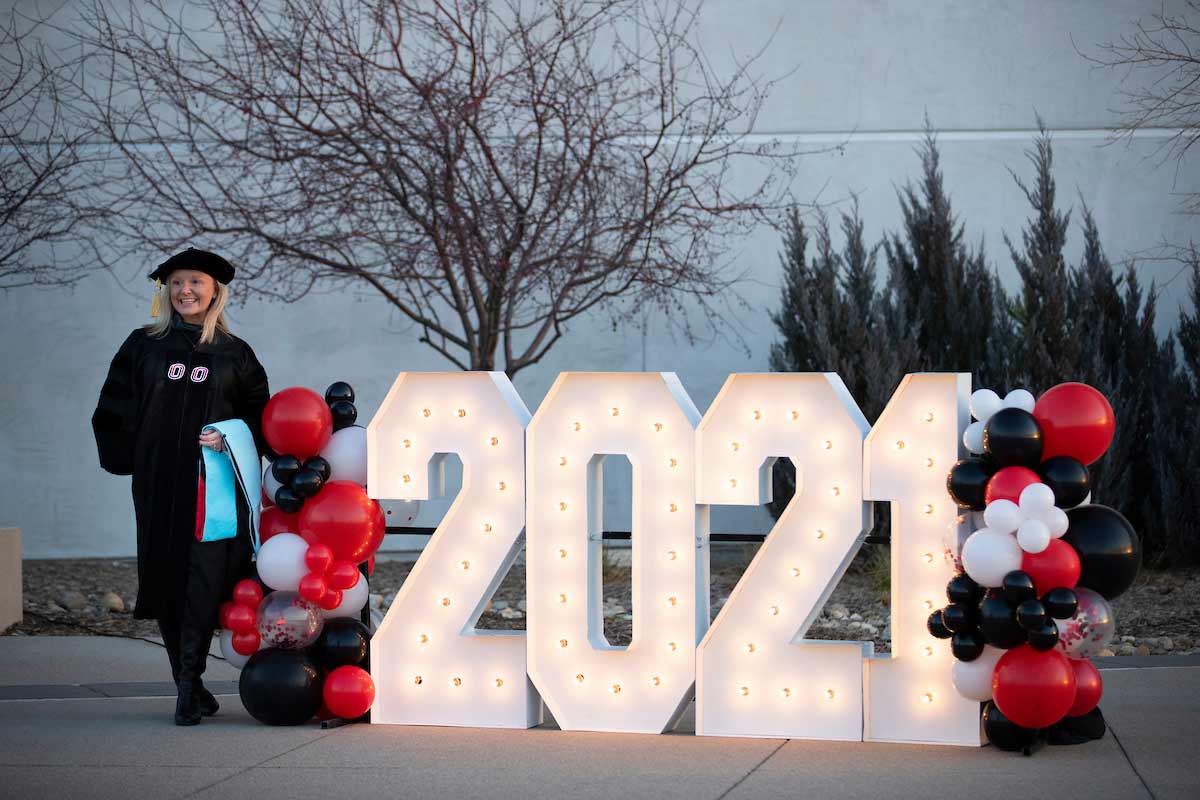 The chilly December air wasn't going to keep the latest class of soon-to-be Maverick alumni away from celebrating their accomplishments at Baxter Arena.

More than 700 students entered with their caps and gowns, decorated with messages of hope, joy, and celebration, as well as honor cords, stoles, and other accessories.

The time had finally arrived: UNO Commencement

Years - and some cases decades - in the making, these soon-to-be Maverick alumni got ready for their big day getting high-fives from Durango, learning more about the UNO Alumni Association, and taking selfies with classmates while, from above, their friends and family wave, clap, and cheer for the Maverick Class of 2021.

Awaiting each of this year's graduates, just feet away, awash in Maverick crimson and black, is the stage they'd be walking across - no longer a dream, but a reality.

What makes each Maverick graduating class so special are their stories.

Students who are completing their third UNO degree, those who are the first in their family to earn one, families earning degrees together, and those who overcame tremendous hardship to persevere and earn their degree.

These are the stories of or UNO Class of 2021. These are the stories of Mavericks.
---

A Letter to My Freshman Self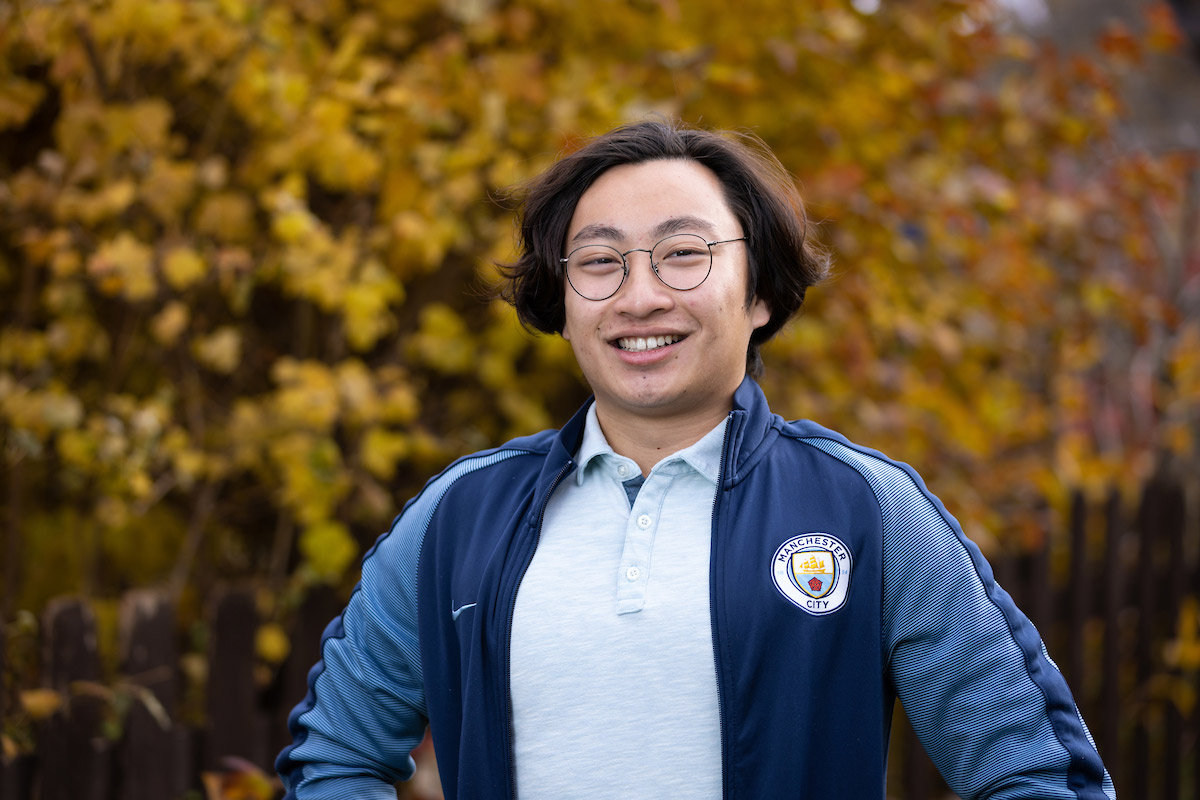 Each of our members of the Class of 2021 is a true Maverick in their own way. From the metro area to locations around the world, from certificate programs to terminal degrees, or from first-generation to multi-generation, our students carved their own path to reach their educational goals. Yet, they all have one thing in common: they are all Mavericks, and once a Maverick, always a Maverick.
Hear from our December 2021 Commencement Student Marshals as they read letters written to their younger selves about what graduation means to them:

All in the Family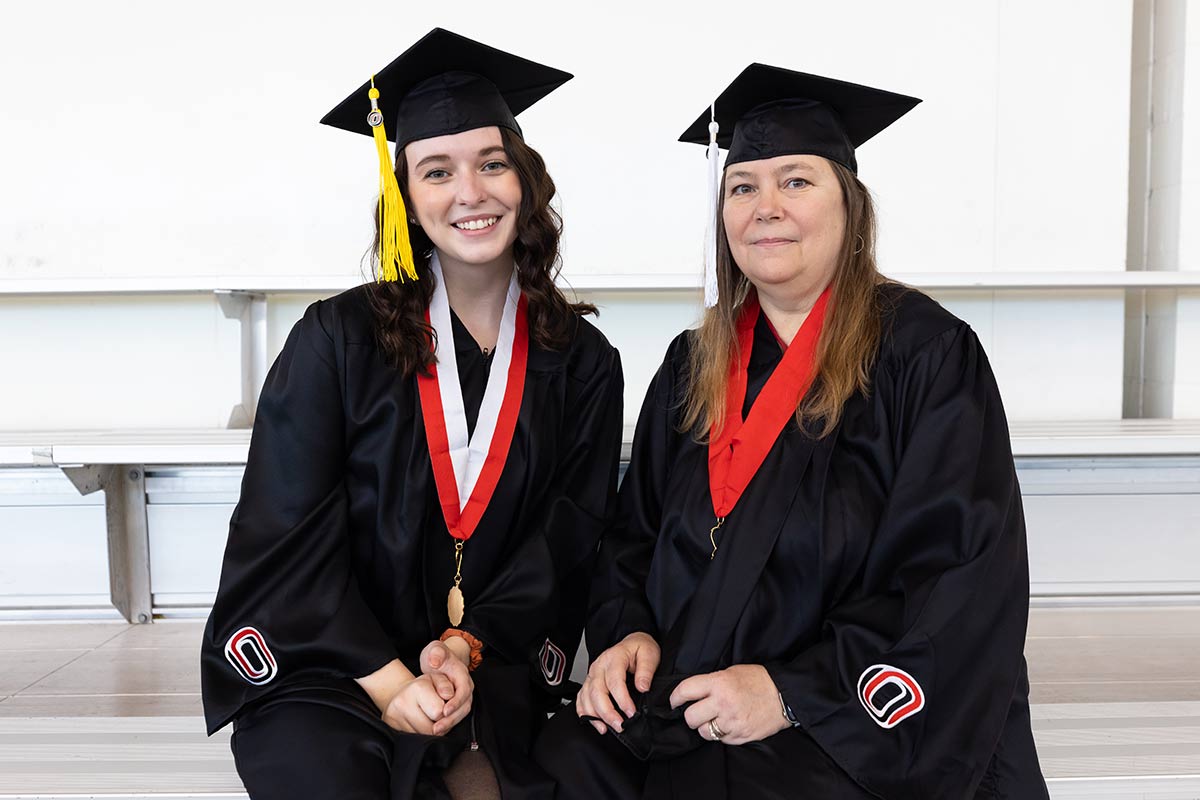 Two Mavericks who walked across the stage at the December 2021 Commencement ceremonies from the College of Arts and Sciences were a mother and daughter who, through COVID, found that they were both close to the finish line.
After starting her college career in Florida and dealing with illness, Caitlyn Jensen decided to come back to Omaha to get healthy and finish her degrees closer to home.
Meanwhile, her mother, Terry, faced life and employment changes due to the pandemic. These circumstances led her to investigate how she could finish the degree she began working toward back in the 80s.
"We chatted and we discovered that I had enough credits to finish in three semesters, and it turned out that's how much time she had left," Terry said.
With a goal set to graduate together, they were no longer just family but also classmates. Both students in the Department of English, Caitlyn and Terry had classes together, worked on projects together, and held each other accountable.
Caitlyn believes her mother's impact on her college education stretches back to before they were classmates. For Terry, communication, writing, and telling stories has always appealed to her. Like mother, like daughter, Caitlyn followed suit and added English to a second major in political science she planned to earn and help prepare her for a future in law school.
Caitlyn said the experience let her see her mom from a new perspective.
"I'm used to seeing her as my mom, not as a fellow student talking about assignments."
Caitlyn and Terry both walked across the stage to claim their degrees — a moment they said may not have been possible without additional family support. Terry's husband, Caitlyn's dad, supported them both in their studies particularly through late nights, household upkeep, and study break dinners.
Terry recognized how much work it must have taken to support them both on top of his full-time job.
"It's one thing supporting your child through college, it's another supporting your spouse and your child at the same time!"
Better Late Than Never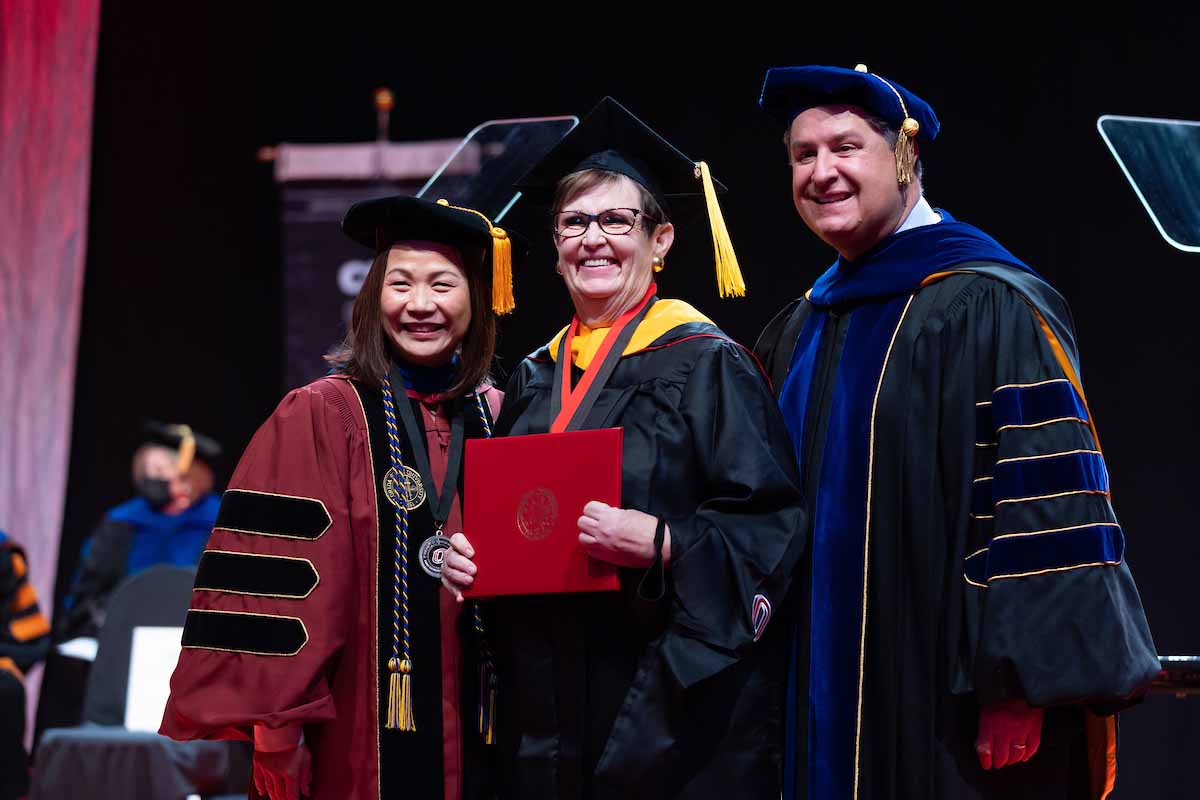 For Ellen Sexton, one of UNO's recent master's graduates, December 2021 marked the culmination of a decades-long journey fraught with pain, loss, courage, and, ultimately, triumph.

When this now two-time UNO graduate first arrived on campus in 1978, she had already had a difficult life by anyone's definition.

Leaving home at 15, dropping out of school, and then getting pregnant at a young age, a focus on education as a pathway to a better life was something she held on to.

After passing the GED she enrolled at UNO with the help of student loans but It wasn't long after she started that life threw the first obstacle in her path towards her goal.

"I had a stroke and so I was paralyzed and blind and so I had to drop out of school," Sexton says. "Everything went into default."

After she recovered, she tried again to pursue a degree, despite the uphill battle she now faced.

"I tried to get back into school but I had a really difficult time because I was in default, but [UNO] helped me get out of default and I came back"

Then came another, more devastating, event.

"I was only back a semester when my youngest daughter got killed," Sexton says. "When she got killed, I gave up on life. I was already in poverty and still had another young daughter and was a single mother and so I just wandered through life."

For three decades, Sexton struggled to survive, and several times ended up in prison. It is this experience that provided her a new purpose in life: get an education to help those, like her, whose path was shaped by forces out of their control and help them regain that control.

"When I was getting in trouble, when you would come out of incarceration, you couldn't get a job because you were a felon and it was almost impossible to get any job that could sustain you on a living wage," Sexton says. "I wanted to make something positive out of my negatives."

Flash forward to 2011 and Sexton was not only able to re-enroll in UNO, now for a third time, but actually complete her degree in criminal justice. It was here that her mentor, Bill Wakefield, a professor in the School of Criminology and Criminal Justice who she had taken classes from back in 1978, pushed her to continue on and earn a graduate degree.

Then came another life-altering setback.

Right as Sexton was at the end of her degree program, she formed blood clots in her chest and required significant medical treatment.

"They said I wouldn't make it through the night," Sexton says. "However, here I am today!"

Now, six years after needing to leave her master's program, and more than four decades after first stepping onto the UNO campus, Sexton has earned her master's degree. Now, at the age of 64, she has a new future ahead of her - something she credits to UNO and the faculty who never gave up on her.

She hopes to start a business expanding on her work with at-risk youth and their families, not only rebuilding the close-knit support provided by neighborhoods, but making access to food, education, employment, and other basic needs available to anyone and everyone – regardless of their history, their living situation, or their background.

"It means a lot to me for them to see – don't quit. No matter how old you are. Don't quit. Keep pushing until you get to where you want to be in life."
The First of Many
Ahmad Almaghrebi arrived from Syria in 2017, and his path has taken him toward making an impact on the state's electrical grid as electric vehicles become more commonplace.
In the midst of his research into the charging behaviors of electric vehicle users, he realized he needed to understand things from another perspective. "I already understood the engineering aspect, but I had to learn some data science to apply it to my research, which just means I wanted to learn more," Almaghrebi said.
He became one of the first students in UNO's interdisciplinary graduate data science program. Launched in 2019, the program brings together the fields of business, information technology, mathematics, and other fields at UNO in addition to international university partners and local businesses.
A two-time recipient of Graduate Research and Creative Activity grants, which provide funds to support faculty-mentored graduate research and creative activity, Almaghrebi was able to continue his research while studying.
Almaghrebi walked across the stage on Friday as the first recipient of UNO's Master of Science in Data Science.
"I am particularly proud to be the first graduate Data Science program alumnus from UNO," he said. "I feel extremely privileged to have learned from many experts in this field and can't wait to put this knowledge into practice. It was a well-rounded experience that has tremendous impacts on my knowledge improvement and personal growth."
Almaghrebi's academic journey does not end here. In addition to his continuing research, he expects to earn his Ph.D. in architectural engineering from the University of Nebraska-Lincoln in December 2022.
About the University of Nebraska at Omaha
Located in one of America's best cities to live, work and learn, the University of Nebraska at Omaha (UNO) is Nebraska's premier metropolitan university. With more than 15,000 students enrolled in 200-plus programs of study, UNO is recognized nationally for its online education, graduate education, military friendliness and community engagement efforts. Founded in 1908, UNO has served learners of all backgrounds for more than 100 years and is dedicated to another century of excellence both in the classroom and in the community.
Follow UNO on Facebook, Twitter, Instagram, TikTok, LinkedIn, and YouTube.