Dept. of Navy Grant Sparks Development of Cybersecurity Curriculum for Middle, High School Students
A new and engaging resource is now in development at UNO to help educate the next generation on staying safe from online hackers and scammers.
published: 2021/07/21
contact: Brandon Bartling - University Communications
email: unonews@unomaha.edu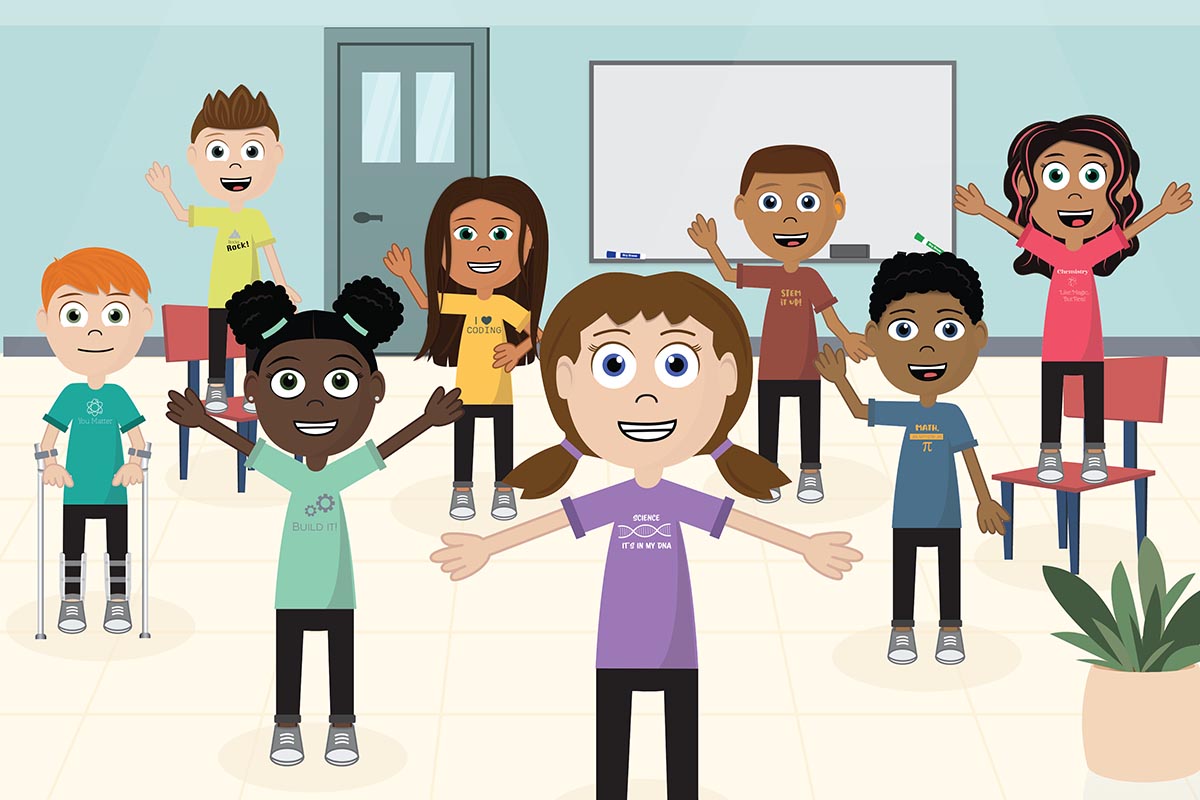 This cast of characters will help make learning about cybersecurity concepts fun, engaging, and relatable for middle and high school students.
A new and engaging resource is now in development at the University of Nebraska at Omaha (UNO) to help educate the next generation on staying safe from online hackers and scammers.
UNO'S STEM TRAIL Center is developing a new cybersecurity curriculum that includes fully developed, engaging lesson plans and hands-on activities focused on keeping students safe from online harm. The curriculum will feature a book of cybersecurity activities including illustrated cartoons, short videos, activities, and scenarios to make the lessons both engaging and educational. Ultimately it will be available for middle and high school educators.
The cybersecurity curriculum is being developed by UNO's STEM TRAIL Center as part of its NE STEM 4U program, which aims to increase interest and understanding of STEM topics for socio-economically disadvantaged K-12 students. The project is made possible thanks to a new award from the Office of Naval Research (Grant number N00014-21-2722)
As the next generations get their hands on newer technologies that connect them with the world, it is critical to help them stay safe and not fall prey to scams and phishing attempts. Something as simple as clicking a malicious link in a text message or joining a compromised wireless network could lead to trouble. Even those who have been using online tools for years can let their guard down and make a simple mistake that compromises their identity, online and financial accounts, and/or sensitive personal information.
Christine Cutucache, Ph.D., director of UNO's STEM TRAIL Center and project lead, and PI of this new grant believes that these lessons are critical as students increasingly face cybersecurity threats "Kids are carrying computers in their pockets, mostly unsupervised—it's all of our duty to ensure that the skills of cybersecurity are offered for multiple generations simultaneously and to provide engaged programming using scaffolded learning," she said.
In addition to helping students become more cyber-aware themselves, the curriculum aims to help students keep their family and friends safe from cyber threats. Through funding from the United States Navy, the project also aims to support a cyber-aware, cyber-secure, and cyber-prepared citizenry. Fostering an interest in STEM fields early on may also lead students to choose educational pathways that ultimately lead to a cyber-related career with the Navy.
The full curriculum will first be rolled out to about 20 programming sites across Nebraska and at the STEM TRAIL Center, and then will expand throughout Heartland in year two and across the U.S. in year three.
While this curriculum is currently being developed, a recent completion of other STEM activities can be accessed in a book or as individual lessons and can be viewed, downloaded, and printed free of charge. Additional information can be found on the STEM TRAIL Center website.
About the University of Nebraska at Omaha
Located in one of America's best cities to live, work and learn, the University of Nebraska at Omaha (UNO) is Nebraska's premier metropolitan university. With more than 15,000 students enrolled in 200-plus programs of study, UNO is recognized nationally for its online education, graduate education, military friendliness and community engagement efforts. Founded in 1908, UNO has served learners of all backgrounds for more than 100 years and is dedicated to another century of excellence both in the classroom and in the community.
Follow UNO on Facebook, Twitter, Instagram, TikTok, LinkedIn, and YouTube.