Quarantine Care Packages Keep Students Connected
Throughout the COVID-19 pandemic, UNO staff and students have helped bring food, and company, to those who have needed to quarantine on campus.
published: 2021/04/09
contact: Ryan Soderlin - University Communications
email: contact@unomaha.edu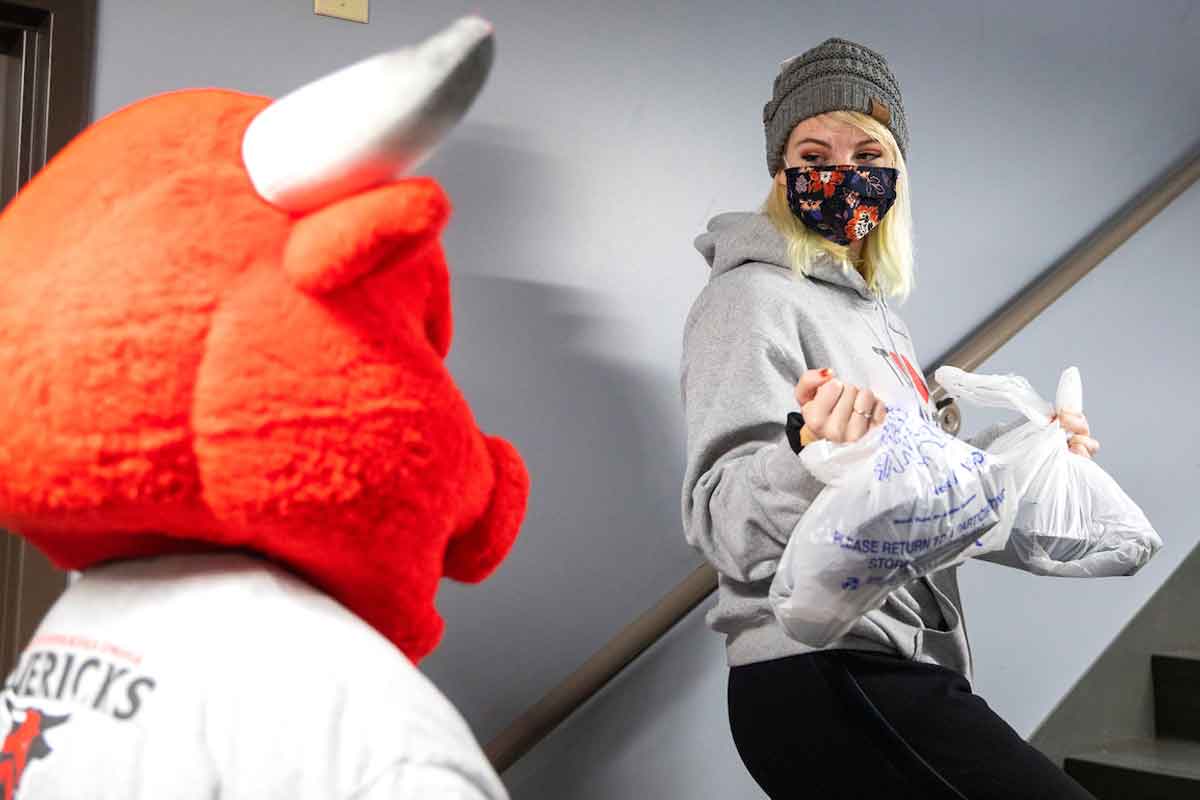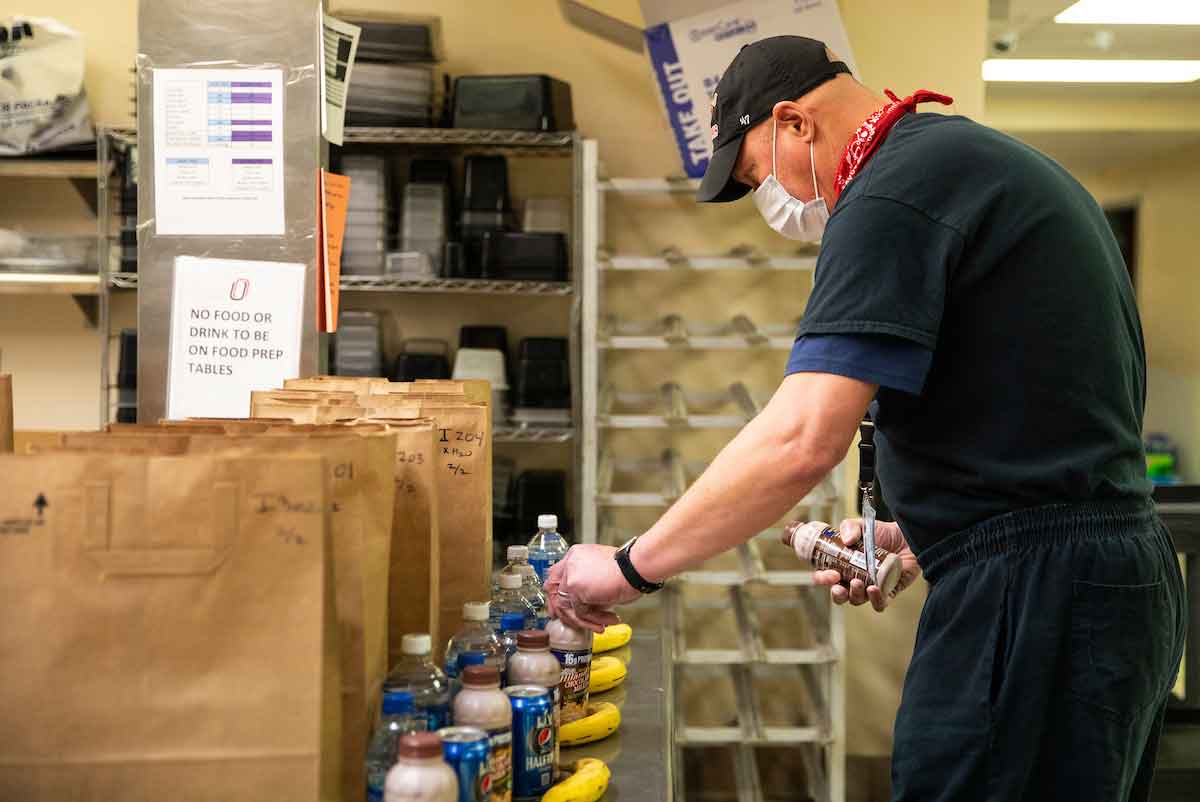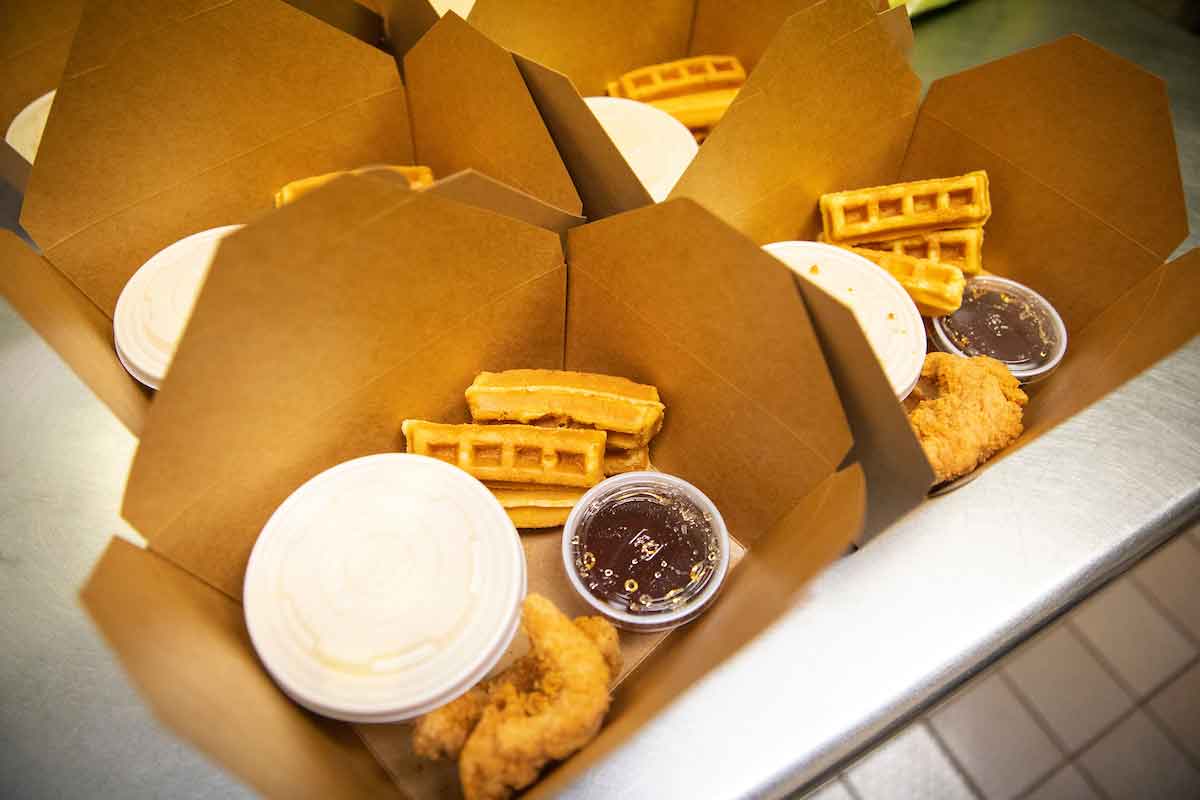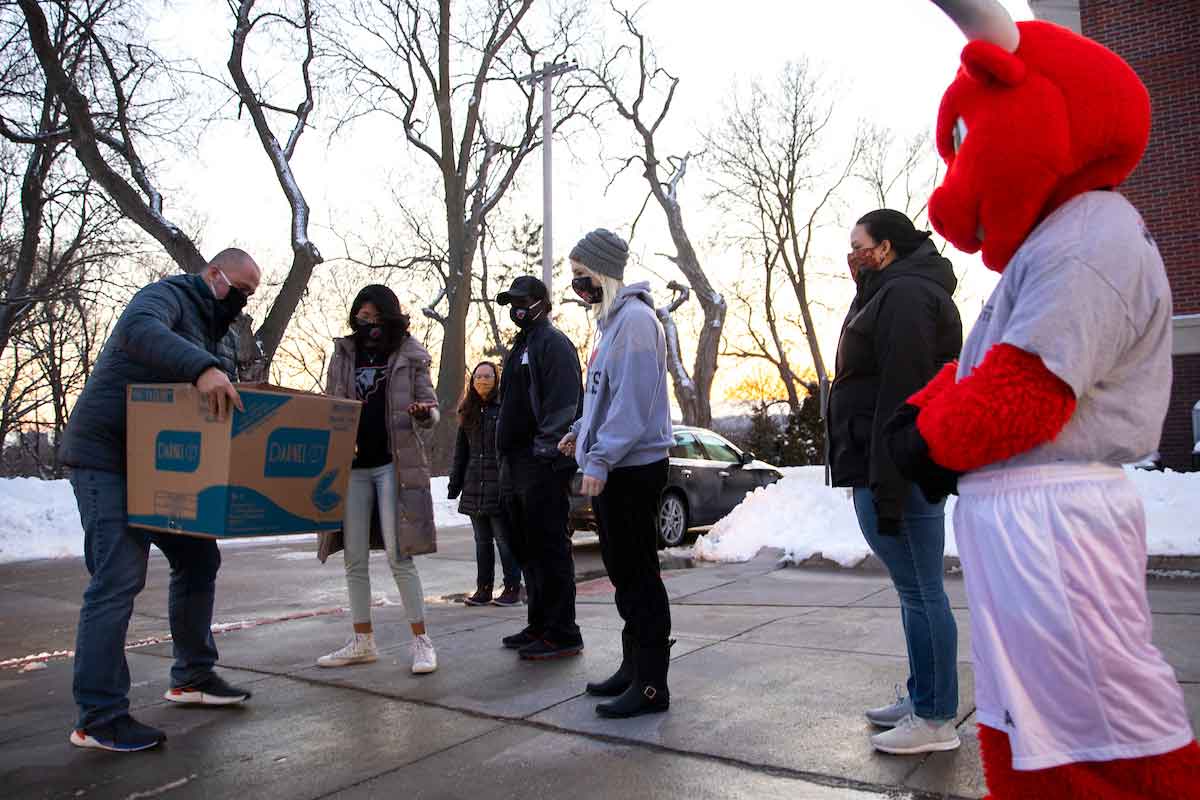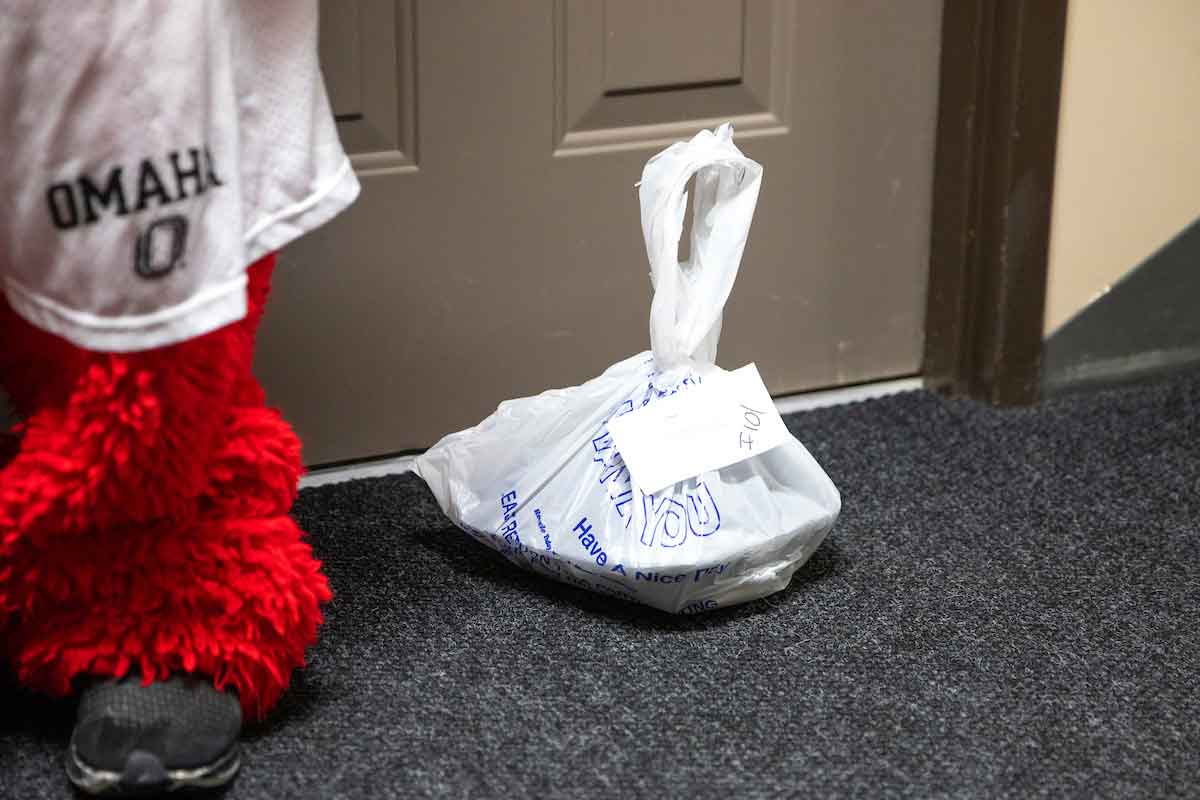 Bags rustle and stretch as workers pack them with containers holding a breakfast, a lunch, and a dinner, at University of Nebraska at Omaha (UNO) Food Service. The workers will deliver the meals first thing in the morning to students, who live temporarily in on-campus quarantine housing while they recover from COVID-19.
Louis Gornick, who is the UNO Food Service manager, works diligently. With variety in mind, employees make pancakes, chicken parmesan, creole gumbo with rice and vegetables, breakfast burritos, and pizza. Plus, they provide beverages and snacks. They create meals for students with dietary restrictions, and accommodate religious practices, or personal requests too.
"We take care of pescatarians, vegetarians, gluten-free, and just about everything," said Gornick.
Gornick and his crew create meals for 15 people a day on average. Sometimes there's 25, other times it's in the single digits. But they all get the same thing: a strong effort Monday through Sunday from a dedicated group of people.
Fred Schultz, who is the UNO Food Services' head chef, compared their effort to that of first responders. But they aren't first responders, he said, they are "food responders."
"That's kind of cool – food responders. Well, that makes us essential personnel when it comes down to it. Especially when everything was shut down, we had special little ID tags that showed we belonged in the building and that we were doing something important.," he said.
That something important started about a year ago when a newly hired Gornick was notified by the National Guard that he should be ready to feed people needing to quarantine in UNO Dodge Campus housing.
Early on in the pandemic, on-campus quarantine housing was used by the National Guard for members of the Omaha community who had tested positive for COVID-19, but as the 2020-2021 fall semester approached, it was international students returning to UNO that needed the on-campus quarantine housing. And as the pandemic persisted, that need ebbed and flowed with the rise and fall of COVID-19 infections in Omaha.
The quarantine process was created to slow the spread of COVID-19 at UNO. Positive cases and close contacts identified by the university were provided with safe on-campus quarantine housing.
The UNO Office of Health Security also fought to slow the spread. It connected with students, faculty, and staff to provide guidance for people impacted by COVID-19, which helped make campus safer.
For students needing to quarantine, having an on-campus quarantine option provided a safe place to go for those not wanting to expose family members or others.
"It was very important to us to be able to provide an option for students who needed to quarantine or isolate on-campus," said Chloé Smith, Assistant Director of Residence Life and Conduct for UNO Housing and Residence Life.
As COVID-19 persists, so does the need for on-campus quarantine housing. And many hands provide the meals, the housing, the entertainment, and mental health check-ins.
UNO student, Eleni Pilakouta, who had to quarantine, said it wasn't much fun spending two weeks in a room. She missed being able to take a walk outside, but she understood why it was necessary. She passed the time watching TV, exercising, talking with family and friends, and getting ahead on homework. The coloring books and crossword puzzles provided by UNO helped too, she said.
She enjoyed the daily meals and said Wednesday evenings were bright spots. A joint effort by UNO Housing and the Office of Spirit and Tradition called "Dinner with Durango" brought a taste of life and cuisine outside quarantine. Under the direction of Bill Pickett, director of the Office of Spirit and Tradition, UNO resident assistants and Durango delivered takeout from local restaurants to students in quarantine housing.
"Yes, that was actually really good and it felt like people cared about us," said Pilakouta of the weekly treat.
About the University of Nebraska at Omaha
Located in one of America's best cities to live, work and learn, the University of Nebraska at Omaha (UNO) is Nebraska's premier metropolitan university. With more than 15,000 students enrolled in 200-plus programs of study, UNO is recognized nationally for its online education, graduate education, military friendliness and community engagement efforts. Founded in 1908, UNO has served learners of all backgrounds for more than 100 years and is dedicated to another century of excellence both in the classroom and in the community.
Follow UNO on Facebook, Twitter, Instagram, TikTok, LinkedIn, and YouTube.