A Recipe for Resilience
Troy Romero started his UNO story as a first-generation student in 1992. Today he is the chair of the Goodrich Scholarship Program, the same program that helped support him decades ago.
published: 2021/03/01
contact: Charley Steed - University Communications
email: cdreed@unomaha.edu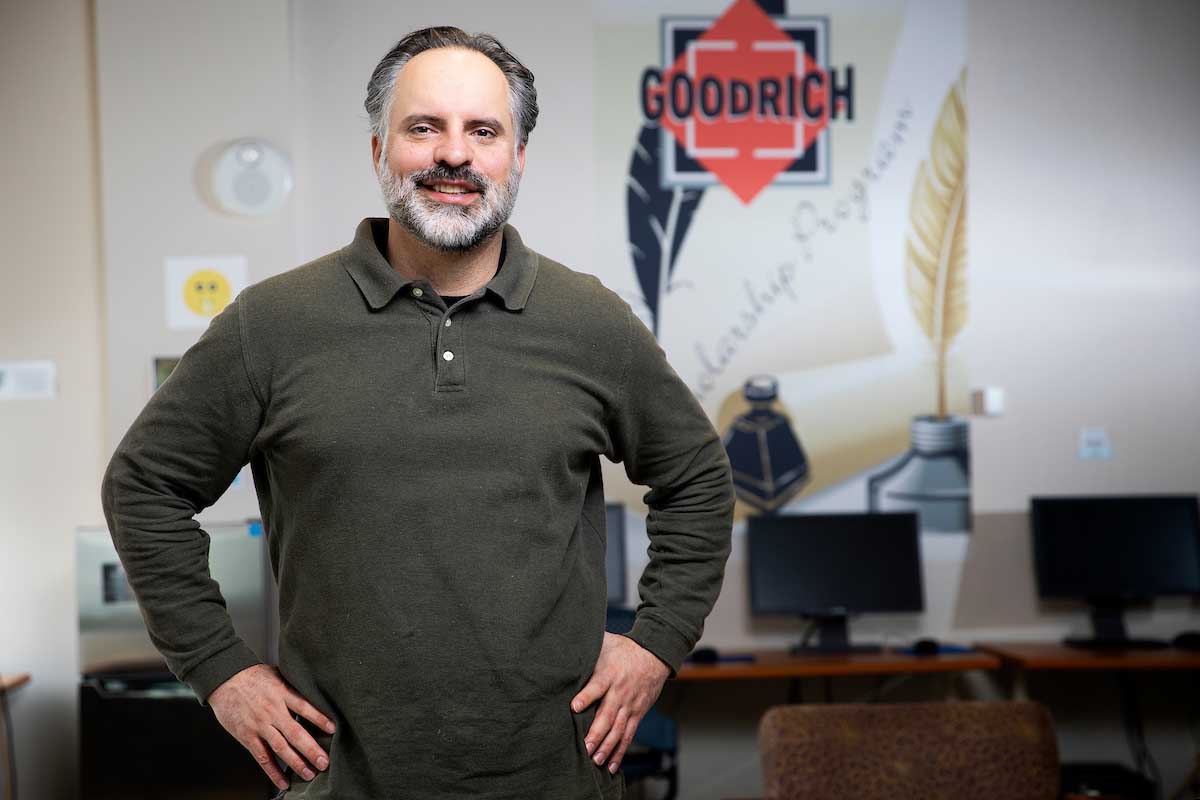 Troy Romero, Ph.D., began his UNO journey as an undergraduate student in 1992. Today he is the Chair of the Goodrich Scholarship Program, the same program that helped him - and nearly 2,000 other students - earn a bachelor's degree.
The University of Nebraska at Omaha has been Troy Romero's home for nearly 40 years - in more ways than one.
This week, Romero, whose doctorate is in psychology, begins his tenure as chair of the Goodrich Scholarship Program. It's a role that he's seemingly been working towards his entire life, though he never would have thought so when he was a Goodrich Scholar, himself, in the early 1990s.

"I didn't take college seriously enough," he says. "I knew it was important, and I was capable of doing the work but I just wasn't ready."

The Goodrich Scholarship Program was formed nearly 50 years ago to support students who were high-achieving but otherwise at risk to finish their degrees. In that regard, John Bartle, Ph.D., the dean of the College of Public Affairs and Community Service, which houses Goodrich, says Romero's story is a true success story.

"It is poetic that we have produced our own leader. It is not just the pay-off of an investment, but it is a realization of the dream of the founders of Goodrich: Senator Glenn Goodrich, and CPACS Founding Dean Hubert Locke, as well as many others."
An Early Introduction
Like many Goodrich Scholars before and after him, Romero was a first-generation student, but he was actually quite familiar with the UNO campus. His parents worked as custodians in the 1980s and he'd sometimes tag along as they worked or took part in campus activities.

"The first time I ever went to UNO was on 'bring your kid to work day' and that's how I got introduced to the university."

Romero says that as he entered college he knew he'd need to support himself so he applied for scholarships. It wasn't until his second year, after losing a different scholarship, that he applied for - and received - a Goodrich scholarship. That was when everything changed.
Unlike many scholarships, being a Goodrich Scholar not only covers nearly all tuition and fees, but it also places you in a cohort with a specialized two-year curriculum and provides access to dedicated academic and non-academic support services.

"It's hard to explain now because I have the ability to be retrospective and look back, but I remember the content was engaging and I was able to connect with the professors."

One of those professors was Mike Carroll, Ph.D., who has since retired but kept in regular contact with Romero.

"I first met Troy when I had him in an English Composition class in 1994. Now, he's been a friend of mine for over two decades."

Carroll says Romero's passion and dedication to others shown through early on and it's no surprise that he's come full circle as Goodrich chair.

"He's always had a real dedication to service and outreach. I think that's one of the key reasons he decided to stay in education - to provide service to the community and interact with our students."
Home is Where the Heart Is
Romero never imagined himself as one of those same professors that he relied on as a student, but as he was pursuing a terminal degree in psychology, also at UNO, he was presented an opportunity to be a graduate teaching assistant within the Goodrich program.
"At the time I didn't know something like that existed, where you could get money, work for the program, and connect with students while earning your degree," he says. "But it was great. Being a Goodricher made it easier for me to work with those students."
Bartle says that connection is one of the things that has helped make Romero so successful in the classroom.
"As a Goodrich alum, he has seen the program from every angle, and can empathize with the Goodrich scholars because he was one. Like all Goodrich faculty and staff, he goes well above and beyond to help them when they are in crisis, need a job, or need a nudge."
A Recipe for Resilience
Despite plans to leave, Romero was lured back with another scholarship opportunity, this one to pay for his doctorate as he continued to teach for UNO, which he did. Now, 20 years after his first teaching assignment, Romero is leading the program that gave him the opportunities and support he needed as an undergraduate, graduate, and doctoral student.
"I think what Goodrich does so well is build resilient students," Romero says. "You've got to be resilient because something is going to happen in your lifetime and it's not going to be easy. Who would have expected where we're at now, living through a pandemic the likes of which we haven't seen in 100 years? The circumstances change over time, but the need for resiliency stays the same."
"If you believe in education, you believe in Goodrich," Bartle adds. "I am very proud of the history and excited for the future, because programs like this embody the American dream."
"I'm sure Troy would say that, after struggling in his first year, he lucked into the Goodrich Program, and that may be true," Carroll says. "But I've also never seen someone work as hard as Troy has to make that same luck happen for others."
For his part, Romero says he'll be standing on the shoulders of former chairs, a mere eight to be exact, who have made the Goodrich Program what it is today: a learning community that has survived nearly five decades, helped graduate nearly 2,000 of at-risk students, and outpaced student retention and graduation rates locally and nationwide. He wants to do for the next generation what Goodrich did for him nearly 30 years ago.
"When I was able to share my story for the first time, in a Goodrich class, and be supported - that was so important. It's what grounds me at UNO, and at Goodrich. That's what I want to cultivate in our students."
About the University of Nebraska at Omaha
Located in one of America's best cities to live, work and learn, the University of Nebraska at Omaha (UNO) is Nebraska's premier metropolitan university. With more than 15,000 students enrolled in 200-plus programs of study, UNO is recognized nationally for its online education, graduate education, military friendliness and community engagement efforts. Founded in 1908, UNO has served learners of all backgrounds for more than 100 years and is dedicated to another century of excellence both in the classroom and in the community.
Follow UNO on Facebook, Twitter, Instagram, TikTok, LinkedIn, and YouTube.