Connecting Cases to Curb COVID-19
UNO public health students serve as contract tracers, providing an empathetic ear for those dealing with their newfound COVID-19 status. These contact tracers connect cases and keep the UNO campus community safe.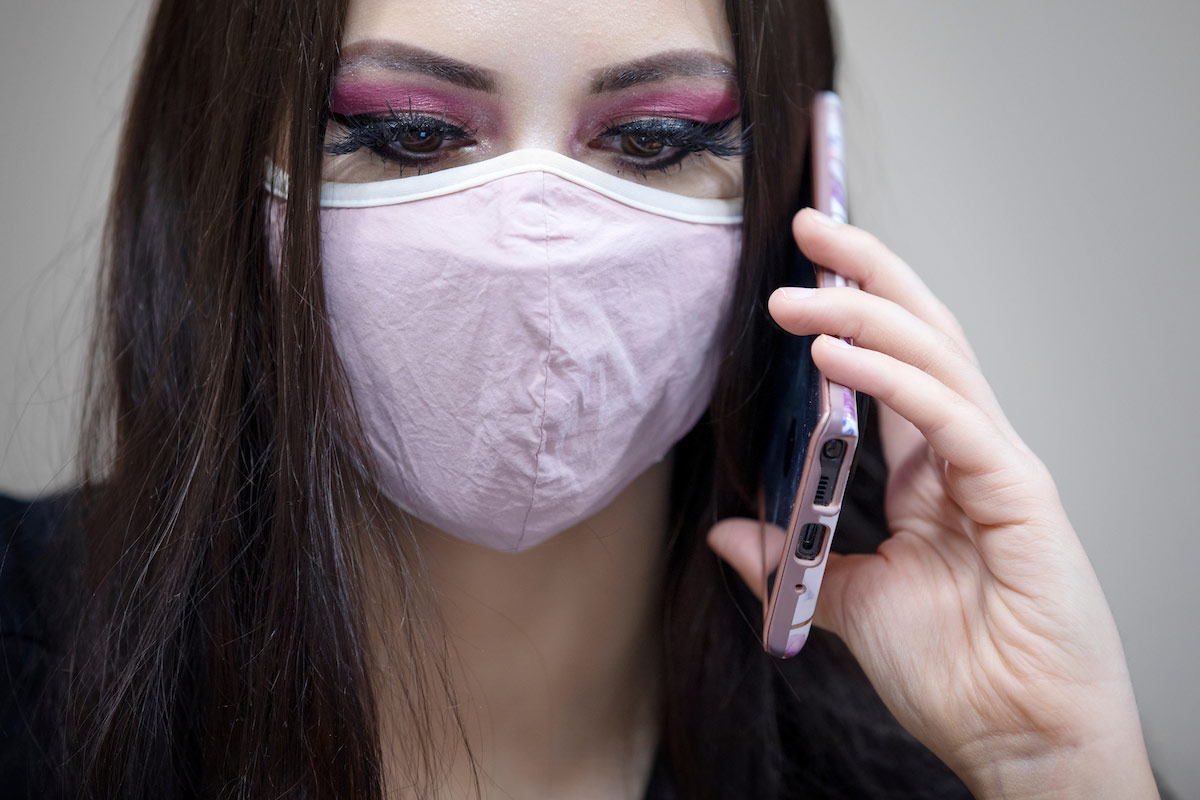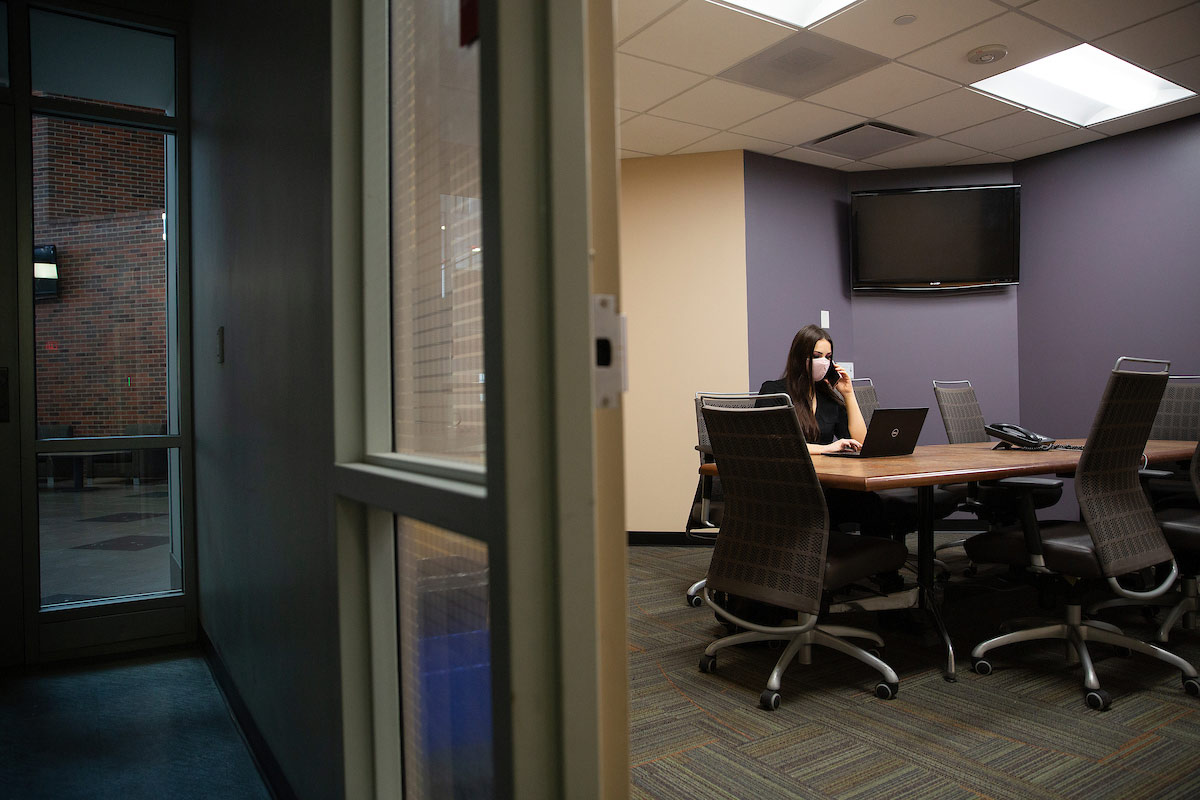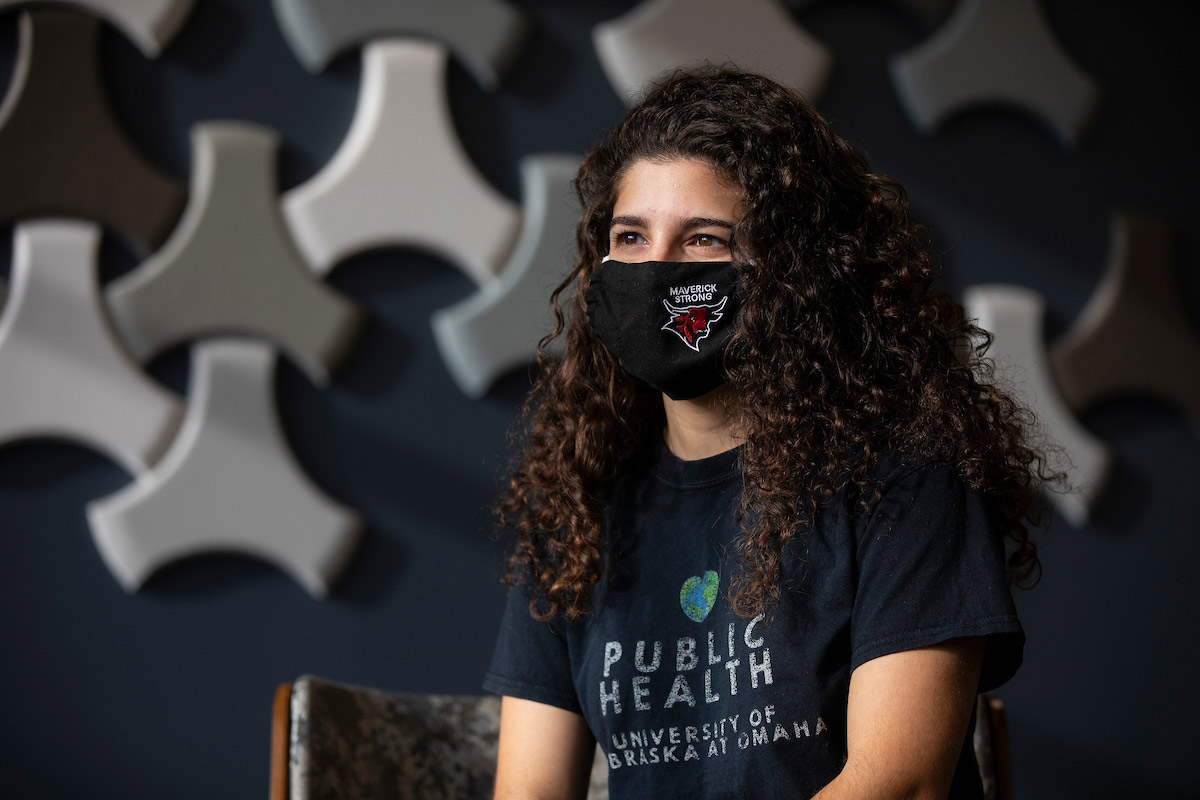 If you are a University of Nebraska at Omaha student, faculty, or staff member who has been in contact with UNO's Office of Health Security there is good chance you have had a conversation with Arissa Bavari.
Bavari, a UNO public health student, is one of six UNO students who are on the front lines of the university's COVID-19 contact tracing efforts. They are the calming presence on the other end of a phone call who walk individuals through what to do after a potential COVID-19 exposure. Some of the many questions she fields daily include: "What's going to happen if I miss a test? Where can I quarantine? What happens if I test positive?"
While hands-on work is valuable in an academic and career sense, providing students with comfort and relief is what Bavari finds most fulfilling.
"Hearing that shift in their voice of 'now I'm calm, now I'm okay,'" Bavari said. "I like that."
When a student, faculty, or staff member comes into close contact with someone who has tested positive for COVID-19, or have tested positive themselves, they are asked to submit a BRT form, which initiates the contact-tracing process.
Rachael Jensen, who serves as youth safety director for UNO as well as director for UNO's Office of Health Security, oversees the contact tracing program and understands the positive impact talking to a peer has.
"The contact tracing portion really puts that human perspective in," Jensen said. "It's always so nice to talk to students and reassure them that we will support you through this process."
Each morning, Bavari meets virtually with her fellow student contact tracers, who are assigned a caseload and begin making contact with individuals who submitted BRT forms. If the individual recently tested positive, a contact tracer will coordinate with the student, faculty, or staff member to make arrangements for their health and wellbeing while they isolate, or give recommendations on how to work with supervisors or professors to ensure their teaching, working, and learning moves forward with minimal interruption. If an individual made close contact with someone who has tested positive for COVID-19, their assigned contact tracer will will provide information about UNO's testing center in the Scott Conference Center so they can arrange to receive a COVID-19 test.
For Casey Crary, a public health student and student contact tracer, said some of the most important information she relays to the individuals she interacts with is making sure they understand when to get tested and what it means to quarantine.
"As we have learned in contact tracing, the incubation period can be up to 14 days, so that means it can take anywhere from two to 14 days for the virus to incubate in your system and show up and you are contagious and positive," Crary said.
COVID-19 Testing Experience
You can schedule an appointment online through the Maverick COVID Response website, a Health Security team member will guide you through the check-in process the day of your appointment.
About the University of Nebraska at Omaha
Located in one of America's best cities to live, work and learn, the University of Nebraska at Omaha (UNO) is Nebraska's premier metropolitan university. With more than 15,000 students enrolled in 200-plus programs of study, UNO is recognized nationally for its online education, graduate education, military friendliness and community engagement efforts. Founded in 1908, UNO has served learners of all backgrounds for more than 100 years and is dedicated to another century of excellence both in the classroom and in the community.
Follow UNO on Facebook, Twitter, Instagram, TikTok, LinkedIn, and YouTube.