Using Life's Challenges to Help Students Find Life's Rewards
Kathy Radosta's experiences of loss and seizing opportunities have helped her become a 'mom' to hundreds of UNO students, ready support them at any turn as they complete their degree.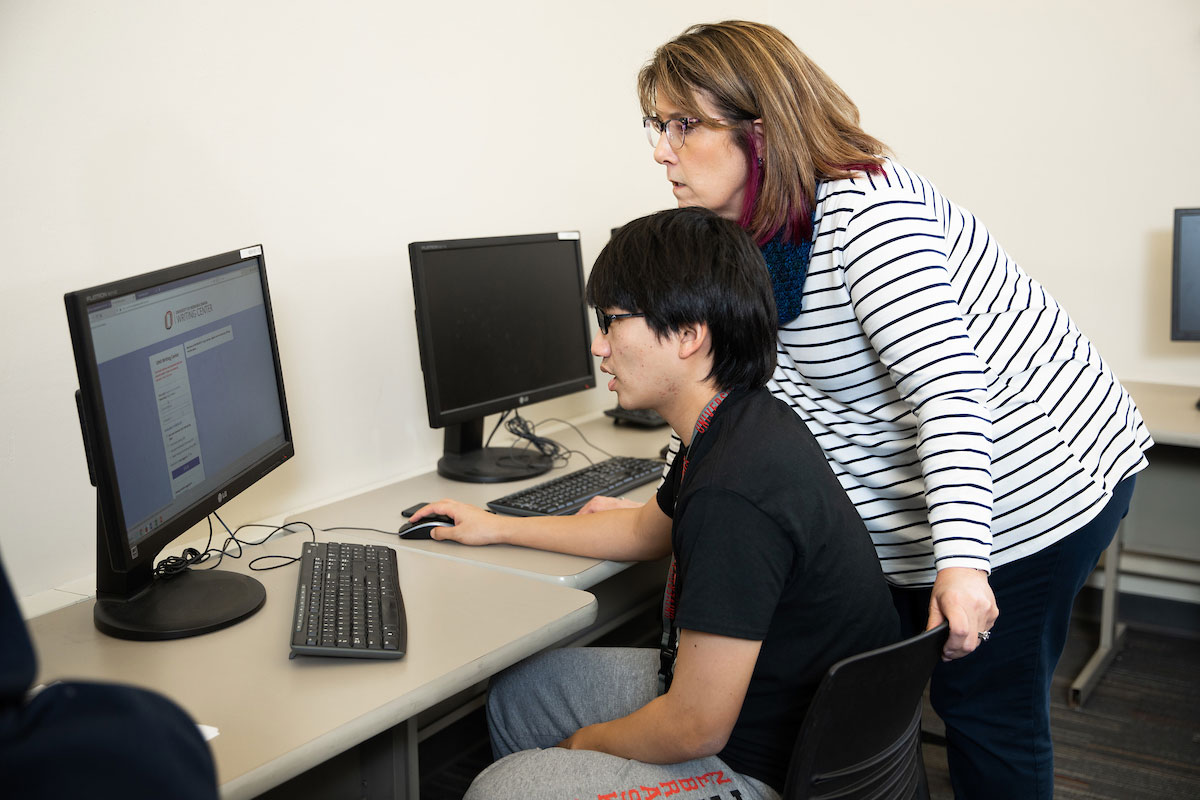 Kathy Radosta helps UNO student Kenshiro Tanaka during an ESL class. She began her UNO journey as a student in 2004 and now serves as associate director of the Writing Center.
When Kathy Radosta came to Omaha with her family on a military assignment in 2002 being a teacher - let alone at the college level - wasn't on her radar; then, her husband passed away unexpectedly.
"Within a year of us getting here I found myself with a 5-year-old and a 7-year-old, transplanted."
With previous teaching experience, but no certification, she turned to UNO in 2004 and began a 15-year journey to her current role as an ESL instructor in the UNO Department of English and associate director for the UNO Writing Center.
"It was never a path I set out on - I was going to be high school Spanish teacher," she says. "But these opportunities arose that UNO gave me and here I am."
It is exactly because of those opportunities that Radosta, who earned a master's degree from UNO with a TESOL certification in 2010, has become more than just an instructor for many students - but a lifeline on their path to completing their college degree.
"Kathy is probably, by far, the biggest advocate I know on this campus for students, in particular students where English is their second, third, fourth, fifth, six language," says Travis Adams, Ph.D., director of the UNO Writing Center and assistant professor of English.
This was certainly the case for Shiqing Zou, a native Chinese student who took Radosta's ESL II course in 2015. Last year, she completed Boston University's graduate TESOL program, planning to become an English teacher for other non-native speakers herself.
"When communicating with her students from all over the world, she always made us feel at home," she writes. "When I had difficulties in life, I would go to her office to seek help. She helped me every time, without hesitation and with all efforts."
Radosta says that through her experiences, she has seen the many varied backgrounds of students attending UNO. Even beyond the cultural differences, it is the difference in access to support that stands out most to her.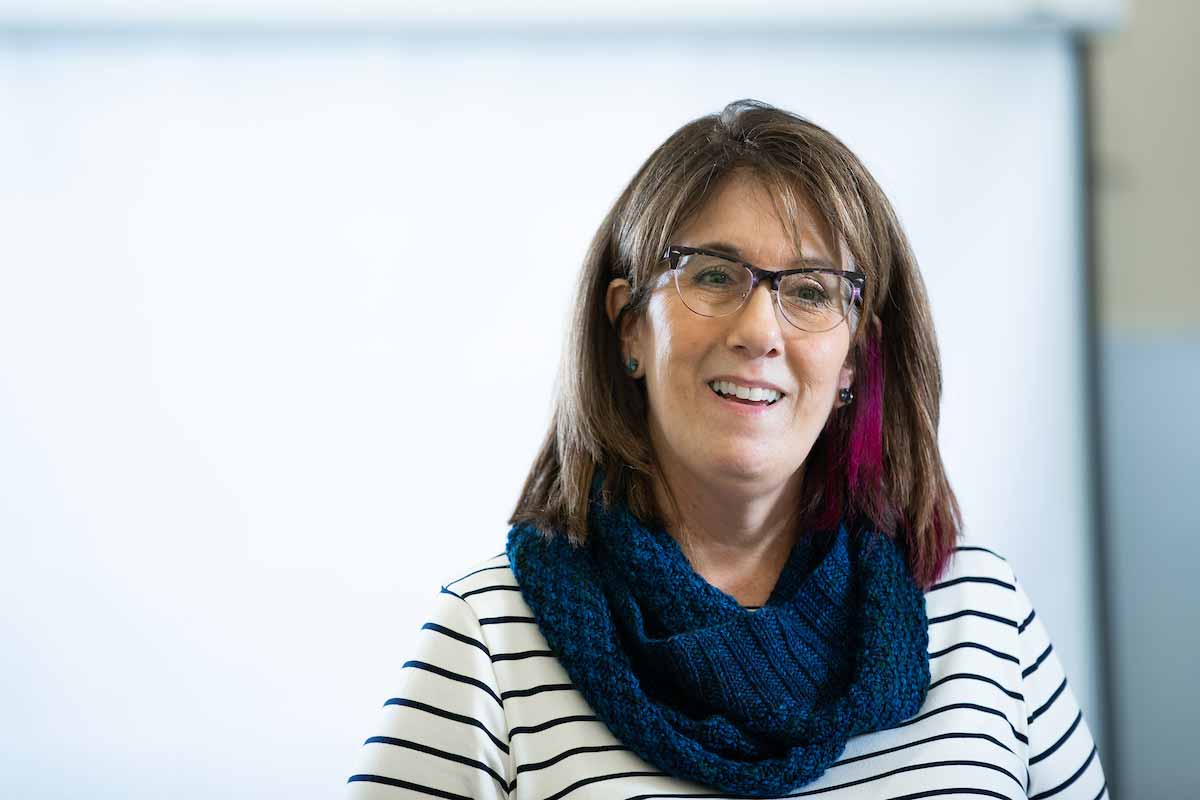 Whether it was the student without her own computer that she worked with to rent a laptop from the Help Desk every two weeks because assignments needed to be turned in online, or the student who could only access internet at the autobody shop where she worked part time, being open to communication and understanding was key to helping them succeed.
"You have all these different kinds of students that traveled all these difference paths and so you can't treat them all the same because they are not the same," she says. "Yeah, I'm going to hold you to a standard - always - in my class, in your writing and in being a responsible adult in getting things in on time, but if as a university and as a community we can't accommodate life situations it doesn't make sense to me."
Adams says one only needs to step into Radosta's office to understand the impact she has had on her students.
"She has maps in her office and the first time a student of hers comes to talk with her she puts a pin in this map," he explains. "Over the course of the six years I've been here Kathy has had to add more maps.
"I think that's huge in terms of welcoming students - our international students - to campus ... and the wonderful thing is to see the way that pays Kathy back because these students come back and visit when they are in town or they continue to see here as part of their lives afterwards."
Radosta says she is more than happy to be a resource - a stabilizing force - for students, especially those whose support systems may be thousands of miles away.
"My colleagues would tell me that I've got the 'mom' factor going on. But I feel I see my children in each one of my students and, if it was them, I would hope that somebody would stop, take a breath and go 'that is a young 21-year-old trying to make their way in the world and how can I help them?'"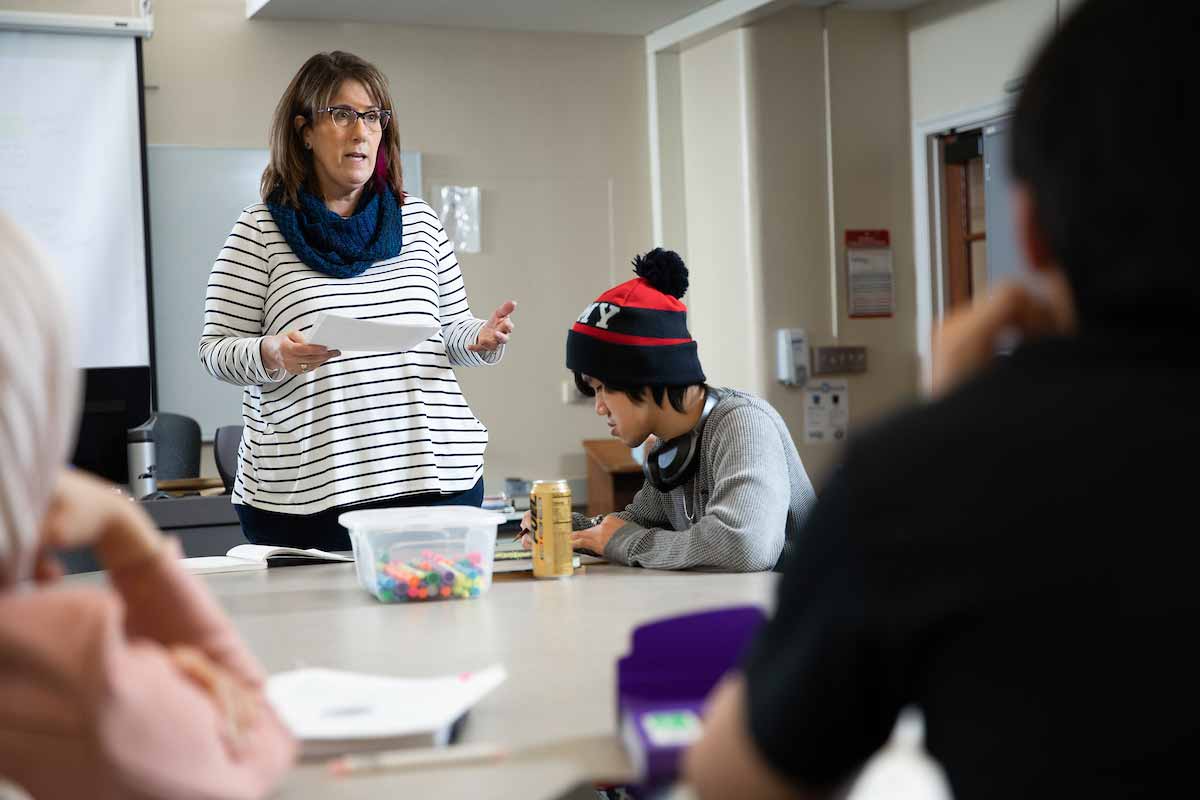 About the University of Nebraska at Omaha
Located in one of America's best cities to live, work and learn, the University of Nebraska at Omaha (UNO) is Nebraska's premier metropolitan university. With more than 15,000 students enrolled in 200-plus programs of study, UNO is recognized nationally for its online education, graduate education, military friendliness and community engagement efforts. Founded in 1908, UNO has served learners of all backgrounds for more than 100 years and is dedicated to another century of excellence both in the classroom and in the community.
Follow UNO on Facebook, Twitter (X), Instagram, TikTok, LinkedIn, and YouTube.