The Completion Imperative
contact: University Communications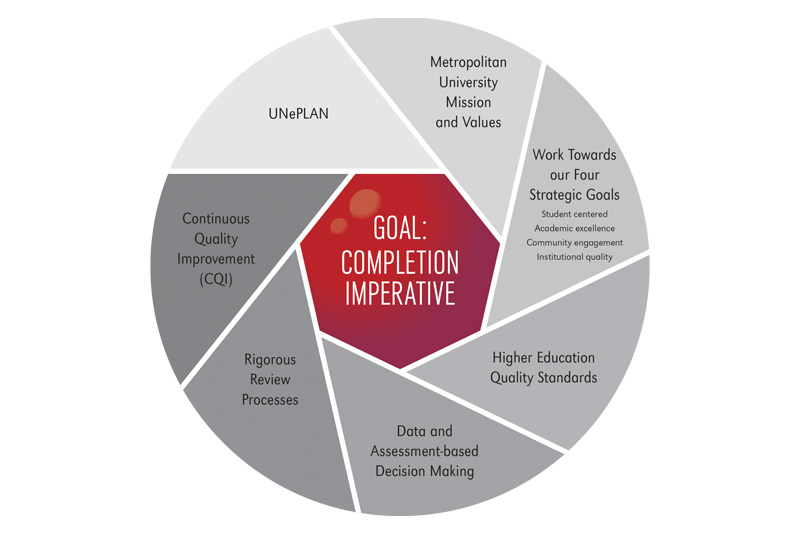 UNO's role as the premier metropolitan university in Nebraska, throughout the United States and across the world is to provide access to exceptional education and opportunities, making sure that each and every student who enrolls can achieve their higher education goals.
On Monday, May 6, 2019, UNO held its Strategic Planning Forum, during which members of UNO's faculty, staff, students, administration, as well as community partners, came together to identify ways to achieve this campuswide goal, known as the Completion Imperative.
The UNO Completion Imperative builds on recent successes that has seen rising retention rates and six-year graduation rates and has the ultimate goal of making sure each and every student enrolled at UNO earns their degree.
"I believe audacious goals inspire the best in us, which is why we are building plans for the campus-wide 'Completion Imperative' among others," explained Chancellor Jeffrey P. Gold, M.D. "The need is too urgent, the cause too vital, not to pursue bold thinking on what we can accomplish in the areas of retention and graduation."
At the May 2019 Strategic Planning Forum, participants discussed ongoing efforts, new initatives underway, future goals and student success stories. 
More information about the Completion Imperative will be shared in the coming weeks and months. To find out how you can participate, contact Jill Russell at jfrussell@unomaha.edu.
---
Ongoing Efforts
The UNO Completion Imperative builds on years of successful initiatives that have helped increase graduation and retention rates. These initiatives have included efforts such as:
---
New Initiatives
All told, there are hundreds of initiatives being championed by the Office of Academic Affairs, Division of Student Success and Office of Business, Finance and Business Development designed to support students. Some of the more recent initiatives from just the past year include:
The formalization of UNO's six core values of excellence, engagement, inclusion, integrity, discovery and Maverick spirit. 

Reducing the barriers to success by expanding the number of courses available for students to meet their quantitative literacy requirement, including the addition of MATH 1130 Quantitative Literacy and MATH 1530 Introduction to Applied Probability and Statistics. 

Design updates to the UNO website to make it more accessible and easier to navigate.

A texting program for new first-year and transfer students to support re-enrollment by reaching out to at-risk students to help them navigate challenges in and out of the classroom. The pilot will eventually be expanded to include all degree-seeking undergraduate students.

The launching of two new web apps, the UNOmaha app, which providing the ability to send notifications, display various feeds like UNO's social media and news/events feeds, and many other features to engage its users; and the UNO Shuttle Tracking app to ensure students have a great user experience while keeping campus transportation sustainable.


---
Future Goals and Efforts
The big, audacious goal of 100 percent degree or certificate completion at UNO is one of ongoing, continuous quality improvements at all levels. This includes everything from the development and growth of campus facilities to the development of new degree programs where students can feel welcome and supported throughout their entire collegiate career. Just some examples include:
The renovation of Durham Science Center and Arts and Sciences Hall, as well as additions to the Biomechanics Research Building and Mammel Hall - in support of growing enrollment and community engagement.

The return of a bachelor's degree program in interdisciplinary studies that will also include two new concentrations. The college will also be piloting a new first-year student course within that program specifically for students who are undecided on a major. 

A proposed adoption of a student support program during their "Momentum Year" as they arrive on campus as first-year students. Through this initiative, students would be given the resources they need to meet key success benchmarks: enrolling in 30 credit hours over the course of their first year; taking nine credit hours in a chosen field of study; and completing their quantitative literacy and English competency requirements.
---
Student Success Stories
With more than 15,000 students enrolled at UNO, each student has their own unique story. For many, these stories involve overcoming challenges that could have potentially kept them from pursuing their higher education goals. Whether a student is the first in their family to attend college, working full time while earning their degree, returning to higher education after pursuing their career, is pursuing their degree from halfway around the world, or any other situation that may seem like a barrier, a family of Mavericks stands ready to help. 



Recently graduating with her Bachelor of Science in Teacher Education, Gaby Amador's journey from being a first-generation high school graduate to an award-winning college graduate required support from faculty, staff and peers along the way.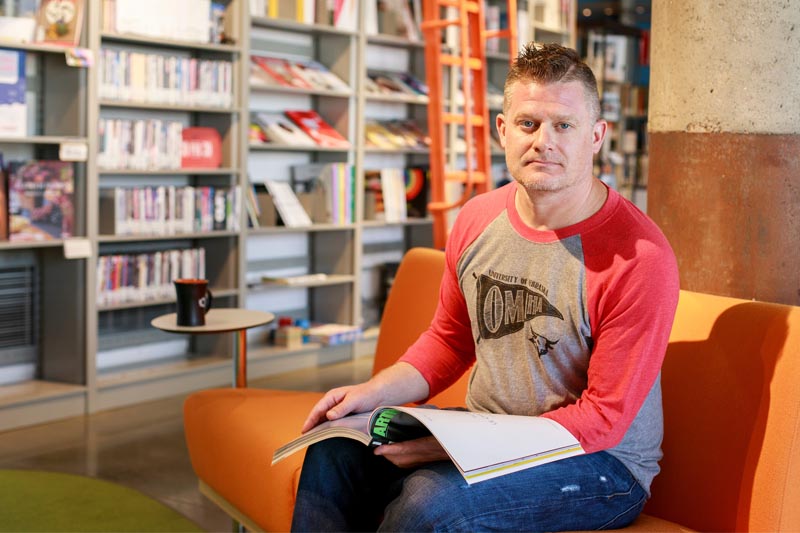 Six years ago, John Focht, an officer with the Council Bluffs Police Department, made the decision to go back to school and finish his degree. Today, he is a college graduate, earning his Bachelor of Multidisciplinary Studies degree – nearly 25 years after dropping out of Wayne State.
"When I re-started my college career, my goal was to find a way to get involved in university activities. I really found where I belonged when I joined the DCS Ambassadors. The club advisers were second to none and provided us with many opportunities to engage with the school and community that I would not have been able to find on my own. Without the support I received from my DCS advisers I would not have been nearly as successful during my return trip to college."
Following an ATV accident in 2009 that caused her to lose all movement in her lower body, Taryn Schaff didn't see herself being able to complete her college degree; however, her Maverick Spirit and support from faculty, staff, peers and community partners like the physical therapists at QLI, Taryn was not only able to earn her Bachelor of Arts in Social Work in 2016, but she was able to walk across the stage to do it.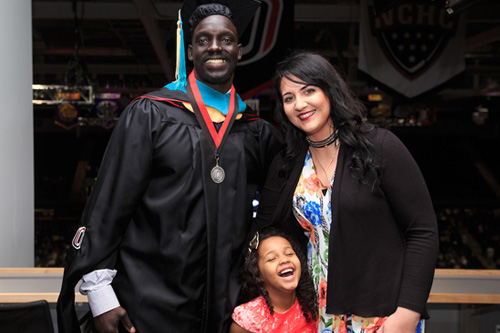 A native of Bool, a small village in rural South Sudan. Ruey Dei came to the United States as a young refugee with his aunt in 1995. Not only did he become the first in his family to earn an undergraduate degree, which he did from UNO in 2009, but he returned to UNO nearly a decade later to earn a dual master's degree in social work and public administration in 2017. 
In his commencement address, Dei encouraged his fellow students to continue to pursue thier dreams - no matter how long it takes.
"I encourage all of us here to not simply be satisfied with crossing the finish line, but strive to go beyond it because there will be more challenges to overcome for yourself and those you will help. The key to accomplishing extraordinary and remarkable things in this short and uncertain life has been given to us today; let's utilize these degrees to empower people, communities, society and the world."


About the University of Nebraska at Omaha
Located in one of America's best cities to live, work and learn, the University of Nebraska at Omaha (UNO) is Nebraska's premier metropolitan university. With more than 15,000 students enrolled in 200-plus programs of study, UNO is recognized nationally for its online education, graduate education, military friendliness and community engagement efforts. Founded in 1908, UNO has served learners of all backgrounds for more than 100 years and is dedicated to another century of excellence both in the classroom and in the community.
Become a fan of UNO on Facebook and follow UNO's Twitter updates. 
Contact Us
If you have a story idea, news tip, or other question, please email the UNO News team at unonews@unomaha.edu.