The Completion Imperative
published: 2020/07/01
contact: University Communications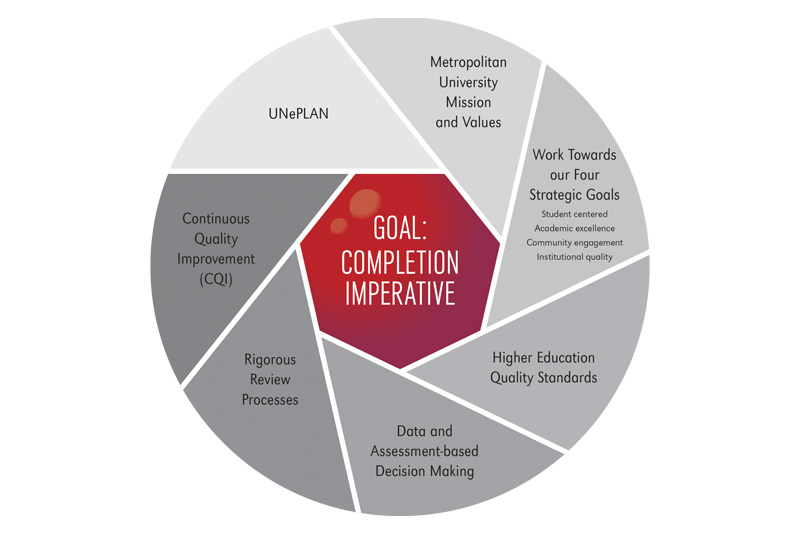 UNO's role as the premier metropolitan university in Nebraska, throughout the United States and across the world is to provide access to exceptional education and opportunities, making sure that each and every student who enrolls can achieve their higher education goals.
The UNO Completion Imperative is a big, audacious goal that seeks to ensure that all students enrolled are able to achieve their academic goals and earn a degree.
Since Fall 2018, campus leaders have worked with UNO faculty and staff on several key projects and programs that have been developed and supported through the UNO Completion Imperative Initiative. As of June 2020, these programs have already made significant strides and shown success in ensuring student academic accomplishments, even during times of remote learning and teaching, including nearly 92 percent semester-to-semester retention for first-year students and more than 2,500 students earning their degrees and certificates between UNO's December and May commencements.
These projects and programming do not represent all UNO efforts related to re-enrollment and graduation, but do represent those new and emerging programs that grew out of analysis and planning by the UNO Strategic Planning Steering Committee, input provided at the UNO Strategic Planning Forums, and much concentrated work by faculty, staff, and administrators from across campus. Early indications are that the Completion Imperative changes are having a positive impact. 
Following is an update on the primary Completion Imperative-related projects that are currently being explored, discussed, prioritized, resourced, and implemented:


More information about the Completion Imperative will be shared in the coming weeks and months. To learn more about the role of the Completion Imperative in the UNO Strategic Planning process, please visit UNO's Strategic Planning website.


---

INDS-Exploratory Studies
This new program involves changing the practice of how formerly labeled 'Undeclared Students,' new to UNO, are served. It is well underway.
It involves the creation of Exploratory Studies for those students who have yet to identify a program and pathway to completion. Those students are now to be assigned to Exploratory Studies (EXPL) in the College of Arts and Sciences and will be supported for up to 45 credit hours or until they declare a major.
The following steps have been achieved:


A director, associate director, and coordinator are in place.


The EXPL 1000 course was piloted.


Sheltered sections are being offered for future semesters with faculty participating from all the colleges at UNO so students can learn about academic programs in all colleges.


The use of newly designated Academic Focus Areas is being incorporated into Orientation and the EXPL 1000 course.


Advisors, instructors, and life coaches have either been hired already, or the positions are approved.


A Learning Community structure has been designed and funded through private support.


Orientation and Enrollment is happening through ACDC.


Communications with admitted students has begun.


Peer Mentors are being recruited.


The program will be fully operational Fall 2020. Questions? Contact Tammie Kennedy. 


---
Academic Advising Enhancements
Academic Advisors play a critical role in supporting student success and academic planning. Early in the Completion Imperative discussions, a need to strengthen timely access to academic advisors was identified along with a need to enhance collaboration for academic advisors across the Colleges. A campus-wide coordinating senior director for advising position was created to begin the strategic work of growing and strengthening UNO's academic advising practices. Additionally, several new advising positions were funded including six new Advising positions for the INDS/Exploratory Studies Program. In addition, Sammi Kaiser was named as campus-wide Advising Coordinator.
Questions? Contact Sammi Kaiser.
---
Momentum Year
Best practices research suggested that helping students get off to a great start with their collegiate career was an important step in their long term success. A UNO Momentum Year model was articulated and moved forward.
The model includes the strategies of completing 30 credit hours in the first academic year, including 9 credit hours in an area of interest; and completing the Fundamental Academic Skills courses within the first 45 hours. Additionally, the idea for Academic Focus Areas was developed early on as a part of the Momentum Year planning.
Materials explaining the logic and benefits of the new model were prepared and shared with advisors and others. Advisors started encouraging students to take 15 hours per semester or 30 per academic year. And, in fact, new students did start enrolling for a higher number of credit hours.
Questions? Contact Matt Tracy.
---
Enrollment Task Force
The Strategic Enrollment Task Force, which includes the deans, has been meeting regularly throughout the year to work on new and prospective student enrollment initiatives as well as discussing trends and strategies that support current student re-enrollment initiatives.
Re-enrollment data is being monitored closely. In addition to regular outreach to students who have not yet re-enrolled for a given semester, the campus raised the dollar limit at which students are barred from re-enrolling due to financial holds. And, instead of placing at-risk students on academic suspension, students were placed on extended probation and invited to work on an academic re-entry plan for Fall 2020.
A record low number of students would have been placed on suspension in Spring 2020, and the rates of passing grades for Spring 2020 was at a 10-year high after consistent rates of improvement each of the past five spring semesters.
Questions? Contact Omar Correa.
---
Early Intervention Texting Program
In an effort to be more responsive to changes in how students communicate, text messaging presented a strong option to meet students where they are with important information. In 2018-19, a texting program pilot involving all undergraduate degree-seeking students was launched focused on supporting student retention and wellness. Academic Advisors in the colleges have also been added to the program in an effort to improve communication and support for undergraduate students.
An Early Intervention Texting pilot project was also created to support reenrollment by reaching out to at-risk students to help them navigate challenges inside and outside of the classroom. This initiative had been underway on a small scale and now continues with expansion that includes greater faculty participation and additional courses. It involves text messaging students who may be at risk in certain Fundamental Academic Skills courses and offering support and assistance.
Questions? Contact Kristina Cammarano.
---
Quantitative Literacy
Another project that had been in the early stages of development when the Completion Imperative was first being explored, is now fully operational. New math literacy Gen Ed courses have been created or approved for fulfilling Gen Ed requirements (previously there had been only one option). Those courses have been and will continue to be offered.
In addition, three new instructor positions were approved for the Math Department and a Director of Quantitative Literacy position was created.
Questions? Contact Sarah Edwards.
---
Math Placement Testing
Related to the Quantitative Literacy Project, this initiative involves use of the ALEKS Mathematics Placement Assessment as a part of the Math General Education requirement. Designed to accurately identify strengths and weaknesses to facilitate appropriate placement in math classes upon arrival to UNO, it also supports computer-based instruction and learning in specified areas. The ALEKS test is being piloted this summer.
Questions? Contact Sarah Edwards.
---
Summer Online Offerings
Online offerings were in the process of being expanded for Summer 2020, when the COVID-19 virus hit during Spring Semester 2020, accelerating that effort even further. Work continues, and significant progress has been made with over 10% growth in credit hours in Summer 2020 compared to 2019.
Questions? Contact Jaci Lindburg.
---
Course Availability
A process for assuring that a sufficient number of seats are available to meet demand, has been developed and implemented for critical Gen Ed and other bottleneck classes. Significant progress has been made on this effort.
Too few seats had been a barrier to completion in past semesters in that the difficulty in enrolling had slowed some students' timely progress toward their degrees. Analysis indicates that for every 10 seats added to courses that were over-subscribed in prior terms, UNO added 10 enrollments.
Questions? Contact: Hank Robinson.
About the University of Nebraska at Omaha
Located in one of America's best cities to live, work and learn, the University of Nebraska at Omaha (UNO) is Nebraska's premier metropolitan university. With more than 15,000 students enrolled in 200-plus programs of study, UNO is recognized nationally for its online education, graduate education, military friendliness and community engagement efforts. Founded in 1908, UNO has served learners of all backgrounds for more than 100 years and is dedicated to another century of excellence both in the classroom and in the community.
Become a fan of UNO on Facebook and follow UNO's Twitter updates. 
Contact Us
If you have a story idea, news tip, or other question, please email the UNO News team at unonews@unomaha.edu.