An Update on the Completion Imperative
published: 2021/01/22
contact: University Communications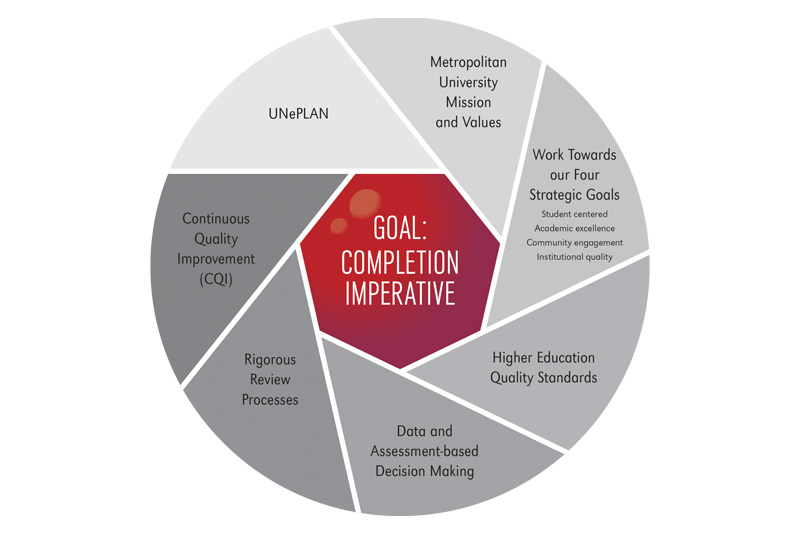 UNO's Completion Imperative seeks to ensure that all students enrolled are able to achieve their academic goals and earn a degree.
At the end of a uniquely challenging, but successful Fall 2020 semester, the UNO community came together to do the important work of strategic planning for the months and years ahead.
On Dec. 14, 2020, UNO Chancellor Jeffrey P. Gold, M.D.; Senior Vice Chancellor for Academic Affairs Sacha Kopp, Ph.D.; Vice Chancellor for Student Success Dan Shipp, Ed.D.; and Associate Vice Chancellor and Dean of Graduate Studies Deborah Smith-Howell, Ph.D., led the forum whose theme was "Access to Excellence: The Completion Imperative 2.0"
---
---
The UNO Completion Imperative is the central focus within UNO's Strategic Planning process to achieve the university's goal of Student Centeredness. The Completion Imperative seeks to ensure that all students enrolled are able to achieve their academic goals and earn a degree.
Since January 2019, campus leaders have worked with UNO faculty and staff on several key projects and programs that have been developed and supported through the UNO Completion Imperative Initiative. As Chancellor Gold highlighted at the forum, these efforts have sought to:
Lessen the Cost of Attendance for Students
Increase Experiential Learning Opportunities
Build More Learning Communities
Foster Lifelong Commitments to UNO Graduates and Community Partners
Define the UNO Guarantee
Develop New 'Destination' Programs
In looking past the current COVID-19 pandemic, and a decade into the future, to what UNO looks like in 2030, representatives of UNO's student, faculty, staff, and alumni communities joined with Omaha community partners to review what has already been accomplished and discuss what lies ahead.
The following is an update on the primary Completion Imperative-related projects that are currently being explored, discussed, prioritized, resourced, and implemented:



In addition to the items discussed at the December 2020 Strategic Planning Forum, several other Completion Imperative initiatives have been recently implemented and continue to support our students:
Over the past two years, the Completion Imperative has gone through the three important steps of the strategic planning process: Ideation, Implementation, and Assessment.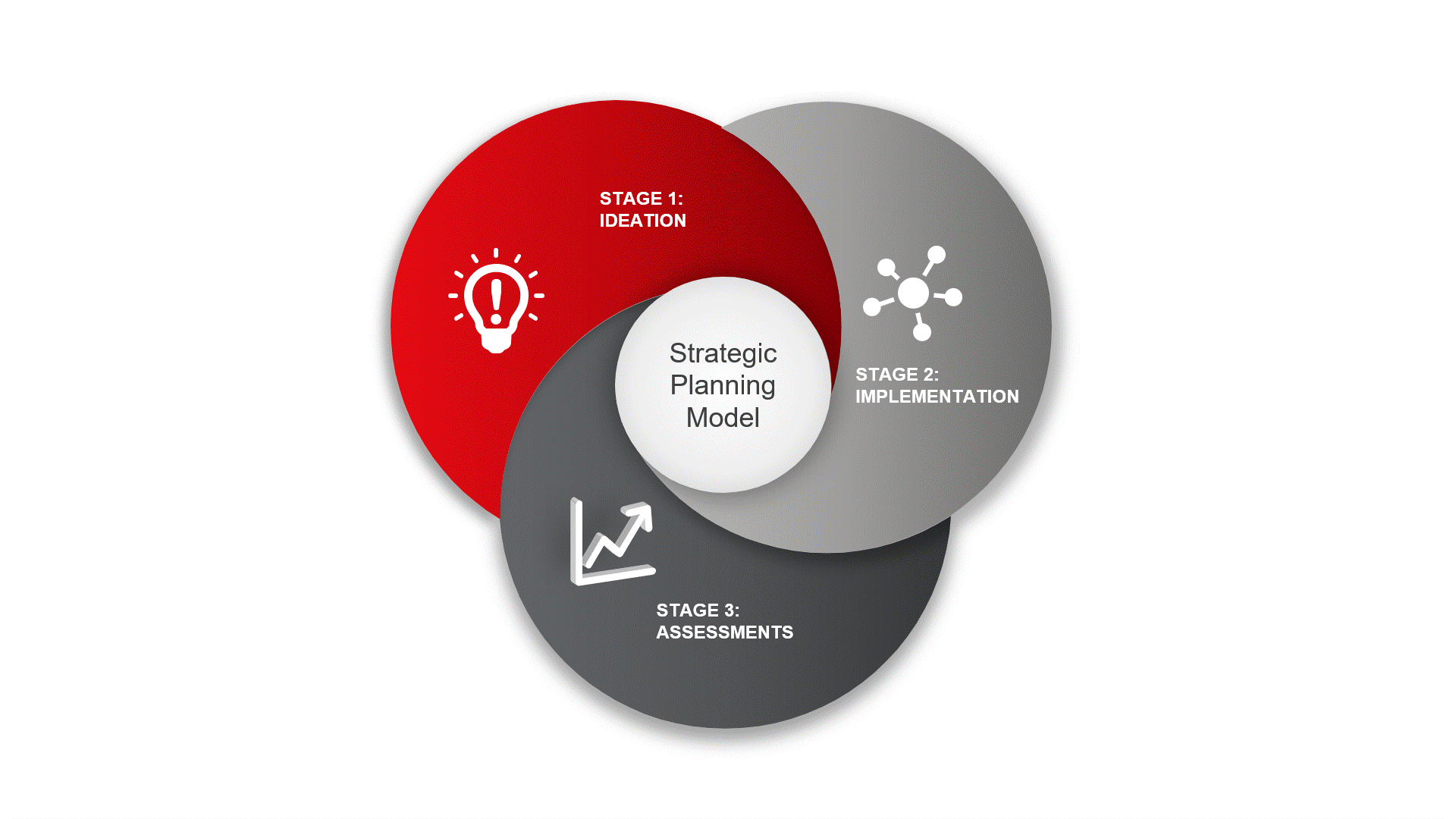 As an assessment of the Completion Imperative's progress-to-date, and the beginnings of a new round of Ideation, the input of the campus community continues to be needed as we pursue this important strategic initiative.
To provide your feedback, thoughts, and ideas for what UNO can look like in the future, or to learn more about the role of the Completion Imperative in the UNO Strategic Planning process, please visit the Completion Imperative website.


---

Exploratory Studies
This new program involves changing the practice of how formerly labeled 'Undeclared Students,' new to UNO, are served. The Exploratory Studies designation exists for those students who have yet to identify a program and pathway to completion.
These students are supported for up to 45 credit hours or until they declare a major. Fall 2020 marked the first full semester of this program.
The following reminders and updates were shared at the December 2020 Strategic Planning Forum:
Exploratory Studies provides students with a dedicated advisor from the Academic and Career Development Center.


The program provides students with a peer mentor they work with through their classes.


Life coaches help Exploratory Studies students navigate obstacles that may impede their academic success.


Five new faculty members were hired to teach within the program.


Fifteen sections of EXPL 1000 were offered in Fall 2020 and 18 sections of sheltered/cohort general education courses.


A total of 838 Exploratory Studies students began their coursework in Fall 2020.


Across the program, 84 percent of students were retained from Fall 2020 to Spring 2021.


Overall, the first full semester of the new Exploratory Studies program proved to be a great success in supporting students who previously may not have felt like they had a support system or 'home' on campus.
Future goals are expanding campuswide understanding of what Exploratory Studies is and how to change the conversation around why it's okay to explore different degree options as a student.
Have questions or looking to get involved? Contact Tammie Kennedy.



---
Academic Advising Enhancements
Academic Advisors play a critical role in supporting student success and academic planning. Early in the Completion Imperative discussions, a need to strengthen timely access to academic advisors was identified along with a need to enhance collaboration for academic advisors across the Colleges.
Updates on this effort, which were shared at the December 2020 Strategic Planning Forum, include:
A C2D2 (Centrally Coordinated, Decentrally Delivered) approach to advising to deliver consistent advising to students at UNO.


A new Senior Director of Academic Advising has been appointed on an pilot basis with Sammi Kaiser, Ph.D., director of the Academic and Career Development Center who is currently filling that role.


The creation of an Academic Leads Council (ALC), which supplements and supports the broader Academic Advising Council (AAC).


Developing an Academic Advising Promotion Ladder, which is currently under review, to encourage and retain successful advisors.


Adapting academic probation and suspension to the realities of COVID-19 through an extended probation policy.
Questions? Contact Sammi Kaiser.
---
Academic Focus Areas
Emerging from several years of questions about how to help students find an academic home and stay on track for graduation, faculty and staff from UNO developed the concept of Academic Focus Areas. These are broad focus areas that can align general interest topics and career paths with specific majors and minors offered at UNO.
The following Academic Focus Areas were launched and introduced to students in Fall 2020:
STEM


Public Service, Health Care, and Healing Professions


Creative Production and Performing Arts


Business and Innovation


Culture, Ethnicity, and Social Justice

Through these five broad groupings, students can begin to narrow down the more than 200 course offerings that can help students select general education courses and electives that align with their desired personal and professional goals.
The Academic Focus Areas are integrated closely with Exploratory Studies and the Academic and Career Development Center.
Questions? Contact Matt Tracy.
---
Degree Program Roadmaps
Throughout 2020, Academic Affairs worked with each of UNO's colleges to develop and review four-year plan of study templates for each college's major and/or program.
Students were able to access these new plan of study roadmaps beginning Oct. 1, 2020, through the Academic Affairs website. The plans will soon be incorporated in the course catalog system so they can be reviewed and updated yearly by the colleges.
An additional benefit to the new effort is that course scheduling can be adapted and adjusted based on the data students provide on which courses they plan to take in the future, rather than using historical averages.
Questions? Contact Sarah Edwards.
---
Credit/No Credit Policy Changes
Following COVID-19, changes were made within Academic Affairs to allow more flexibility and leniency for students, allowing them to list certain classes as "Credit" or "No Credit" so that barriers that arise outside of the classroom do not impact a student's ability to be successful in achieving their degree and maintain a healthy grade point average.
Moving forward, due to the interest and success of the Credit/No Credit option in Spring 2020, a revised policy will require an academic advisor signature to apply for credit/no credit and moving the application deadline later in the year to align with the deadline for dropping a course.
Questions? Contact Sarah Edwards.
---
The Nebraska Promise
In early 2020, NU President Ted Carter announced the Nebraska Promise, which offers free tuition to students whose families make under $60,000 a year.
To supplement this program, Academic Affairs and Student Success have partnered on an Early Alert System that is currently being piloted, allowing for students who are not meeting key success indicators to be reached out to in order to offer support.
Additionally, students who take advantage of the Nebraska Promise program are being supported by three dedicated advisors, ensuring that those students who are most in need have stable touch points to be successful in their academic journey.
Questions? Contact Sarah Edwards.
---
Enrollment Task Force
The Strategic Enrollment Task Force, which includes the deans, has been meeting regularly throughout the year to work on new and prospective student enrollment initiatives as well as discussing trends and strategies that support current student re-enrollment initiatives.
Within the Division of Student Success, data is closely monitored and collected to provide a breadth and depth of information on students who are stuck somewhere along the re-enrollment timeline.
Additionally, the taskforce has continued to develop peer-based learning communities as lifeboats for students to keep them enrolled. In 2014, just 50 percent of students were part of learning communities or peer support groups; as of the end of 2020, nearly 100 percent of students are involved in some form of peer cohort.
Questions? Contact Kristina Cammarano.
---
Early Intervention Texting Program
In an effort to be more responsive to changes in how students communicate, text messaging presented a strong option to meet students where they are with important information.
Following a pilot program in 2018-2019 where all undergraduate degree-seeking students are supported through proactive text messaging, the program is now fully operational and being implemented with the support of Academic Advisors; Cashiering and Student Accounts; and other units across the university.
Questions? Contact Kristina Cammarano.
---
Success Academy
Recently created to help support high-risk, high-need students who are not otherwise involved in a specific learning community, the Success Academy has been a key factor in growing and stabilizing retention rates among first-to-second year students.
With more than 200 students admitted to the program annually, the program has expanded into a new space within the Milo Bail Student Center and added new staff.
Questions? Contact Shannon Teamer.
---
First Generation Guild
In Fall 2019, UNO staff and faculty joined together to develop the First Generation Guild, a cohort made up of students, faculty, staff, and community leaders who are or were first generation students, meaning that their parents did not graduate from a four-year higher education institution.
The First Generation Guild partnered with student group First Forward to link efforts and identify regional and national initiatives that can further support first-generation students.
Questions? Contact Dusten Crichton.
---
Humanizing Digital Learning
One of the realities of the COVID-19 pandemic is that far more students and faculty than ever before have needed to adjust their approach to learning for a digital space.
While UNO's Digital Learning team has spent many years creating the foundation for a successful and effective move to remote and asynchronous teaching and learning, COVID-19 increased the scope and speed at which the Maverick community needed to explore these diverse and varied teaching options.
To help move the university forward as a whole and provide the most robust options for students and faculty in the future, ITS has developed a focus on Humanizing Digital Learning to build important interpersonal and management skills that will help both students and faculty be successful.
Resources for faculty can be found online.
Questions? Contact Jaci Lindburg.

---
Momentum Year
Best practices research suggested that helping students get off to a great start with their collegiate career was an important step in their long term success. A UNO Momentum Year model was articulated and moved forward.
The model includes the strategies of completing 30 credit hours in the first academic year, including 9 credit hours in an area of interest; and completing the Fundamental Academic Skills courses within the first 45 hours. Additionally, Academic Focus Areas are a part of the Momentum Year
Questions? Contact Matt Tracy.
---
Quantitative Literacy
Another project that had been in the early stages of development when the Completion Imperative was first being explored, is now fully operational. New math literacy Gen Ed courses have been created or approved for fulfilling Gen Ed requirements (previously there had been only one option). Those courses have been and will continue to be offered.
In addition, three new instructor positions were approved for the Math Department and a Director of Quantitative Literacy position was created.
Questions? Contact Sarah Edwards.
---
Math Placement Testing
Related to the Quantitative Literacy Project, this initiative involves use of the ALEKS Mathematics Placement Assessment as a part of the Math General Education requirement. Designed to accurately identify strengths and weaknesses to facilitate appropriate placement in math classes upon arrival to UNO, it also supports computer-based instruction and learning in specified areas.
Questions? Contact Sarah Edwards.
---
Course Availability
A process for ensuring that a sufficient number of seats are available to meet demand has been developed and implemented for critical Gen Ed and other bottleneck classes. Significant progress has been made on this effort.
Too few seats had been a barrier to completion in past semesters in that the difficulty in enrolling had slowed some students' timely progress toward their degrees. Analysis indicates that for every 10 seats added to courses that were over-subscribed in prior terms, UNO added 10 enrollments.
Questions? Contact: Hank Robinson.
About the University of Nebraska at Omaha
Located in one of America's best cities to live, work and learn, the University of Nebraska at Omaha (UNO) is Nebraska's premier metropolitan university. With more than 15,000 students enrolled in 200-plus programs of study, UNO is recognized nationally for its online education, graduate education, military friendliness and community engagement efforts. Founded in 1908, UNO has served learners of all backgrounds for more than 100 years and is dedicated to another century of excellence both in the classroom and in the community.
Follow UNO on Facebook, Twitter, Instagram, TikTok, LinkedIn, and YouTube.