Nebraska Legislative Staffers Make Virtual Campus Visit
An in-person visit to UNO's campus wasn't in the cards this year for Nebraska legislative staff, so UNO brought the campus to them.
On Wednesday, Dec. 2, staff members who serve in the offices of Nebraska state senators took a virtual tour of UNO to become acquainted with the university's leading scholars, students, administrators, and strategic vision.
Chancellor Jeffrey P. Gold, M.D., delivered introductory remarks, calling UNO a "thriving, dynamic public metropolitan university," and urged the staff members to take advantage to tap into the institution as a resource during and between legislative sessions.
"The faculty and the staff and the incredibly gifted students that we have at UNO are wonderful advocates for our mission and are wonderful sources of research, scientific and data-driven information that can support any type of legislative action, deal with concerns and stakeholders," Chancellor Gold said.
During the hourlong session, Senior Vice Chancellor for Academic Affairs Sacha Kopp, Ph.D., provided an overview of UNO's public-private partnerships and academic partnerships.
This year UNO has collaborated with Union Pacific and Mutual of Omaha to provide employees of both Omaha-based companies an opportunity to register for courses without out-of-pocket tuition costs.
"These public-private partnerships are our attempt at being responsive to our community as a metropolitan campus and really thinking of all kinds of needs that higher education can provide," Kopp said.
In addition, Kopp provided an update on UNO's newest academic partner in Hastings College, in which students from Hastings will be able to register for a wide array of remote and online upper division courses at UNO and some areas of the University of Nebraska Medical Center while continuing in their programs at Hastings.
Later, Vice Chancellor for Student Success Dan Shipp, Ed.D., moderated a panel discussion titled "Maverick Women on the Move," which featured three campus leaders who represented a cross-section of graduate studies, student government, and UNO's learning communities.
The panelists were Vanessa Chavez Jurado, UNO Student Government vice president; Brittany Kohl, a graduate student pursuing a Master of Science in counseling; and Nour Elrokhsi, a Scott Scholar.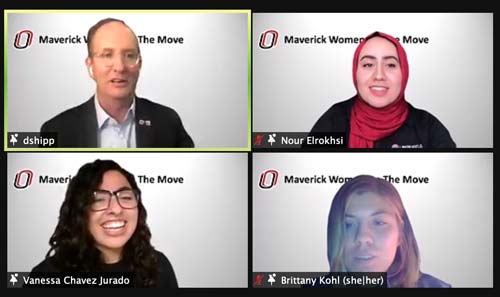 Elrokhsi, who serves on the board of the International Student Services (ISS) division of UNO's student government, shared with the group how hosting the 48th Annual International Banquet and was an empowering experience and spoke to UNO's inclusive culture.
"I learned that UNO celebrates diversity and we have some really talented students on campus. That particular experience I would say was very empowering because seeing all these students being unapologetically themselves contributed to my decision to put on the hijab after years of being afraid to put it on. I felt like UNO was a safe place to do it and a welcoming and inclusive place to do so."
To close out the session Gina Ligon, director of NCITE, a UNO-based, U.S. Department of Homeland Security-funded Center of Excellence, discussed how the center can serve as a pipeline for national security career fields in addition to supporting the nation's counterterrorism efforts.
"We're here to inspire the future workforce for national security," Ligon said. Every degree on UNO's campus has a role in national security. This is a way to help UNO students see how a degree in communication, pre-med, business, IS&T, can all be used in the counterterrorism mission for the country."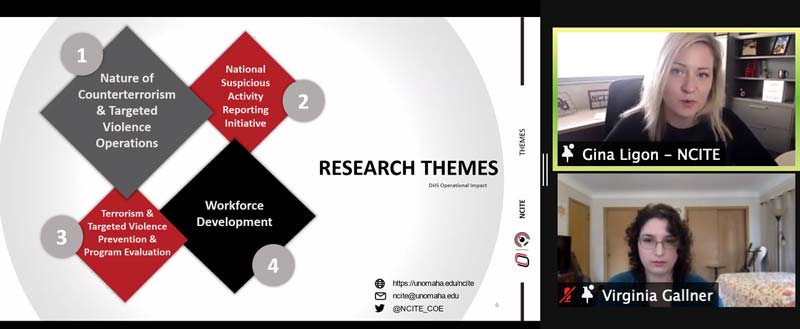 About the University of Nebraska at Omaha
Located in one of America's best cities to live, work and learn, the University of Nebraska at Omaha (UNO) is Nebraska's premier metropolitan university. With more than 15,000 students enrolled in 200-plus programs of study, UNO is recognized nationally for its online education, graduate education, military friendliness and community engagement efforts. Founded in 1908, UNO has served learners of all backgrounds for more than 100 years and is dedicated to another century of excellence both in the classroom and in the community.
Follow UNO on Facebook, Twitter (X), Instagram, TikTok, LinkedIn, and YouTube.