UNO Team Develops Tools, Resources to Enhance U.S.-India Ties
As International Education Week concludes, the opportunities for global engagement at UNO are vast and growing.
published: 2020/11/19
contact: Charley Steed - University Communications
email: cdreed@unomaha.edu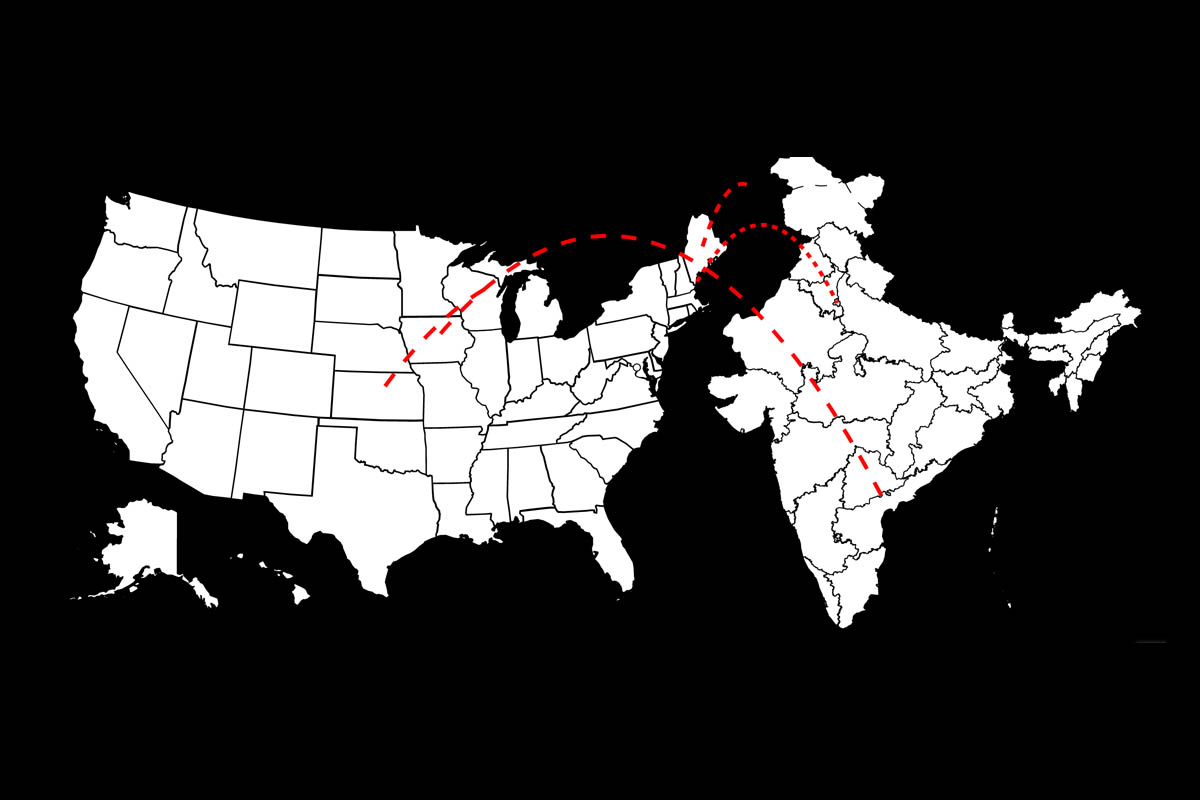 The U.S.-India Partnership 2020 database has more than 220 examples of collaboration between higher education institutions in the United States and India.
As the second largest country in the world, with the sixth largest economy, it is no surprise that India has been a country that has piqued the interest of many people around the world.
One of those people is Patrick McNamara, director of International Studies at UNO, who helped launch a three-year project in 2018 called "Partnership 2020: U.S.-India Higher Education Cooperation" to focus on building relationships between India and the United States.
"I fell in love with India when I first visited in 1991," McNamara said. "Since that time India has been a country on the rise. I try to meet with the US Embassy in New Delhi whenever I am in the country and they let me know that they would be launching this project asked if we would be interested in pursuing this collaborative agreement. When we actually got that opportunity, I felt delighted."
With $1.9 million in funding from the U.S. Department of State's South and Central Asia Bureau, McNamara, along with Sher Jan Ahmadzai, director of UNO's Center for Afghanistan Studies, first began by identifying and cataloging the hundreds of partnerships that existed between U.S. and Indian universities.
"We hired a student-run team out of UNO's College of Information Science and Technology to build the website on which that database is housed," McNamara explained. "Then we worked with our partner Center for Strategic and International Studies (CSIS) to populate the database."
Currently, more than 220 partnerships exist within the database, which can be searched by institution, focus area, location, and more. Ahmadzai says the project also shows that many more partnerships are possible.
"India has a great potential for educational development and research," he said. "Partnership 2020 promotes academic partnerships between our universities and Indian universities. Promoting such strong relationship is best suited when mutual interests are met which this project offers the opportunity for."
With COVID-19 emerging in 2020, the ability for person-to-person meetings to build these partnerships has reduced significantly; however, Ahmadzai said there is still much work being done by the UNO team, as well as researchers, faculty and students at the 15 sub-grantee universities in the U.S. and their partner organizations in India. Work continues on two other key aspects of the project: a practical guide for university leaders to establishing and maintaining strong U.S.-India partnerships, and policy recommendations for both countries' leaders.
McNamara and Ahmadzai said that the practical guide for university leaders is complete and the policy recommendations document will be ready in early 2021. The grant period ends in December 2021.
During the year-and-a-half spent so far working on the grant, McNamara said that the relationship between the U.S. and India only continues to grow and the work being done at UNO will reap significant benefits in the coming years.
"President Trump and Prime Minister Modi have a good relationship and I expect that to continue in the Biden Administration. In fact, Vice President-elect Kamala Harris' mother migrated from India so there is a real love for her, especially in her mother's native state of Tamil Nadu."
While the grant formally concludes in 2021, McNamara said there is still much to do and the work developed as part of this grant will be the stepping stone for important future projects.
"The UNO portion of Partnership 2020 will be complete by the end of the grant period. However, many of the partnerships between US and Indian universities will continue to grow and bear fruit long beyond 2021. The research undertaken, institutional tie-ups and personal connections will be long lasting."
About the University of Nebraska at Omaha
Located in one of America's best cities to live, work and learn, the University of Nebraska at Omaha (UNO) is Nebraska's premier metropolitan university. With more than 15,000 students enrolled in 200-plus programs of study, UNO is recognized nationally for its online education, graduate education, military friendliness and community engagement efforts. Founded in 1908, UNO has served learners of all backgrounds for more than 100 years and is dedicated to another century of excellence both in the classroom and in the community.
Follow UNO on Facebook, Twitter (X), Instagram, TikTok, LinkedIn, and YouTube.