Nadira Ford-Robbins: A '40 Under 40' Success Story
Nadira Ford-Robbins earned her degree from UNO as a first-generation student and Goodrich Scholar. Now she's back at UNO helping students in similar circumstances reach their goals to build a better future for themselves and their community.
published: 2020/10/01
contact: Charley Steed - University Communications
email: cdreed@unomaha.edu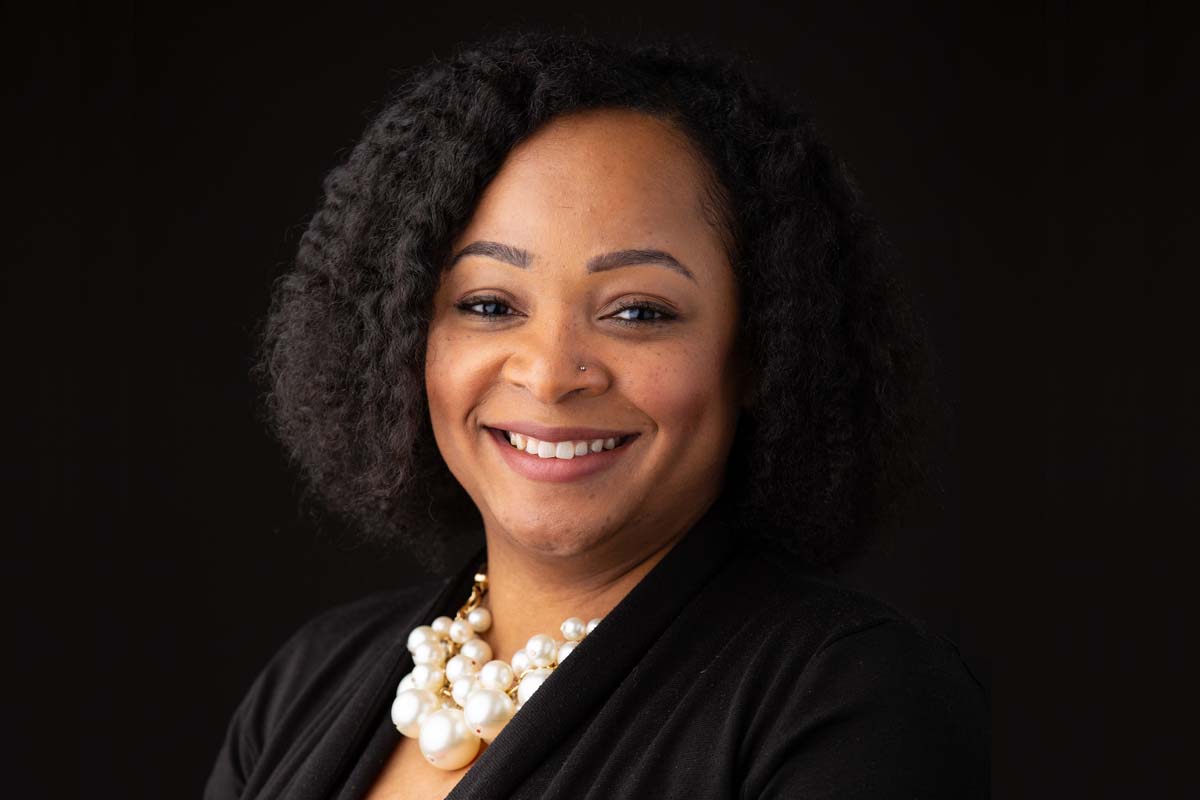 For Nadira Ford-Robbins, helping students work smarter, not harder, and find ways to meet adversity with strength is the result of lessons she learned, herself, as a first-generation UNO student in the Goodrich program.
It's also a large reason the assistant director of UNO's Health Careers Resource Center (HCRC) was recently named one of the metro area's "40 Under 40" innovators and entrepreneurs by Midlands Business Journal.
"I was pleasantly surprised by the email," Ford-Robbins laughed. "I am just completely humbled and honored to be among the names I saw on the list."
The recognition makes complete sense to Paul Davis, Ph.D., associate professor of biology and director of the HCRC.
"I think it's a recognition that the environment we have here at UNO and in Omaha is conducive to people who want to make a difference and have that realized. Nadira is an impressive leader, and truly cares for individuals in a way that is meaningful and effective at helping them achieve their very best."
Ford-Robbins' story from first-generation student to "40 Under 40" recipient involves a lot of what she calls peaks and valleys.
"I am the sixth child of eight children and my mom, who's a nurse, only had her associates degree at the time, so going to a four-year institution was kind of foreign," she says.
Thanks to UNO's Goodrich Program, Ford-Robbins was able to enroll at UNO and excel in her classes after getting support from the various resources that the program and UNO as a whole had to offer - even after a surprise pregnancy in her junior year.
"It was just all about how do I succeed at college? What are those things that people don't tell you that I need to know?" she says. "Goodrich set the foundation for me to be successful and once they showed me the blueprint, I was good to go."
That is the kind of support she hopes to bring in her role with the HCRC, so students with similar stories can be successful themselves. Davis says there is no question Ford-Robbins is providing a strong foundation for the thousands of pre-health students that utilize the center.
"Having been a UNO student, she understands the difficulty of succeeding in college, and the rewards of a successful college career," Davis says. She inspires others with her own story, and can often be found strengthening and building others who are finding it difficult to journey on. Her enthusiasm and can-do attitude are infectious, and spawn drive and achievement in others."
Ford-Robbins has particularly made an impact with the Urban Health Opportunities Program pipeline, which supports students who want to become medical practitioners through a partnership that prepares them for medical school at UNMC.
"We know that students from underrepresented and marginalized communities have out-of-school experiences that affect their persistence and completion of college," Ford-Robbins says. "It's truly an art and a science to keep them on that trajectory so they can become physicians and change the trajectory for healthcare in the Omaha area but also change the trajectory of their families and start building generational wealth."
In addition to her work at UNO, Ford-Robbins is a certified Gallup Strengths coach; is a drill team coach for her alma mater Burke High School; is an adjunct instructor for Women's and Gender Studies as well as the First-Year Experience program; and has served on numerous community boards including local chapters of the Delta Sigma Theta Sorority, Inc.
She says that her advice to anyone who wants to be successful in college or career is to always find the lessons and benefits in the valleys - just as much as the peaks.
"In those valley moments it's important to ask ourselves 'Why am I here and what am I supposed to learn?' because when you're in the valley and struggling you are learning new skills you didn't have going in and when you come out and peak again you are that much better for having that experience and can get through the next challenge with flying colors."
About the University of Nebraska at Omaha
Located in one of America's best cities to live, work and learn, the University of Nebraska at Omaha (UNO) is Nebraska's premier metropolitan university. With more than 15,000 students enrolled in 200-plus programs of study, UNO is recognized nationally for its online education, graduate education, military friendliness and community engagement efforts. Founded in 1908, UNO has served learners of all backgrounds for more than 100 years and is dedicated to another century of excellence both in the classroom and in the community.
Follow UNO on Facebook, Twitter (X), Instagram, TikTok, LinkedIn, and YouTube.