Alumnus Rod Rhoden is Namesake of New Mammel Hall Expansion
The Rod Rhoden Business Innovation Center will serve as a hub for applied learning, community engagement, and making big ideas a reality.
published: 2020/11/05
contact: Charley Steed - University Communications
email: cdreed@unomaha.edu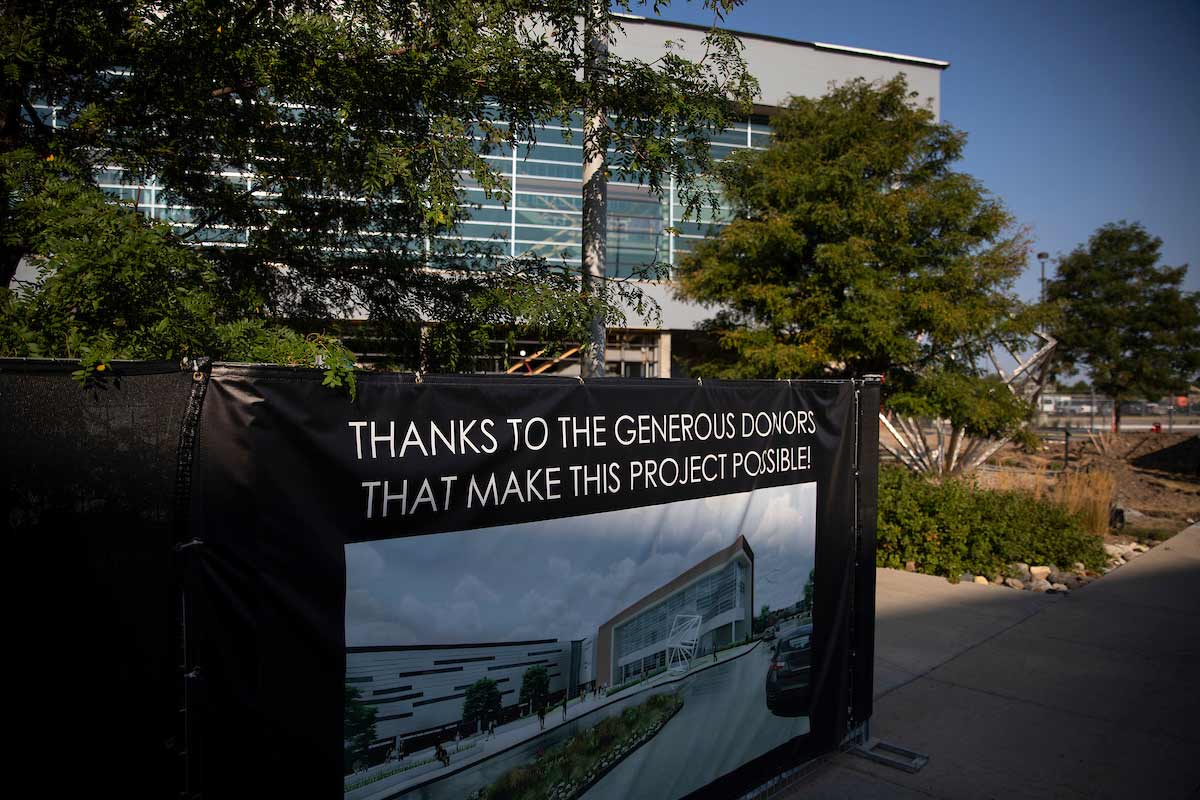 The new 44,000-square-foot addition under construction at Mammel Hall, home to the University of Nebraska at Omaha (UNO) College of Business Administration (CBA), now has a name: the Rod Rhoden Business Innovation Center.

The naming of the new privately-funded addition was recently approved by the University of Nebraska Board of Regents, and when completed in the spring of 2021 will benefit generations of business professionals, leaders, and entrepreneurs.

The Rod Rhoden Business Innovation Center is made possible through a privately funded initiative with lead gifts from the Mammel Foundation, Rod Rhoden Foundation, and Union Pacific Foundation. The new addition will help serve as a central hub for applied learning, community engagement and cutting-edge research that reimagines business education.

"When we say that Omaha is our campus, it also means fostering relationships, ideas and innovations that can help our city, state and region grow," UNO Chancellor Jeffrey P. Gold, M.D., said. "The Rod Rhoden Business Innovation Center will promote growth and big ideas that will change the world. We are grateful for the generosity of our donors to make this a reality."

Announcement of the Rod Rhoden Business Innovation Centercomes almost exactly 10 years after Mammel Hall was dedicated as the new home for CBA on UNO's Scott Campus in fall 2010. Mammel Hall was primarily funded by Omaha businessman and philanthropist Carl Mammel. His philanthropic leadership a decade ago for the hall, in addition to his robust business student scholarship program established more than 20 years ago, reflects the confidence of the business and philanthropic community in the future of UNO and CBA.

CBA has elevated its role as a national leader in student support, community collaboration, educational opportunity, and engagement. As a result of this success, enrollment increased as well as the need to hire additional faculty. It quickly became apparent an addition to Mammel Hall would be needed sooner than anticipated. Carl Mammel answered the call once again by making a $10 million gift to the project and encouraging others to contribute and offering an opportunity for naming the new addition.

"Any new venture or project ultimately requires a combination of faith, confidence and vision," Mammel said of the new expansion. "To see how the college has grown and how the community has rallied around the forward-thinking approach that UNO has to business education is the culmination of that initial vision. I wish nothing more than for this new addition to be the thing that provides future students the same faith, confidence and vision that will allow them to achieve greatness themselves."

UNO alumnus Rod Rhoden stepped up to make a major gift to name the addition in response to this challenge.

Rhoden is a 1967 business graduate of UNO and has been a leader in entrepreneurship and business for nearly 50 years. Since returning to Omaha in 1971 he has been a major investor in auto dealerships and real estate ventures in the Greater Omaha area. He currently has interest in four auto dealerships in Omaha and Lincoln employing more than 300. His auto dealerships have long been recognized for employee retention and customer satisfaction. While his home is Long Boat Key, Florida, Rhoden maintains various business and real estate interests in the Omaha and Lincoln area and more than 6000 acres of farmland in Southwest Iowa.
"I had no idea that my attending UNO prompted with a retail scholarship sponsored by Brandeis Department Stores would lead to my business and investment career centered around the Omaha community," Rhoden said. "It is humbling and special for me to be a part of this effort, which I know will be a game changer for the College of Business Administration, UNO and the Omaha community."

In the years following his graduation, Rhoden continued to stay connected to UNO as a mentor, supporter, and advocate for the college and university.
He received the UNO Alumni Citation in 1995 and was inducted as a UNO College of Business Administration Distinguished Alumnus in 2011. He previously served on the board of the directors for the UNO Alumni Association and the Development Committee for the University of Nebraska Foundation. He is currently a University of Nebraska Foundation Trustee, a member of the UNO Chancellor's Club as well as the University of Nebraska President's Club. His auto dealerships have been active in supporting the athletics programs at both UNO and UNL for over 35 years.

Union Pacific Railroad, headquartered in Omaha, also made a major contribution to the initiative. In recognition of its generosity, the college's outdoor gathering space will be named the Union Pacific Plaza.

"Union Pacific is proud to continue its longstanding relationship with UNO as we work to prepare students for the workforce of today and tomorrow," said Scott Moore, Union Pacific senior vice president-corporate relations, chief administrative officer and foundation president. "Providing high-quality facilities and opportunities like those offered at the Rod Rhoden Business Innovation Center is a great way to keep Nebraska's top talent right here in our community."

UNO CBA Dean Michelle Trawick, Ph.D., said the college is pleased to reveal the name of its Mammel Hall expansion.

"The Rod Rhoden Business Innovation Center will provide so many additional learning and community engagement opportunities," Trawick said. "Accounting students will have state of the art classrooms in the newly designated School of Accounting. Entrepreneurship students will have space to work with Omahans on high-tech startup strategies, and faculty and graduate students in our national counterterrorism program will conduct cutting-edge research that directly impacts many sectors of our metropolitan community.

"We will be doing all of this and more thanks to the generosity of our donors like Carl Mammel, Rod Rhoden and Union Pacific."

When completed, the Rod Rhoden Business Innovation Center will be home to programs and resources that mirror Rhoden's ingenuity and focus on building relationships to grow new business. It will feature a new Entrepreneurship Lab that will support UNO's Center for Innovation, Entrepreneurship, and Franchising; the newly-formed School of Accounting; the CBA Scholars Academy; a new business activity center dedicated to public events; and the home for the National Counterterrorism Innovation, Technology, and Education Center of Excellence.

Gifts and commitments to the initiative have also been made by other individuals and organizations. The University of Nebraska Foundation is continuing its fundraising efforts, and naming opportunities remain available within Mammel Hall and within the Rod Rhoden Business Innovation Center.

Construction on the addition began in August 2019 and is managed by The Weitz Company in partnership with Holland Basham Architects with project completion currently scheduled for April 2021.
About the University of Nebraska at Omaha
Located in one of America's best cities to live, work and learn, the University of Nebraska at Omaha (UNO) is Nebraska's premier metropolitan university. With more than 15,000 students enrolled in 200-plus programs of study, UNO is recognized nationally for its online education, graduate education, military friendliness and community engagement efforts. Founded in 1908, UNO has served learners of all backgrounds for more than 100 years and is dedicated to another century of excellence both in the classroom and in the community.
Follow UNO on Facebook, Twitter (X), Instagram, TikTok, LinkedIn, and YouTube.