Digital Learning at UNO: The Right Tools for the Job
Online and remote learning is only as successful as the support systems and technologies in place to help students and faculty. That is why UNO ITS Digital Learning has dedicated years to finding the right tools to meet campus needs.
published: 2020/08/14
contact: Charley Steed - University Communications
email: contact@unomaha.edu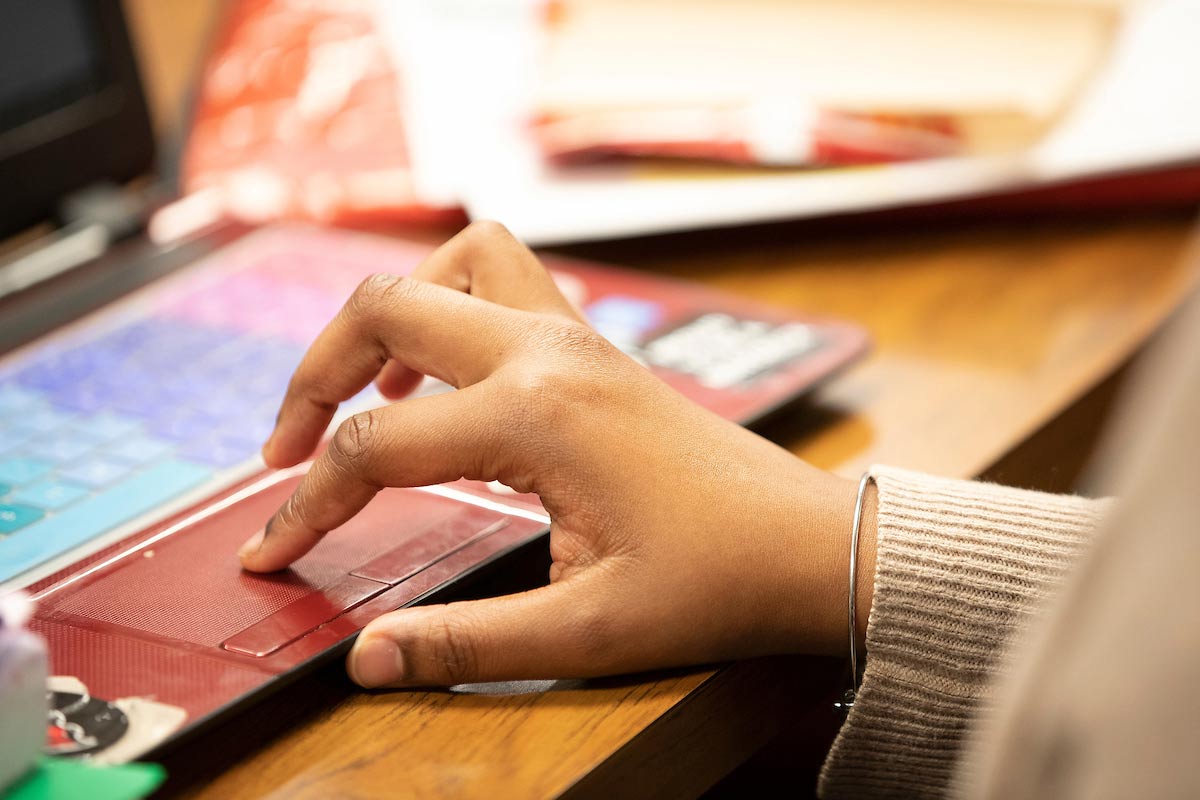 With tools like Canvas, Zoom, and VidGrid, UNO students and faculty have the technological tools they need to be successful.
As students and faculty return to the classroom this fall - remotely or otherwise - the technologies at their disposal will be some of the most robust, tested, and flexible academic tools available to the UNO campus in its history.
Software like Canvas, Zoom, VidGrid, and others are well known among the campus community since the move to remote learning this past spring; however, the work put into implementing these tools has been a years-long process led by UNO's ITS Office of Digital Learning.
"While the timing and circumstances in which we had to move to remote learning was forced by the nature of the COVID-19 pandemic, the fact that we were able to make the move as seamlessly as we did is a result of years of work partnering with faculty and students to ensure we had the right software in place for our campus," explains Jaci Lindburg, Ph.D., assistant vice president for ITS and director of digital learning at UNO.
Canvas
Canvas, for example, may seem like a staple of academic programming at UNO, but it has only been around since 2018. However, the impact of Canvas has been dramatic in that time.
Not only does Canvas provide 24/7 support - even outside of the support provided by the UNO Help Desk - but Canvas allows for a range of interactive tools that have benefited students and faculty alike. Since going remote on March 30, Canvas has seen nearly 26 million page views and 700,000 participatory actions.
"Over the past few years there has been a real intentionality to ensure that whatever tools we have in place are able to not just work together, but have functionalities that can make them adaptable to future tools we may want to use," Lindburg says. "This isn't just setting our students and faculty up for success today, but into the future as well."
Zoom
Zoom has become the predominant virtual conference software over the last few months and its ability to integrate seamlessly with Canvas is just one of the tool's benefits.
With the use of Zoom, faculty and students are able to not just meet live, remotely, but can engage in many of the same physical classroom experiences such as small work study groups, immediate instructor feedback, presentations, and much more. Digital Learning is anticipating a much wider use of Zoom well beyond the current blended approach to in-person and remote learning. In the four-and-a-half months the campus has spent in remote mode this spring and summer, Zoom has been used to host over 25 million meeting minutes at UNO.
"While there is no replacing the in-person class experience, there is also no replacing the expertise that our faculty can provide not just to students, but to the community as well," Lindburg says. "These are truly leaders in their field - nationally - and Zoom is a tool that can allow us to share their knowledge beyond the physical campus through remote classrooms, webinars, or virtual presentations."
VidGrid
One other recently-added tool that has made a big impact is UNO Academic Video, a tool powered by VidGrid that has allowed faculty to prerecord lectures and make them available through Canvas and other means.
A key feature of UNO Academic Video is the ability to caption recorded Zoom sessions or pre-recorded lectures and post to Canvas for students to review as their schedule allows. In fact, UNO Academic Video proved to be a key asset for students and faculty navigating accessibility needs during the move to remote learning.
"For students who need lip-reading capability, or would like extra time to complete an assignment, the ability for them to go back and listen to a presentation or re-watch a demonstration provides great accessibility and flexibility, which has helped immensely - and will be something I know a number of faculty will carry over even when we are able to safely return to more on-campus instruction," Lindburg says.
What's Next?
Lindburg says that one of the things that has made each of these tools beneficial to students and faculty is that they each have responsive mobile apps that can allow students to stay connected when they aren't near a desktop or a laptop.
And yet, Canvas, Zoom, and UNO Academic Video are not the end of UNO's digital learning tools. A list of these services, as well as instructions and additional support resources, can be found on the ITS Digital Learning website.
Students are encouraged to continue to visit keeplearning.unomaha.edu – conveniently located on the gray navigation bar right within Canvas – for a wealth of instructional resources and tips.
For faculty, the keepteaching.unomaha.edu site has been fully refreshed for the Fall 2020 semester, now including resources about the technology in specific UNO classrooms. Additional campus-wide fall planning information, which is updated daily, can be found at UNO's Fall Forward website.
There's no telling what the future will hold, whether it's the coming weeks or in the coming years, but with cutting-edge technology and a dedication to setting the stage for success, the UNO ITS Digital Learning team looks forward to supporting UNO students and faculty in reaching their goals.
About the University of Nebraska at Omaha
Located in one of America's best cities to live, work and learn, the University of Nebraska at Omaha (UNO) is Nebraska's premier metropolitan university. With more than 15,000 students enrolled in 200-plus programs of study, UNO is recognized nationally for its online education, graduate education, military friendliness and community engagement efforts. Founded in 1908, UNO has served learners of all backgrounds for more than 100 years and is dedicated to another century of excellence both in the classroom and in the community.
Follow UNO on Facebook, Twitter, Instagram, TikTok, LinkedIn, and YouTube.