Remote Service Learning Provides Unique Experiences, Opportunities
published: 2020/07/01
contact: University Communications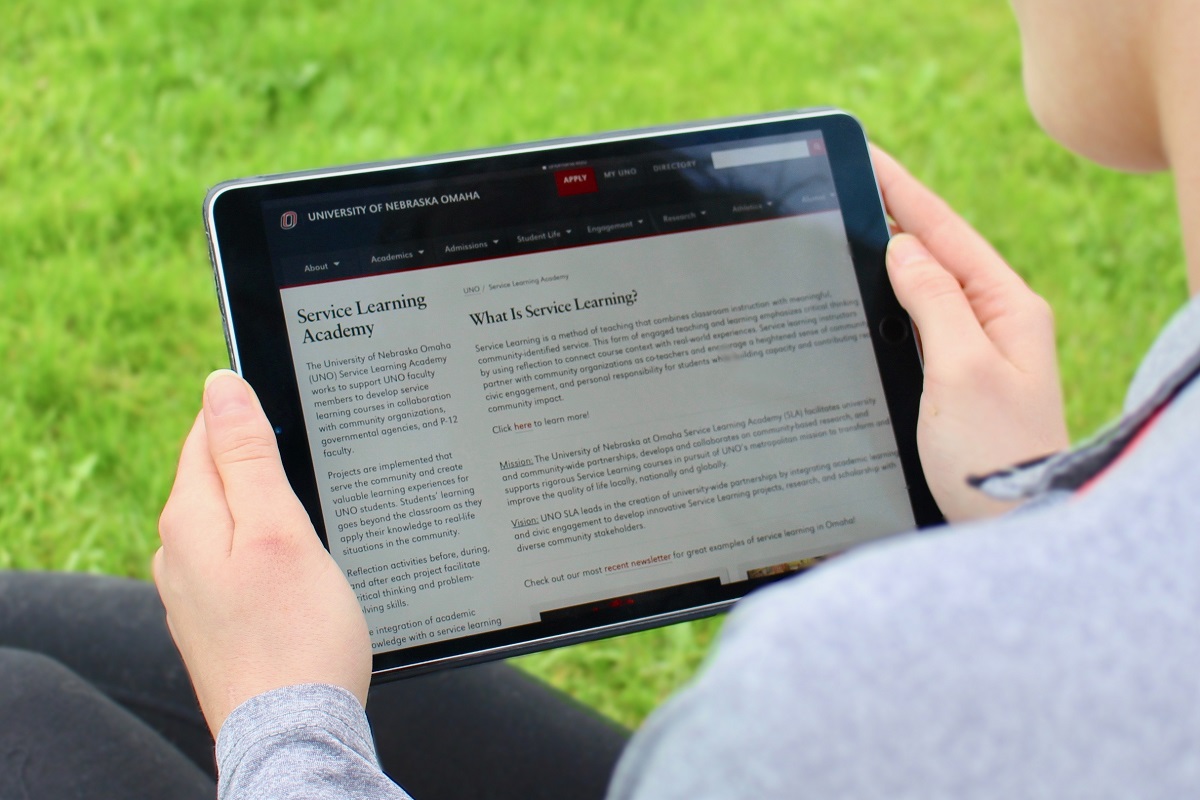 Experiences from Spring 2020 showed UNO students, faculty and staff that service learning can thrive - and grow - during remote operations.
One thing that defines UNO students' academic experience is learning that takes place in the community as much as it takes place in the classroom.

As COVID-19 forced the university to move its courses to remote delivery, and as faculty look ahead to what is in store for the Fall 2020 semester, the same question has come up: Why not wait to continue these experiences until they can be done face-to-face?

"It's a valid question," explained LaTrina Hall, coordinator of UNO's P-16 Initiative, which helps partner UNO courses with PK-though-high school classes and community organizations. "However, we know - and we saw - that the community organizations are still counting on those connections to our students."

That is why Hall, along with other members of the UNO Service Learning Academy, are working with faculty and staff to find new ways that service-based educational experiences can be done online, in-person and everywhere in between.

"Service learning is central to UNO's mission and identity," said Julie Dierberger, Paul Sather Distinguished Director of the UNO Service Learning Academy. "We are not going to let physical distance impact our ability to deliver academic learning opportunities that provide world-class education to our students while also sharing assets with our communities."

In fact, this past Spring many faculty, students, and community leaders found that the move to remote service learning provided expanded opportunities including providing ways to connect with community partners outside of Omaha and provide technology-based workforce skills and problem-solving that students will need once they are in the workforce.

This includes Jeff Knapp, a social work instructor, whose partnership with Together, a local nonprofit, allowed his students to not just rethink the dialogue around the Supplemental Nutritional Assistance Program (SNAP) but use recording technology to create a timely podcast series about the pandemic's impact on families relying on SNAP benefits.

"Once it became necessary to practice social distancing due to COVID-19, things changed dramatically for my class in general," said UNO faculty member Jeff Knapp, "However, [students showed] a strong desire for this project to continue."

More success stories can be found below. Those interested in learning more about how to incorporate service learning into their course planning for Fall 2020 and beyond are encouraged to participate in the upcoming Service Learning Seminar from July 13-17.

Questions? Contact the UNO Service Learning Academy at unosla@unomaha.edu.
Stories of Remote Service Learning
The Conversation Continues: Redlining in Omaha
Teacher Education students worked with Crestridge Elementary School and Inclusive Communities to engage in online Table Talk conversations on the history of racism, bias, and bigotry in Omaha.
Students Become Advocates: SNAP Benefits
Social Work students became advocates during the pandemic by conducting podcast interviews to educate Nebraskans about SNAP.
Mentoring Forward
Neurobiology students worked with students from King Science Magnet Center, as well as local and national organizations, to help spread awareness of Multiple Scelrosis.
College Prep and Family Learning
UNO ESL students coordinated with the Learning Community Center of South Omaha to develop 10-minute activity plans to help families prepare for college.
About the University of Nebraska at Omaha
Located in one of America's best cities to live, work and learn, the University of Nebraska at Omaha (UNO) is Nebraska's premier metropolitan university. With more than 15,000 students enrolled in 200-plus programs of study, UNO is recognized nationally for its online education, graduate education, military friendliness and community engagement efforts. Founded in 1908, UNO has served learners of all backgrounds for more than 100 years and is dedicated to another century of excellence both in the classroom and in the community.
Follow UNO on Facebook, Twitter, Instagram, TikTok, LinkedIn, and YouTube.