Students Become Advocates: A Service Learning Highlight
Service learning students became advocates during the pandemic by conducting podcast interviews to educate Nebraskans about SNAP.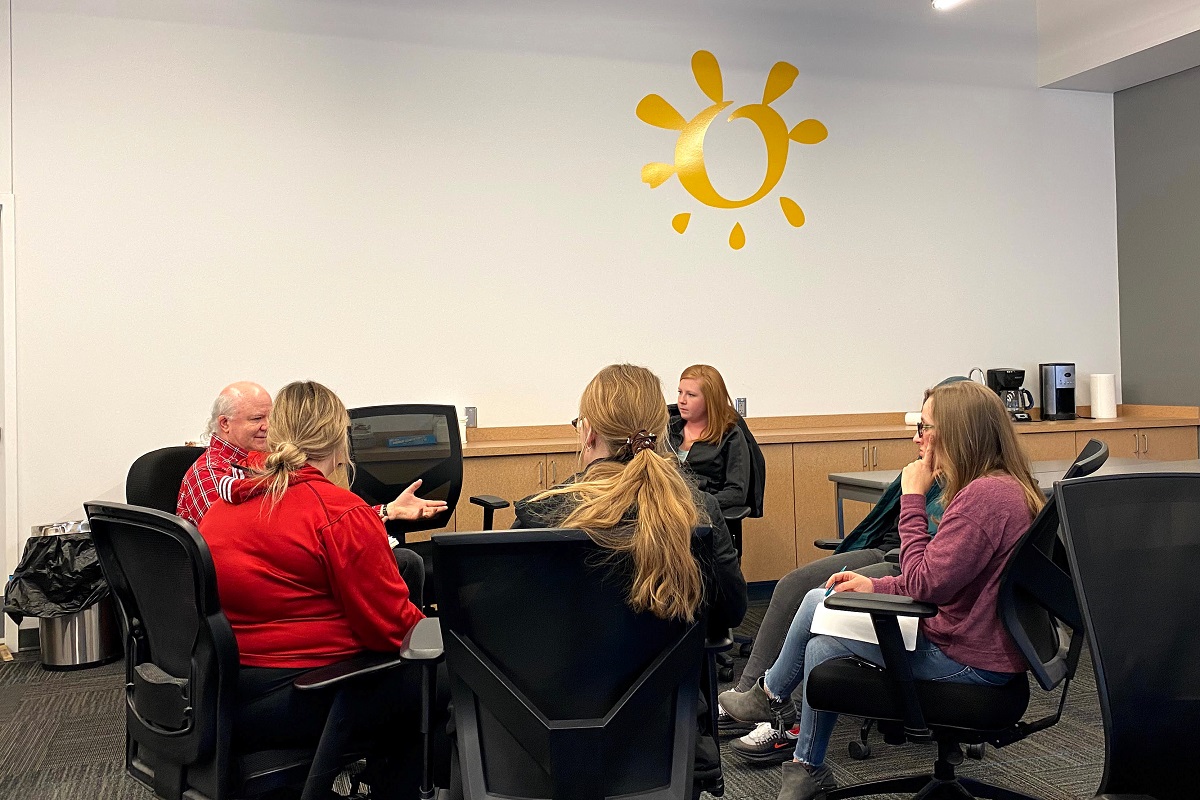 The UNO Service Learning Academy (SLA) is working with UNO faculty, preschool through 12th grade (P-12) teachers, and community partners to creatively adapt service learning projects to remote learning. Service learning projects will be highlighted throughout the remote learning phase.
Creating Podcasts to Raise Awareness
Advocacy has the potential to influence legislation and impact the community in critical ways. This semester, service learning students in UNO faculty member Jeff Knapp's Social Work and Civic Engagement course demonstrated their commitment to advocacy in light of setbacks caused by the COVID-19 pandemic.
For their service learning partnership, UNO students collaborated with Together, a local nonprofit, to advocate for the awareness and reform of the Supplemental Nutrition Assistance Program (SNAP). Together's mission is to combat homelessness and food insecurity. In addition to its other program areas, Together helps families in Omaha navigate SNAP, which is a federal program to raise the nutrition intake of low-income households by providing assistance to purchase food.
Together sought to raise awareness of the importance of SNAP and educate the public on its needed reforms. UNO students planned to create and record a podcast series featuring interviews with key stakeholders and community members involved with SNAP. The planned topics included the logistics of SNAP, SNAP and the economy, serving the elderly, food pantries, and SNAP's impact on grocery stores.
When UNO transitioned to remote learning earlier this spring, the students and Together faced a major logistical hurdle posed by social distancing to finish the podcast series before the end of the semester.
"Once it became necessary to practice social distancing due to COVID-19, things changed dramatically for my class in general," said UNO faculty member Jeff Knapp, "However, [students showed] a strong desire for this project to continue!"
UNO students persevered to finish the podcast series by embracing technology during remote learning and even addressed new topics in the podcast such as the pandemic's impact on families receiving SNAP benefits. Their contributions showcased the emerging leadership of UNO students during unprecedented times.
"UNO has truly passionate students and community partners," Knapp said. The lessons learned in this course including advocacy and perseverance will transcend well into the students' future as they continue being change agents in their community.
Project Partners:
Learn more about the UNO Service Learning Academy
The UNO Service Learning Academy (SLA) works to support UNO faculty members to develop service learning courses in collaboration with community organizations, governmental agencies, and preschool through 12th grade (P-12) teachers.
What is service learning? Service learning is a method of teaching that combines classroom instruction with meaningful, community-identified service.
Learn more about how the Service Learning Academy is responding during UNO's online and remote learning mode by visiting the UNO SLA Resource website.
Contact Us
If you are sponsoring a special or public event happening in the CEC or would like to share a news tip or story please let us know.
Robyn Loos
Special Projects Associate
Email: rloos@unomaha.edu
Phone: 402.554.2173