Digital Learning at UNO: Supporting Student Success
More than 15,000 students from across the world are part of the Maverick family with each and every member supported by UNO's faculty and staff as we navigate the challenges and opportunities presented by the Fall 2020 semester.
published: 2020/07/24
contact: Charley Steed - University Communications
email: cdreed@unomaha.edu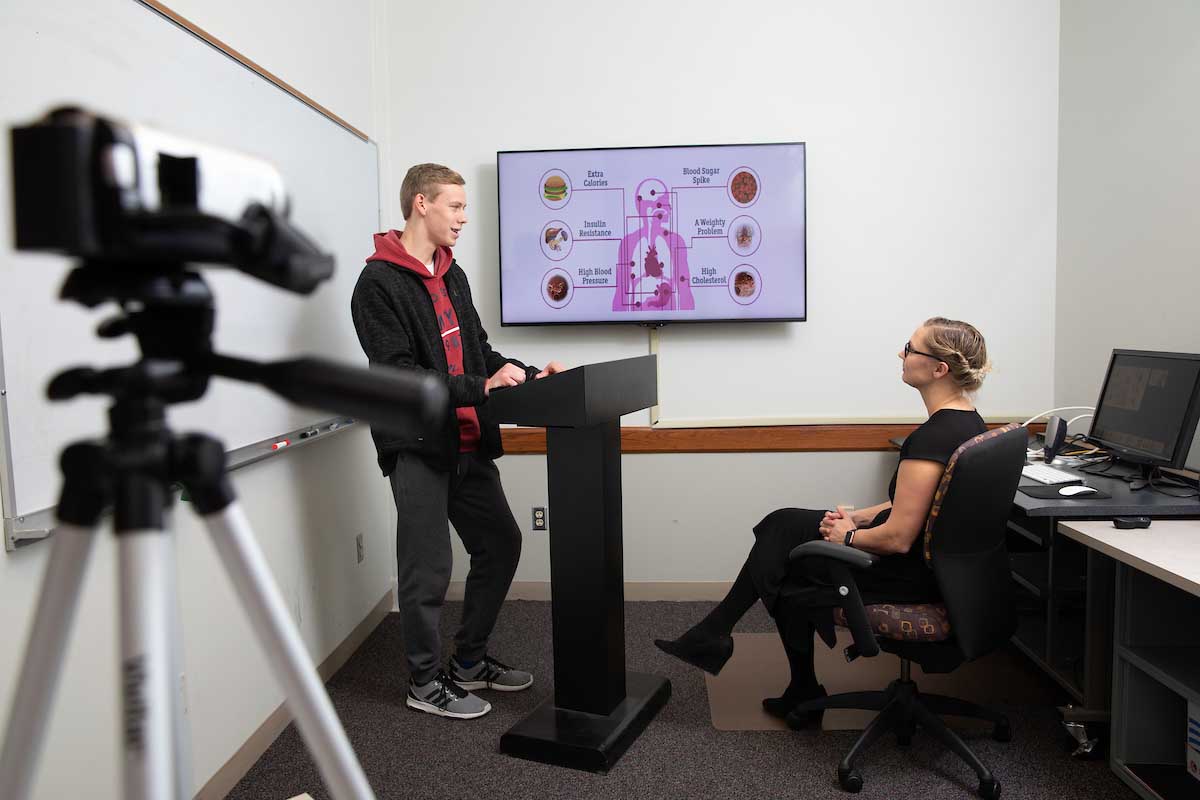 Marlina Davidson, right, assists a student in the UNO Speech Center. Thanks to adaptive and accessible technological tools, students have more ways than ever to engage with their faculty and fellow students while pursuing their degree at UNO.
Each semester thousands of UNO students engage in some form of digital learning.
Previous experience and support from campus was a key part of why students were able to successfully navigate this past spring's transition to online learning as a response to the COVID-19 pandemic.
"Students were not only successful in making the pivot to remote learning, but I think, found that their experience ended up being even better than they expected," explained Jaci Lindburg, Ph.D., director of online learning at UNO.
With a true continuum of learning on the horizon for fall, Lindburg says that creating stability for students is the top priority. This includes relying on well-established and accessible tools like Canvas, Zoom, and VidGrid.
In fact, for the fall, there will be several dozen additional Zoom-enabled rooms where students will be able to join a live course remotely or in person and have a similar real-time experience viewing content, listening to the instructor, and interacting with their peers.
"No one wants to feel like they are by themselves and students will not be by themselves this fall. Interacting with faculty and coursework via these tools is also coupled with the same great student support staff and services Mavericks are accustomed to such as tutoring and advising, which makes for a strong, holistic support experience in place for students."
---
VISIT: UNO's Keep Learning Resource Page
---
Alex Zatizabal Boryca, assistant director of online learning, says that it isn't just the tools, but also the expert faculty, who remain committed to students in the classroom and online.
"This is not YouTube; this is not Skill Share," she says. "It's our faculty who are the content creators and subject-matter champions. You are getting the same personal access to our internationally-recognized faculty digitally and that is important for students to remember."
Zatizabal Boryca says the best thing students can do to prepare for this fall is to stay informed by monitoring UNO's Fall Forward website, the Keep Learning resource page in Canvas, and their email. She also says students should not being afraid to reach out if they need more information or need help.
"We may not all physically be able to be together for the time being, but we are all here and in this together and stand ready to support you."
Here are just a few stories from fellow students about how they have been able to adapt to the new, digital continuum of learning at UNO:
Tavion Davis - Journalism and Media Communications
Noor Kanunde - Criminology and Criminal Justice
Greg Eckstrom - Public Administration
---
Andy Barritt, Junior
Mathematics
Like many UNO students, Andy Barritt utilizes the Accessibility Services Office on campus, working with staff and faculty to establish course-specific accommodations to ensure he is able to be successful in his degree program.
With the move to online learning in Spring 2020, Barritt had to work even more closely with Accessibility Services to adjust those plans in a way that would keep him on track.
"I also had to advocate for myself, as well, so I reached out to my professors and talked to them about ideas."
With some planning, Barritt was able to secure extra time to work on assignments and quizzes, while also getting support from external services at home to help with writing projects.

"I think one of the great things about what they did do was listen," Barritt says. "I mean, nobody had any idea how this was going to work."
He said the most important lesson he learned during the process was never give up and always try to find ways to overcome each challenge.
"Whatever it may be in life, you just can't give up."
Tavion Davis, Junior
Journalism and Media Communications
Prior to UNO moving to remote learning this past spring, Tavion Davis says that he didn't have much experience with digital learning courses. However, checking his email, conversing regularly with his classmates, and leaning on his role as a MavIGATOR helped him navigate the semester successfully.
As he looks ahead to the fall, he says he is much more prepared for what lies ahead.
"I like that we will get to take in-person classes again," he says. "I feel like my experiences during the remote learning period will help me adapt to a mix of online and in-person classes."
What is Davis is looking forward to the most this fall? Being able to see his friends and classmates again - albeit safely distanced.
"There's only so many times you can watch Avatar the Last Airbender or Tiger King before it starts to get old."

Noor Kanunde, Junior
Criminal Justice
Like many UNO students, Noor Kanunde came to UNO with the goal of being the first in his family to earn a four-year degree. As a Buffett Scholar and member of the Thompson Learning Community, the Omaha native has a strong support system and passion for involvement on campus.
When UNO moved to remote learning, Kanunde said he was nervous and had a lot of questions, but was confident that he would continue to be supported.
"As a person who thrives with in-person learning, I was afraid of the impact this online teaching method would have on me mentally and academically. Though, when UNO announced it would be moving online I had a sense of relief that they were looking out for students and faculty."
Kanunde says that while there are still many unknowns about the fall semester, he is glad UNO is continuing to take the health and safety of students into consideration by providing several different learning options for the fall.
"By giving these options it has truly improved my perception of the decision-makers at UNO."
He is also excited to be able to get back to one of his favorite UNO past times: chowing down on a chicken sandwich in the Milo Bail Student Center.

Greg Eckstrom, Graduate Student
Public Administration
When COVID-19 forced all UNO classes to move remotely, Greg Eckstrom, an Omaha firefighter and EMT, was already engaged in totally-online courses through the Master of Public Administration program at UNO. In fact, the MPA program's long history of digital course delivery is what drew him to UNO in the first place after earning his bachelor's degree out of state.
As the father of two boys, Eckstrom found the flexibility of online classes helpful in being able to work, help his sons with their school requirements, and still pursue his own educational goals. Specifically, he says having access to UNO's nationally-recognized faculty has been essential in finding ways to apply what he is learning into his job helping save people's lives.
"It feels like while learning about these topics through my studies, I'm also living them in real-time through my work, which has been a fascinating lens through which to view this pandemic. Our mission - to help others - is unchanged. From that perspective, this pandemic has simply strengthened our resolve and dedication towards that mission."
About the University of Nebraska at Omaha
Located in one of America's best cities to live, work and learn, the University of Nebraska at Omaha (UNO) is Nebraska's premier metropolitan university. With more than 15,000 students enrolled in 200-plus programs of study, UNO is recognized nationally for its online education, graduate education, military friendliness and community engagement efforts. Founded in 1908, UNO has served learners of all backgrounds for more than 100 years and is dedicated to another century of excellence both in the classroom and in the community.
Follow UNO on Facebook, Twitter (X), Instagram, TikTok, LinkedIn, and YouTube.