Digital Learning at UNO: Succeeding Through a Continuum of Instruction
Posed with unforeseen challenges due to COVID-19 this spring, faculty at UNO found opportunity and success in leveraging digital learning tools and pedagogies that are ensuring a stable foundation for Fall 2020.
published: 2020/07/13
contact: Charley Steed - University Communications
email: cdreed@unomaha.edu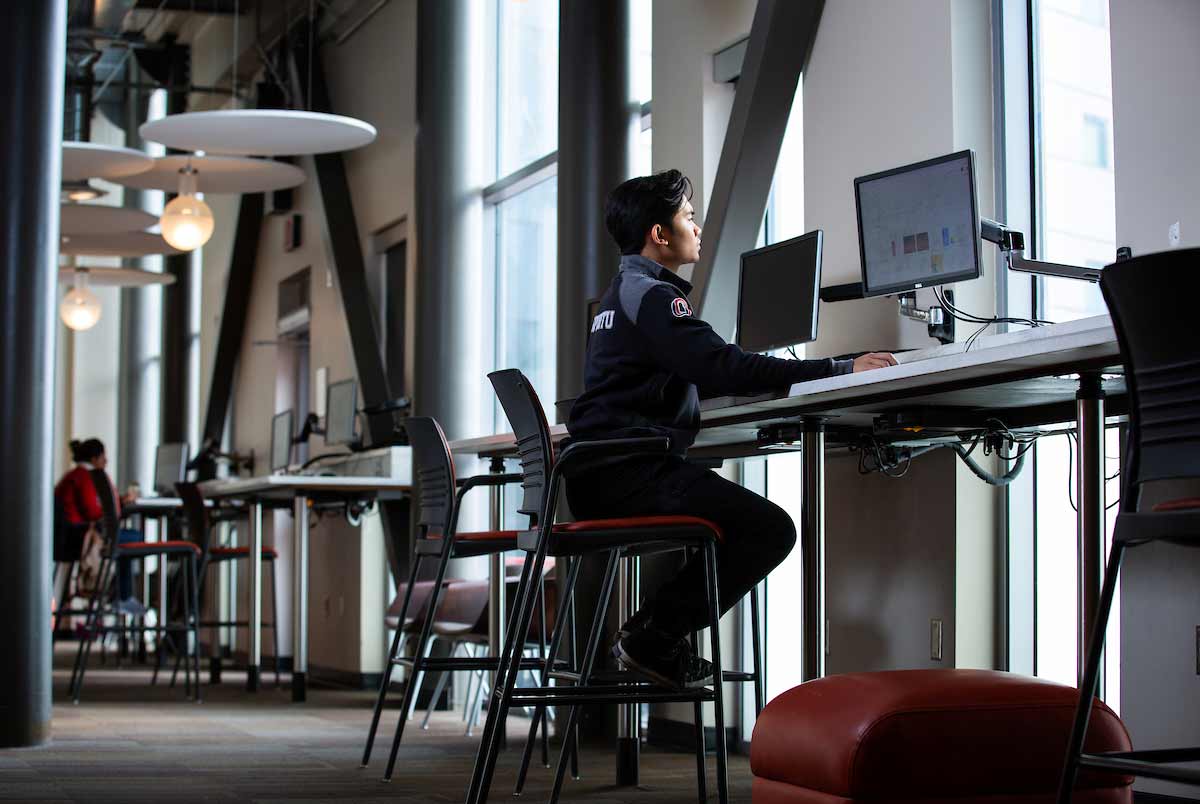 Digital learning, whether online, remote, or hybrid, has been an academic focus for UNO for the past 30 years; however, many faculty experienced planning for digital learning for the first time this past spring when the campus was forced to move entirely to remote learning due to COVID-19.

While the move did provide challenges to be overcome, UNO faculty rose to the challenge and not only survived, but often thrived - exploring new ways of delivering content, engaging with students, and incorporating ideas from students that helped meet their needs during a time of significant change.
This is what Jaci Lindburg, Ph.D., director of digital learning at UNO, calls the "Continuum of Instruction." In other words, looking at digital learning as strictly in-person or online does not fully reflect the wide array of options and tools faculty have at their disposal.

"However we emerge from here will be different than what we are all used to, but it can also be the best of what we went into this scenario doing," explained Jaci Lindburg, director of digital learning at UNO.

At the end of the spring semester, faculty came together to share success stories at both the fourth annual Digital Learning Showcase and May Strategic Planning Forum. A collection of these stories are included below.
Alex Zatizabal Boryca, assistant director of digital learning at UNO, said that having tools in place like VidGrid, Zoom, Canvas, and others, well before the pandemic, was vital to the success faculty saw this spring and in planning for fall.

"These tools were very intentionally looked at early on for their accessibility and being able to meet the needs of our students at UNO. Because of that, we have a whole group of early adopters that showed real Maverick Spirit in taking these tools and running with them in this empowering way."

As UNO prepares for fall, Lindburg says that the lessons learned from this past spring, and the foundational tools already in place, will create a path forward for the future of digital learning on campus.

"The next step is making sure we all understand the tools and use them really well," Lindburg said. "Like anything else, it just needs to be done with great intentionality and great understanding of who your students are."
Read More
Digital Learning at UNO: A History of Innovation


Spring 2020 Success Stories
Strategic Planning Video Presentation
Steffi Jesseau, Department of Psychology: Managing Large Class Sizes
Roma Subramanian, School of Communication: Keeping Lines of Communication Open
Zach Darwish, University Honors Program: Shared Responsibilities


----
Strategic Planning Video Presentation
In May, the UNO campus was invited to participate in a Strategic Planning Forum, for discussion on how the campus will move forward as the world continues to adapt to the COVID-19 outbreak.
One of the focus areas at the forum included a recap of remote teaching and learning led by Jaci Lindburg. This portion of the forum highlighted the decades-long investment and commitment to distance learning that helped UNO quickly pivot and rise to the challenge created by COVID-19.
"Some may view this as temporary," Lindburg said. "However, as classroom delivery and fully-online courses merge the work we are doing now is critical."
The recap included a presentation of success stories shared by faculty and how they maximized different spaces along the continuum of instruction:

Managing Large Class Sizes
Steffi Jesseau, Ph.D., Instructor of Psychology, Introduction to Psychology

Steffi Jesseau is no stranger to digital learning; however, the approach she uses may not fit the typical mold most are familiar with.

Like many classes this fall, Jesseau's Introduction to Psychology class is regularly taught in a hybrid mode where students meet at least once in person throughout the semester. With nine sections and a capacity of 750 students to manage, it requires planning and reliance on tools provided by the UNO Digital Learning team.

"It's a lot of students to manage, and so anything I can do to automate the process is very helpful," she explained at the 2020 Digital Learning Showcase. "By front loading some of the work for yourself ahead of time you can reduce your workload during the semester, which is especially helpful for large-enrollment classes."

Her approach includes utilization of VidGrid to record lectures students must watch before attending class in person, including a built-in quiz functionality that ensures students are participating; online quizzes that can be taken until a student is comfortable with the material in advance of unit tests; and the "Turn It In" tool within Canvas that can quickly flag portions of essays and papers that could be plagiarized.

Each of these approaches, she said, helps manage large numbers of students in a way that keeps them on task and meeting learning objectives.

"This kind of feedback lets me see what they are getting right and wrong and then they can hopefully adjust their studying accordingly."

Keeping Lines of Communication Open
Roma Subramanian, Ph.D., Assistant Professor of Communication, Media Writing and Health Communication

Prior to the summer of 2019, Roma Subramanian had not taught digitally before. However, since her first experience - she has incorporated at least one fully-online course into her teaching responsibilities each semester. She told attendees at the Digital Learning Showcase that knowing where students are coming from is key to planning for the rest of the semester.

"Students can come into my online class having taken an online class before but their online experience can be incredibly varied."

In her explorations thusfar, Subramanian said that she found that the key guiding principles are setting expectations early; making content easily accessible and understandable; and providing students a venue to communicate.

"One of the things I really miss about my face-to-face classes is that … when you're getting to your class ahead of time and you're setting up your stuff there is this chatter in the classroom. I really missed those conversations and I thought my students might miss them too so I wanted to create that atmosphere."

This is why, in addition to scheduling one-on-one meetings with students, in addition to online office hours, she also created a virtual meeting space for students to talk about things unrelated to the course.

"What I've noticed is that some of the things students talk about are like 'This is my first online class, what advice do you have?' or 'I'm really having a rough week' and another student will boost their spirits."

It is these lessons, she says that have shown her there are always new techniques to explore when it comes to digital learning.

"I think I've just scratched the surface and there is a lot more to learn."

Sharing Responsibilities
Zach Darwish, Graduate Assistant, University Honors Program, Science and Society

As a teaching assistant for the UNO University Honors Program, graduate student Zach Darwish got his first digital teaching experience with a course that had to transition from entirely in-person to a fully-online approach within two weeks.

As honors colloquium exclusively for students in the University Honors Program, Darwish worked directly with his students in identifying the skills, lessons, and assignments they would cover that semester. When COVID-19 impacted the agreed-upon plan for in-class debates and group projects, that philosophy helped navigate how the class would move forward.

"Because they were involved in terms of course design, and topics, and skills - I wanted to keep them involved in the process of how our course shifted as a result [of the remote learning]."

Darwish said being aware of the new realities his students may be facing, like working extra hours, dealing with possible unemployment, or caring for an ailing family member, also necessitated a change in structure from a rigid Tuesday-Thursday schedule to semi-synchronous learning.

However, he said, being up front and honest with his students, and letting them dictate what would work best for them given the uncertainties of COVID, allowed him to make changes to his plans without sacrificing the any learning outcomes.

"Those were the [things] that really needed to be addressed in terms of how we change course design to allow for these assignments to still happen - for the students to get the same skills they expressed interest in without burdening them or losing the core components of that.

"It was really exciting to watch, as an instructor, to see my students get so invested in this and adapt to the change."
About the University of Nebraska at Omaha
Located in one of America's best cities to live, work and learn, the University of Nebraska at Omaha (UNO) is Nebraska's premier metropolitan university. With more than 15,000 students enrolled in 200-plus programs of study, UNO is recognized nationally for its online education, graduate education, military friendliness and community engagement efforts. Founded in 1908, UNO has served learners of all backgrounds for more than 100 years and is dedicated to another century of excellence both in the classroom and in the community.
Follow UNO on Facebook, Twitter (X), Instagram, TikTok, LinkedIn, and YouTube.