Tips for Staying Fit in the Age of #StayAtHome
published: 2020/04/08
contact: Dave Ahlers - Omaha Athletics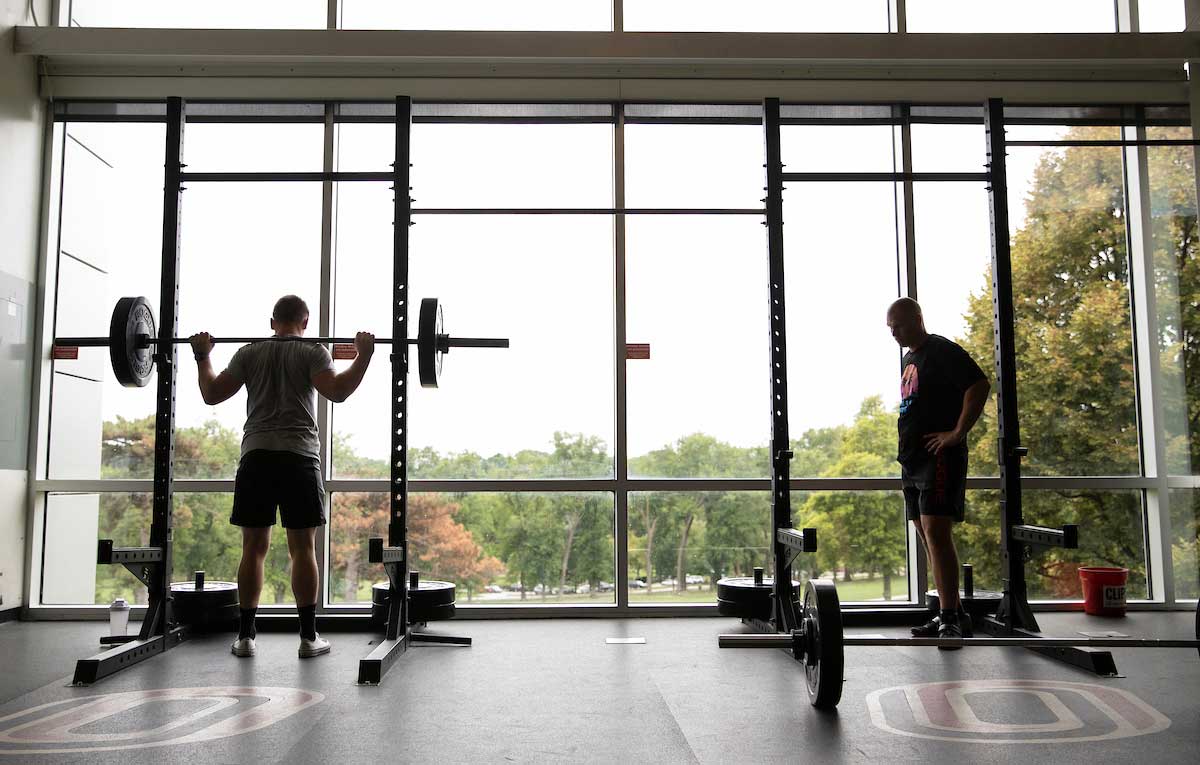 With UNO Campus Recreation, as well as gyms, closed down due to COVID-19, there are still ways to stay committed to you fitness goals.
Under normal circumstances, maintaining a fitness routine can be a challenge when jobs and families are part of the equation. The current COVID-19 health crisis and the restrictions it has necessitated in our daily lives might make anything resembling a workout seem nearly impossible.
But Skyler Brooke, assistant director of Strength and Fitness Programs at UNO Campus Recreation, says there are still plenty of ways to stay fit even when we can't make it to our favorite gym or workout space.
"It's important to set up a schedule as close to what it was before," he says. "And if you usually use weights and machines and can't now, you probably need to adjust your goals" until the crisis is over.


Working From Home
Brooke says it's just as easy to get stuck in your chair at home as in the office.
"You shouldn't sit for more than 30 minutes at a time," Brooke says. He suggested using a fitness tracker to remind you when to move and to set aside planned time for activity. He says even when you're home, 10,000 steps a day should still be the goal.
Indeed, walking is one easy way to get activity, and Brooke says yoga and stretching are other good low-intensity ways people can stay healthy while at home.
Beyond that, he says the stairs in your house, a broomstick or a box of books all make for good workout equipment. The School of Health and Kineseology is posting one workout video a day through April on its Facebook and Instagram channels, @UNOWellness. Since people were told to stay home, he says they've gained more than 300 followers."


Plenty of Resources
Brooke says in addition to the School of Health and Kineseology's social media offerings and the new Maverick Mindfulness series, there is no shortage of workout videos on YouTube as well as free apps that help you follow through with your workout goals.
Personally, he uses Achieve Fitness Boston as a resource to model workouts. It too offers a free app.


Nutrition
Eating correctly works hand-in-hand with any workout plan.
When you're working from home, it's easy to make several trips to the kitchen for a quick snack. Brooke says to do your best to resist the urge.
"Ask yourself if you're hungry or just bored," he says. "Gum can fill in those gaps when you feel like a snack.
"If you're watching Netflix and want a snack, pour the food into a bowl so that you control your portion size instead of bringing the whole bag and mindlessly eating."
When it comes to beverages, he says there's no substitute for H2O.
"Drink more water than any other beverage," he says. "Make that one action you can commit to."


For Kids
Adults aren't the only ones with pent-up energy at home. Kids need daily activity as well. Brooke says this is where parents and children can find some quality time.
"Anytime adults do something, kids can follow through as well," he says. "Movement is the key."
In addition, he says YouTube has plenty of fun activities for kids and for a good old-fashioned workout, playing in the yard or a local park help them burn off energy and stay fit.
About the University of Nebraska at Omaha
Located in one of America's best cities to live, work and learn, the University of Nebraska at Omaha (UNO) is Nebraska's premier metropolitan university. With more than 15,000 students enrolled in 200-plus programs of study, UNO is recognized nationally for its online education, graduate education, military friendliness and community engagement efforts. Founded in 1908, UNO has served learners of all backgrounds for more than 100 years and is dedicated to another century of excellence both in the classroom and in the community.
Follow UNO on Facebook, Twitter (X), Instagram, TikTok, LinkedIn, and YouTube.