In A Time of Uncertainty, Look to the Arts
Some may find it hard to believe that art, music and writing can improve your mood and clear your mind, but this is where Medical Humanities comes into play.
published: 2020/04/08
contact: Jessica Hilt - University Communications
email: unonews@unomaha.edu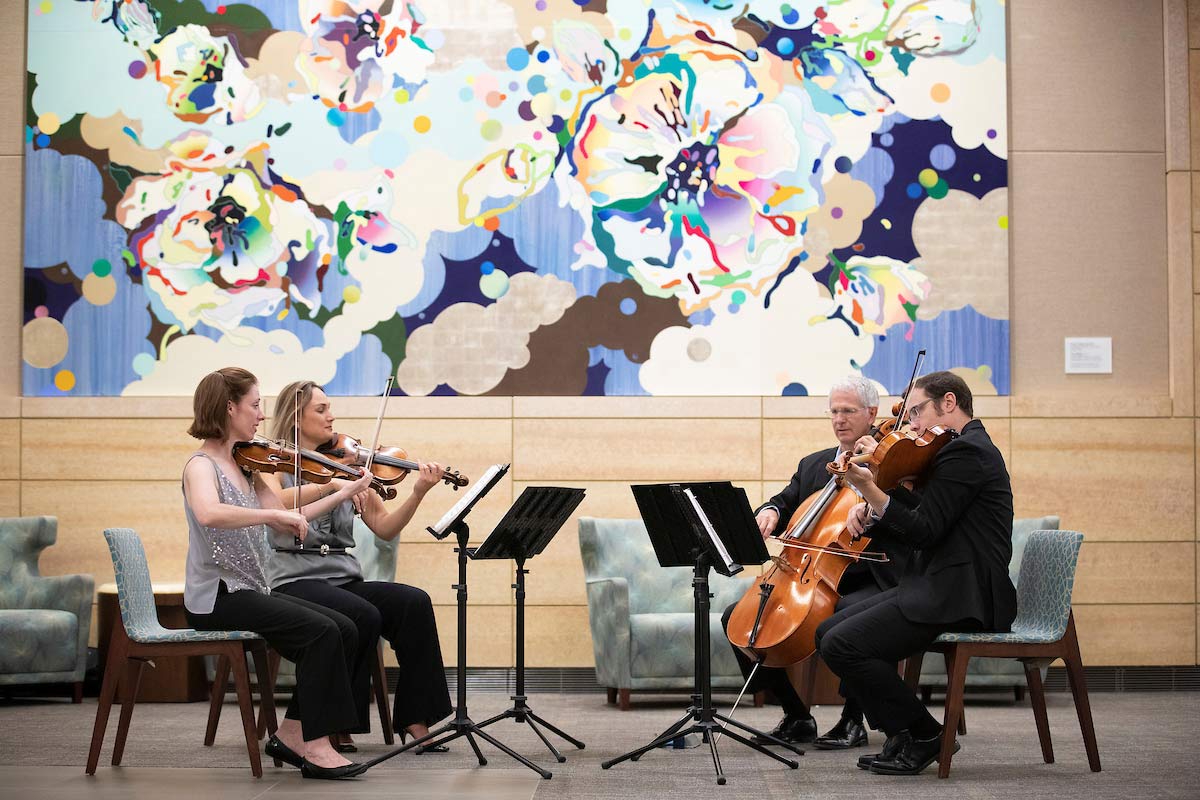 "I will remember that there is art to medicine as well as science, and that warmth, sympathy, and understanding may outweigh the surgeon's knife or the chemist's drug."
Those in the medical field may recognize that quote from a very familiar writing called the Hippocratic Oath; an oath of ethics that is historically taken by physicians.
But why that excerpt in particular?
Research has shown that getting involved with the arts has been proven to have a powerful and lasting effect on one's health and so, during this time of quarantine and isolation, it can help create a sense of community among fellow artists, musicians, writers, etc. through online outlets.
Some may find it hard to believe that the arts can inspire health and wellness; that listening to music can help improve your mood or writing down your frustrations can help clear your mind, this is where Medical Humanities comes into play.
Medical Humanities is an interdisciplinary field that explores, from multiple perspectives, connections between humans, cultures, medicine and allied health sciences. As the University of Nebraska at Omaha (UNO) Medical Humanities program puts it: "A person in need of care is, of course, more than a patient, diagnosis, subject or problem. That person is someone who embodies histories, cultures, stories, identities, hopes, fears and all the complexities that are part of human life and experience."
Steve Langan, director of UNO's Medical Humanities Program, says imaginative connection, through the arts and humanities, is a life saver.
"We don't just write poems and make music and paint for the hell of it," he explains. "These processes are an ongoing re-connection to what makes us, at our complex core, human.
In a recent editorial published in the Omaha World-Herald, Lagan said that taking time to recognize and focus on the arts and humanities "will become even more essential in the weeks ahead" as the world adapts and responds to COVID-19.
Even though these types of creative expression can't replace the valuable work of therapists and mental health practitioners, Langan says "there is evidence, thousands of years of it, that the arts and humanities have always been there to encourage and inspire those of us who have physical, mental, emotional or spiritual pain and need.
"It proves what those of us who have worked in this space have witnessed over and over; the arts and humanities help us live our lives, give us energy and hope and help us at least try to make sense of hardship and tragedy."
So, what are some ways that we can engage in the world of the arts and essentially help our physical and mental well-being? Langan advises everything from simply listening to music, watching live online concerts, grab an old book off of your shelf, learn to play an instrument, or even write some of your own poetry.
The key, Langan says, is to just do something – anything – to exercise that part of your brain, just like you would exercise any other muscle to keep it strong.
"No matter what, it's going to start off a little messy," he advises, adding that, when beginning something new, there will be "starts and stops; and misses; and many, many failures."
But, even if it's messy, Langan says, don't be afraid to try new things, no matter your level of experience. Just remember, it could help save your life!
About the University of Nebraska at Omaha
Located in one of America's best cities to live, work and learn, the University of Nebraska at Omaha (UNO) is Nebraska's premier metropolitan university. With more than 15,000 students enrolled in 200-plus programs of study, UNO is recognized nationally for its online education, graduate education, military friendliness and community engagement efforts. Founded in 1908, UNO has served learners of all backgrounds for more than 100 years and is dedicated to another century of excellence both in the classroom and in the community.
Follow UNO on Facebook, Twitter (X), Instagram, TikTok, LinkedIn, and YouTube.