Local Nonprofit Faces COVID-19 Challenges Head-On Thanks to Partnership With UNO IS&T Students
published: 2020/04/22
contact: Brandon Bartling - University Communications
email: unonews@unomaha.edu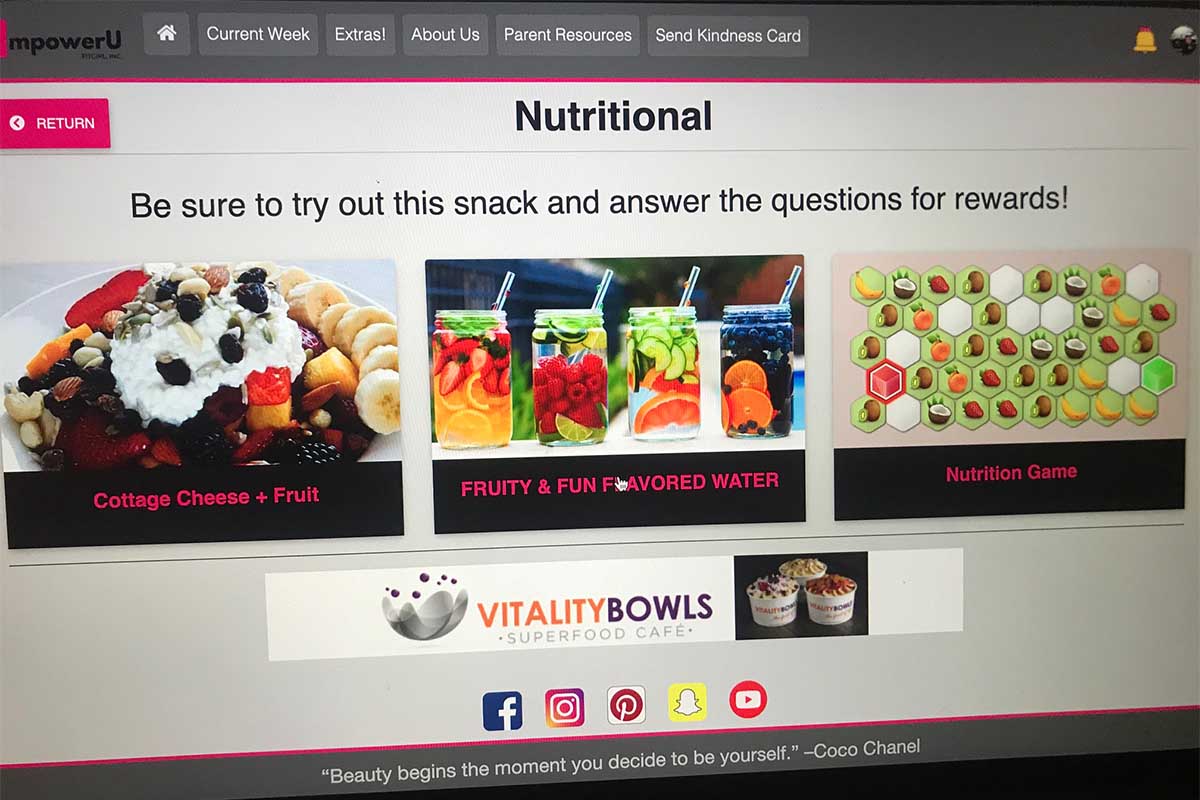 EmpowerU, an online platform developed by students within UNO's College of Information Science & Technology, is helping local nonprofit FITGirl continue to carry out its mission despite challenges presented by the COVID-19 pandemic.
Omaha – Staying home and following social distancing guidelines can slow the spread of COVID-19, but it can also disrupt mentorship and learning opportunities for children. Thanks to a partnership with students at the University of Nebraska at Omaha (UNO)'s College of Information Science and Technology (IS&T), a local nonprofit has been able to minimize that disruption and keep kids engaged while they stay at home.
FITGirl is an Omaha-based nonprofit organization that works to empower girls in elementary, middle, and high school to make positive choices on physical, mental, relational, and nutritional levels. The nonprofit was able to connect with students and faculty within IS&T through the UNO Service Learning Academy, which seeks to integrate academic learning and civic engagement through university-wide projects, research, and scholarship with diverse community stakeholders.
Over the past two years, partnering with students in IS&T's Management Information Systems capstone course has helped the nonprofit expand its offerings to an online platform. Under the leadership of Sachin Pawaskar, Ph.D., senior research technology fellow for IS&T, students have developed, tested, and continued adding features to EmpowerU, a mobile-friendly website for FITGirl.
"Service learning is a very powerful way of learning. It provides a win-win situation where a community partner gets a powerful digital platform built and the students get the opportunity to work on a real-world project which has a meaningful impact on the community," Pawaskar said.
Once COVID-19 put a stop to in-person camps and activities, EmpowerU became critical to FITGirl's operations.
"Before, it was kind of a value-add because we had face-to-face classes where they were getting most of this information and that's what they were most excited about," FITGirl Founder Cheri Dickmeyer said. "Now, we're relying almost 90 percent on this to keep these classes going."
For example, physical fitness features provide users with instructions on how to do various strength, agility, and flexibility exercises. The website rewards points based on completing 30 minutes of physical activity, making nutritionally sound choices, and answering challenging questions.
"For the parents who have to work from home and the kids who are running out of things to do, I think this mobile website has been a godsend for us," Dickmeyer said.
EmpowerU also includes important mental and relational components. Users can view content to help them process their feelings or send kindness cards to classmates as a way to stay in touch and encourage one another during these challenging times.
Dickmeyer was thankful to have EmpowerU in place and ready to meet the challenges presented by COVID-19.
"While everybody else is scrambling – all the gyms trying to figure out how to do online courses or how they do these videos, completely revamping their programs – we've already got something," Dickmeyer said. "Now we have this, and we're going to refine and probably utilize it more than we had in the past because we understand the impact it's had on these kids."
This partnership began through the UNO Service Learning Academy's Annual Showcase. This year's event will take place on Tuesday, April 28, and Thursday, April 30 through an online format. Learn more about the showcase and how to attend by visiting the 2020 UNO Service Learning Academy Showcase event page.
About the University of Nebraska at Omaha
Located in one of America's best cities to live, work and learn, the University of Nebraska at Omaha (UNO) is Nebraska's premier metropolitan university. With more than 15,000 students enrolled in 200-plus programs of study, UNO is recognized nationally for its online education, graduate education, military friendliness and community engagement efforts. Founded in 1908, UNO has served learners of all backgrounds for more than 100 years and is dedicated to another century of excellence both in the classroom and in the community.
Follow UNO on Facebook, Twitter (X), Instagram, TikTok, LinkedIn, and YouTube.