Omaha North Senior Awarded 'Maverick in the Making' Scholarship
Desyree' McGhee plans to pursue a degree that will help her change the conversation around seeking mental health treatment.
published: 2020/01/13
contact: Sam Peshek - University Communications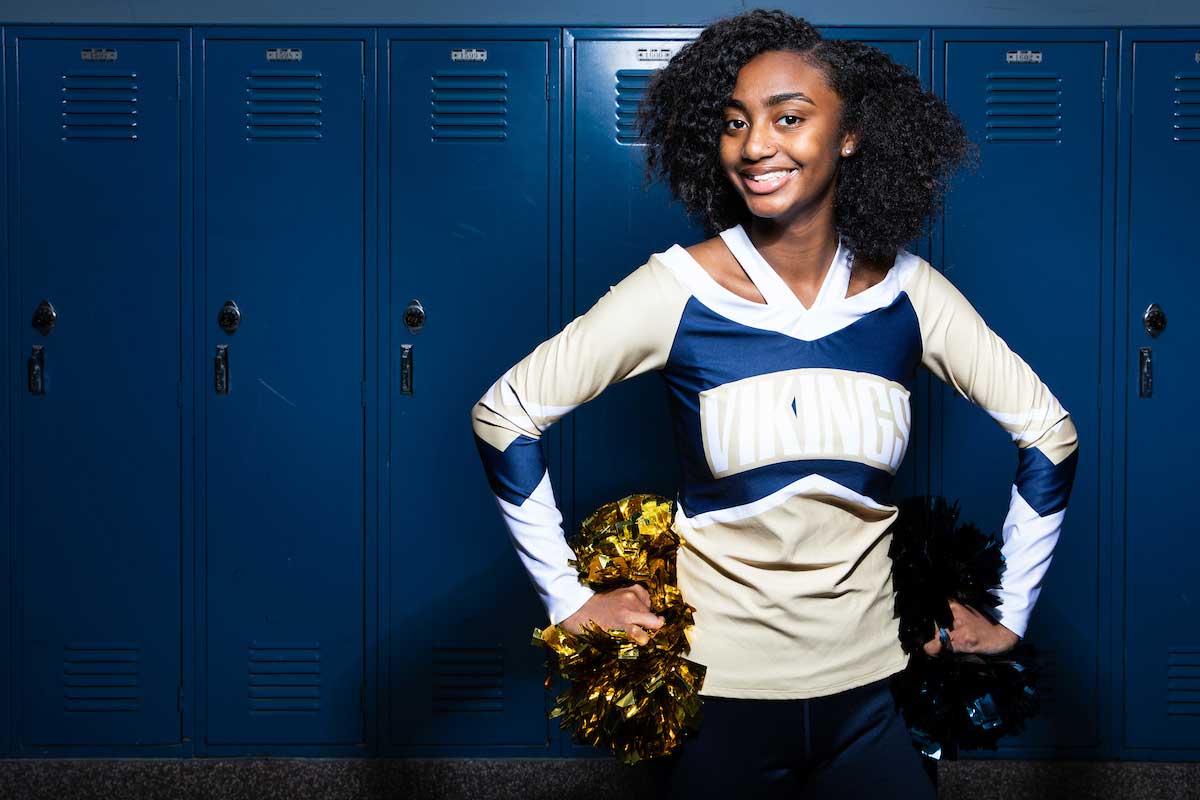 Desyree' McGhee was selected as a "Maverick in the Making" - earning a $4,000 scholarship to attend UNO.
Desyree' McGhee isn't going to wait on the world to change.
McGhee, an Omaha North High School senior, intends to be the change that she wants to see in the world by using her education to take on the stigma surrounding mental health treatment. Her passion to have a positive impact in her community and rise above challenges is why the University of Nebraska at Omaha made McGhee the latest recipient of the Maverick in the Making Scholarship.
"I want to be the first to do something different so everyone else isn't afraid to try," McGhee says.
Maverick in the Making recognizes high school seniors who are making a difference in their communities by awarding them a scholarship to UNO for $4,000. McGhee is the second recipient of the scholarship, which launched in 2019.
McGhee says she intends to pursue psychology as an undergraduate and pursue a master's in marriage in family therapy, with the goal of "changing the mindset of North Omaha," when it comes to mental health.
"I want to change that conversation because it's something that I feel like we really struggle with," she says.
Lajoy Green, McGhee's nominator, and college and career counselor at Omaha North, says her curiosity and a desire to help her community will help her thrive at UNO.
"She's one of those kids that asks why, and it's not to be defiant or difficult, it's to seek better understanding," Green says. "I feel that UNO will give her those opportunities to expand and really help her develop and strengthen the things she's really good at."
Although she didn't consider attending college until recently, McGhee credited the women in her family – especially her single mother – with the decision to pursue higher education. She also wants to be an example for her sisters.
"I want to be the change…and start something new for my sisters coming after me, because I'm the oldest and I want her to be proud to see that all that she has endured will benefit us in the long run," she says.
McGhee had considered attending schools outside of Omaha or out-of-state at first, but says UNO "makes me feel at home within my home in Omaha."
"My education has opened doors for me that wouldn't have opened if I wasn't so engaged, so I feel like college will open more doors for me," she says.
Have your own future Maverick to nominate? UNO is accepting submissions for the Next Maverick in the Making year-round.
Nominate Your Maverick in the Making
A Maverick is an independent thinker—someone who isn't afraid to go against the grain and explore without the fear of failing. At UNO, our Mavericks are asking questions and making change all across the world. Nominate your Maverick in the Making today and give them the chance to start big! You can also learn about past recipients of the scholarship.
About the University of Nebraska at Omaha
Located in one of America's best cities to live, work and learn, the University of Nebraska at Omaha (UNO) is Nebraska's premier metropolitan university. With more than 15,000 students enrolled in 200-plus programs of study, UNO is recognized nationally for its online education, graduate education, military friendliness and community engagement efforts. Founded in 1908, UNO has served learners of all backgrounds for more than 100 years and is dedicated to another century of excellence both in the classroom and in the community.
Follow UNO on Facebook, Twitter (X), Instagram, TikTok, LinkedIn, and YouTube.