Davion Vaillant Awarded Scholarship as UNO's First 'Maverick in the Making'
published: 2019/12/17
contact: Charley Steed - University Communications
email: cdreed@unomaha.edu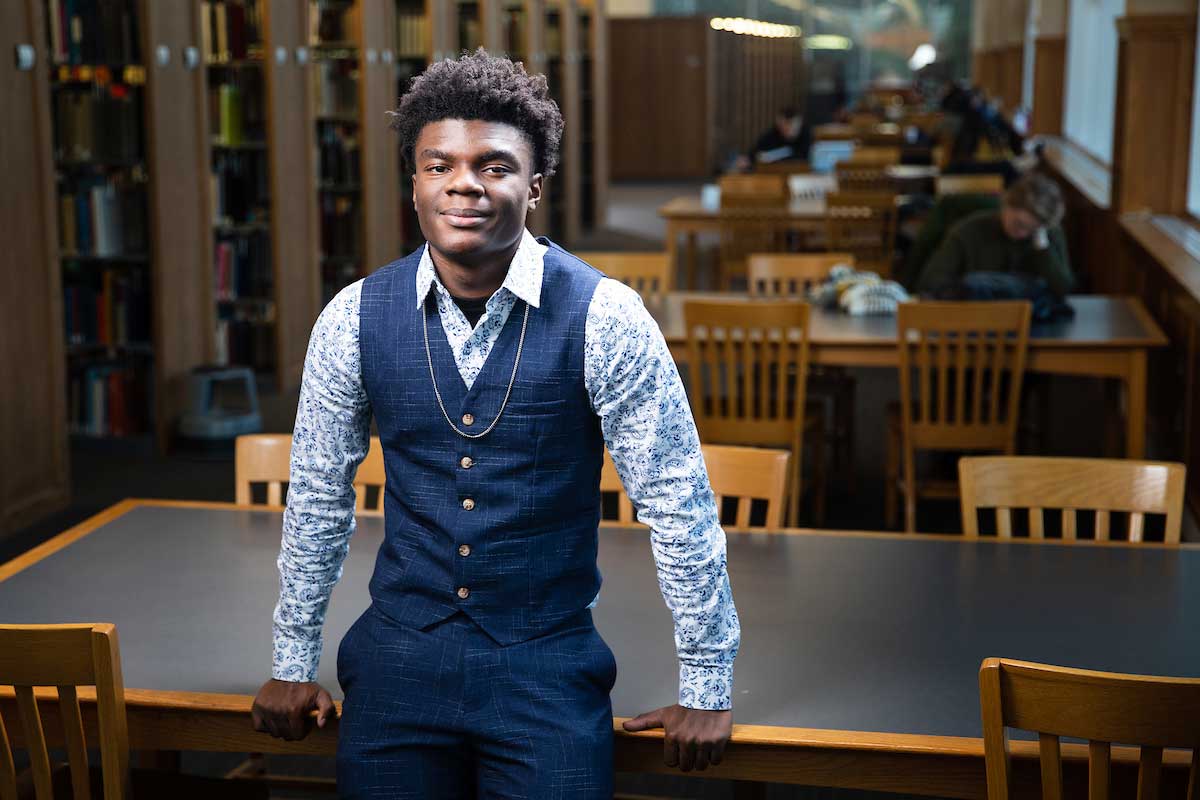 An independent thinker.
Someone who isn't afraid to go against the grain.
A difference maker in their community.
These are some of the elements that make up what it means to be a Maverick and are qualities championed each and every day by Davion Vaillant, the recipient of UNO's first "Maverick in the Making" Scholarship.
Vaillant, a senior at Roncalli Catholic High School in Omaha, was surprised earlier this month with a $4,000 scholarship, over four years, to attend UNO as recognition of his tremendous impact and Maverick spirit. The award was presented to Vaillant by Roncalli Principal T.J. Orr and Vaillant's mother, Leontyne Evans.
"I had him at 14, so all my life when I was trying to figure out what I was doing or where I was going he was there with me," Evans says. "When he is giving to the less fortunate, we were there, so now that we are in a position where we can be that for somebody else gives us pride. The fact that he is so giving, that he has such a big heart and will do anything for anyone just makes me a proud mom."
In addition to his studies at Roncalli, Vaillant is a volunteer at the Maple Crest nursing home; helps his mom run the family business; participates in basketball, football, debate and church activities; and has worked at the Omaha Sporting Academy since he was 14.
"It really has just been nailed into me to always give back to others and help those who need it, whether it benefits you or not," Vaillant says.
Vaillant's entire class and members of his family were in attendance for the scholarship presentation, which was also shared with the entire metro area on KETV Newswatch 7.
The award not only celebrates what Vaillant has already done in his young life, but all that he will accomplish as a UNO student - a true Maverick in the Making.
"My goals have always been set and focused on UNO," Vaillant says. "I felt a lot of creativity from the place. I feel like it will be a place where I can really expand my learning and thoughts and be able to flourish there."
Have your own future Maverick to nominate? UNO is accepting submissions for the Next Maverick in the Making year-round.
Nominate Your Maverick in the Making
A Maverick is an independent thinker—someone who isn't afraid to go against the grain and explore without the fear of failing. At UNO, our Mavericks are asking questions and making change all across the world. Nominate your Maverick in the Making today and give them the chance to start big!
You can also learn about past recipients of the scholarship.
About the University of Nebraska at Omaha
Located in one of America's best cities to live, work and learn, the University of Nebraska at Omaha (UNO) is Nebraska's premier metropolitan university. With more than 15,000 students enrolled in 200-plus programs of study, UNO is recognized nationally for its online education, graduate education, military friendliness and community engagement efforts. Founded in 1908, UNO has served learners of all backgrounds for more than 100 years and is dedicated to another century of excellence both in the classroom and in the community.
Become a fan of UNO on Facebook and follow UNO's Twitter updates. 
Contact Us
If you have a story idea, news tip, or other question, please email the UNO News team at unonews@unomaha.edu.