Teens Explore Careers in Aviation Through Discovery Flights
High school students considering a future in flight will take to the skies on Saturday morning through the culminating experience of an engaging career exploration program sponsored by UNO's Aviation Institute; Nov. 16.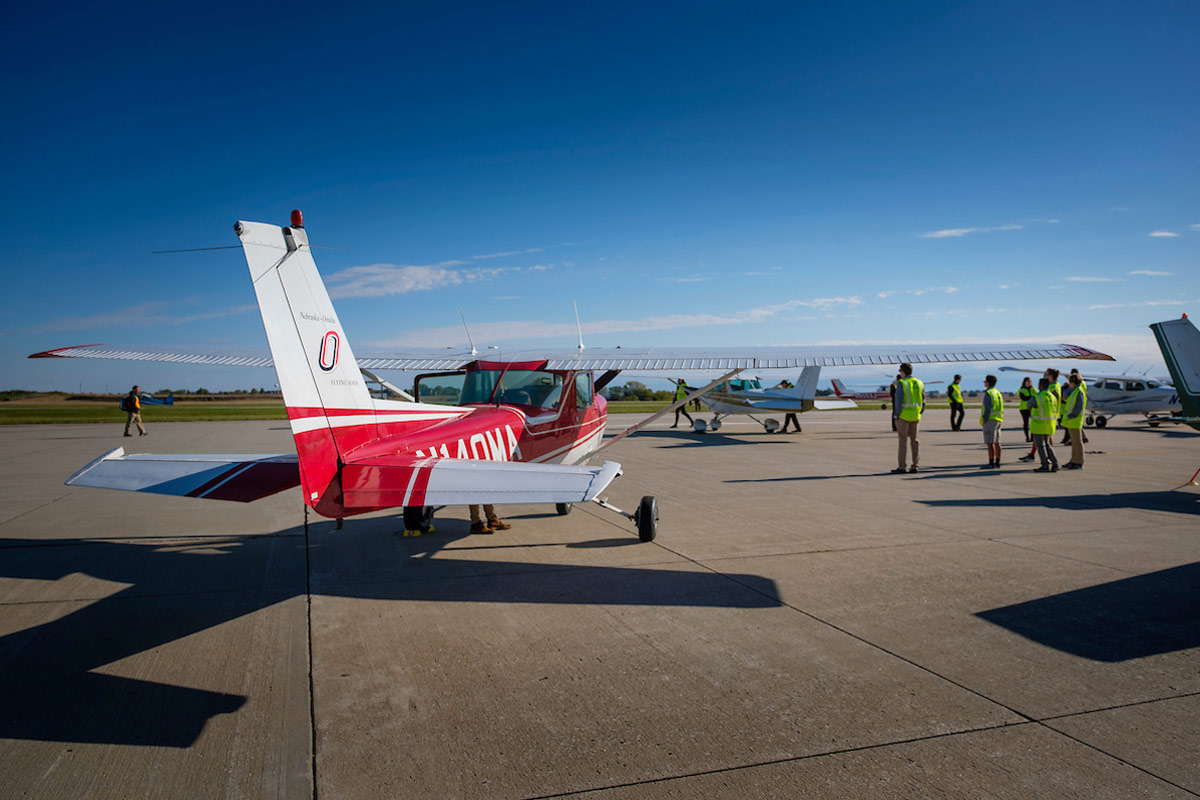 OMAHA – High school students considering a future in flight will take to the skies on Saturday morning through the culminating experience of an engaging career exploration program sponsored by the Aviation Institute at the University of Nebraska at Omaha (UNO).
Participating teens have the opportunity to sit in the flight deck during a Discovery Flight on Saturday, Nov. 16 thanks to a partnership between the UNO Aviation Institute, Oracle Aviation, and the Boy Scouts of America, Mid-America Council.
Students will have the opportunity to ride in a small general aviation aircraft flown by a certified flight instructor. Flights will take off and land at the Millard Airport on Saturday beginning at 8 A.M.
UNO's Aviation Institute has been offering participants a chance to picture themselves as pilots through its Exploring Post program over the past few months. For over 20 years the Aviation Institute has been supporting the Aviation Exploring Post. Numerous past members have gone on to careers in aviation as pilots, in airport operations, as an air traffic controller, and other aviation-related occupations.
"Through the Exploring Post program, we aim to provide aspiring aviators with a variety of experiences to get a taste of the different paths their career could take," said Scott Vlasek of UNO's Aviation Institute. "While there are a variety of career paths in aviation, there's no feeling quite like 'wheels up' and we hope these flights inspire students to see their future in aviation."
Past events in the Exploring Post program earlier this year helped students explore career opportunities through behind-the-scenes looks at airport operations, air traffic control, and airline operations at airports in the Omaha area. Students also came to UNO's campus to learn about the university's aviation programs and try out the flight simulators.
The Exploring Post program is one of the UNO Aviation Institute's efforts to attract more young women and men to become pilots and help solve a worldwide shortage. A 2019 report by Boeing says that North American alone will need 212,000 additional pilots over the next 20 years to keep up with demand.
UNO Aviation has been making strides toward meeting that demand. Destination 225°, a career pathways program launched by Southwest Airlines in partnership with UNO and Jet Linx Aviation, provides students with mentorship, training as they complete their undergraduate degree. The program ultimately provides students with a pathway toward a career in aviation with Southwest Airlines starting as a First Officer.
"High school students get a real-world view into a career in aviation through the Exploring Post program. Destination 225° is that next step that shows them how to make it happen," said Vlasek. "The future of aviation is bright and UNO is proud to play a key role in helping new pilots find their way to the skies."
The UNO Aviation Institute offers students flight instruction and education in areas such as air traffic control, airport management, airline operations, aviation safety and security, as well as a new program in unmanned aircraft systems. Through classroom instruction, numerous extracurricular activities, simulation, and flight hours, students develop the skills they need to be successful in the aviation industry. UNO's competitive student aviation team, the Flying Mavs, is one of the most successful in the country, with recent top 10 finishes in the National Intercollegiate Flying Association's annual Safety and Flight Evaluation Conference competition.  Maverick students also won the Transportation Research Board's Airport Cooperative Research Program (ACRP) design competition for airport innovation.
About the University of Nebraska at Omaha
Located in one of America's best cities to live, work and learn, the University of Nebraska at Omaha (UNO) is Nebraska's premier metropolitan university. With more than 15,000 students enrolled in 200-plus programs of study, UNO is recognized nationally for its online education, graduate education, military friendliness and community engagement efforts. Founded in 1908, UNO has served learners of all backgrounds for more than 100 years and is dedicated to another century of excellence both in the classroom and in the community.
Become a fan of UNO on Facebook and follow UNO's Twitter updates. 
Contact Us
If you have a story idea, news tip, or other question, please email the UNO News team at unonews@unomaha.edu.