New UNO Enrollment Numbers Highlight Access, Mission
published: 2019/09/09
contact: Sam Petto - University Communications
email: unonews@unomaha.edu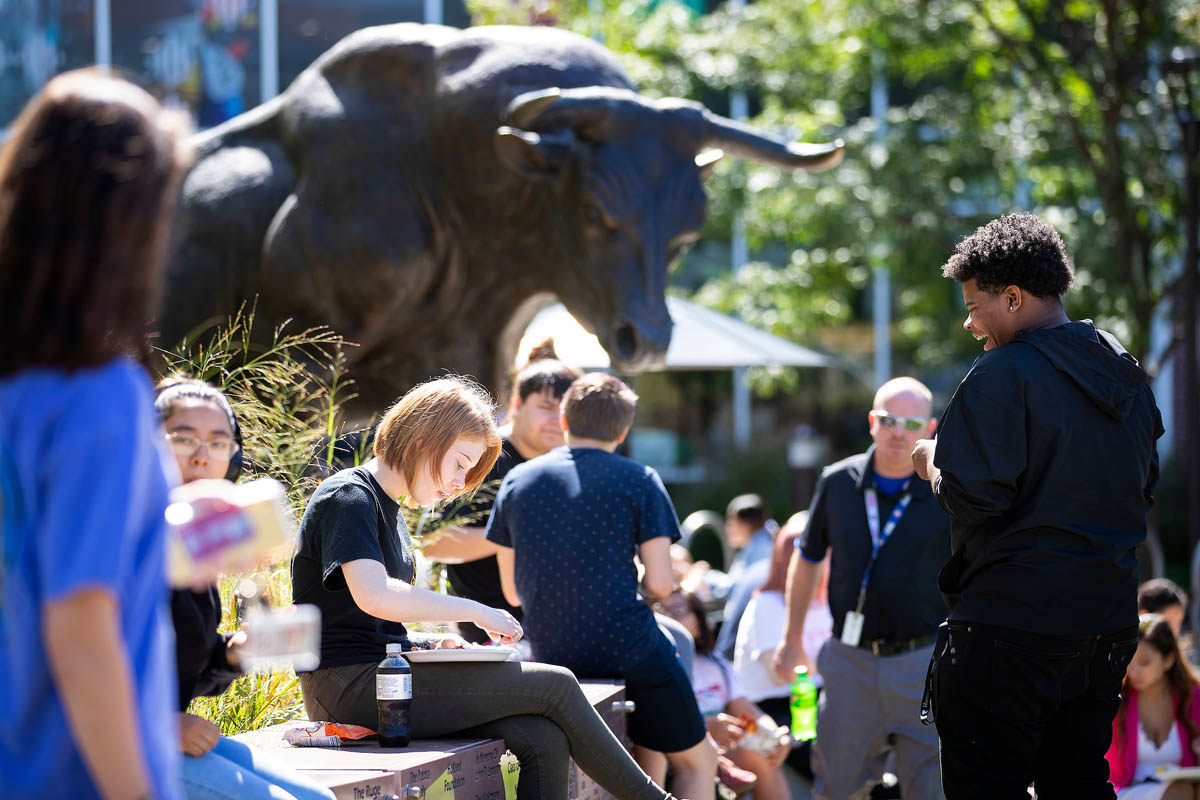 New enrollment numbers released Monday, Sept. 9 show growth in mission-driven focus areas at the University of Nebraska at Omaha (UNO) even as total numbers declined slightly from the year before.
This year's overall enrollment stands at 15,153 students. Of the group, 12,244 are undergraduate students; 2,909 are graduate students. This represents a decrease of 183 undergraduate students and 95 graduate students compared to last year, but overall enrollment remains high compared to numbers just 10 years ago. Students' enrolled semester credit hours are also almost identical to last year, with the largest increase in the College of Communication, Fine Arts and Media (+11.9%).
Among the highlights:
Growth among underrepresented students for both the undergraduate (+3.2%) and graduate populations (+2%). Roughly 36% of all incoming first year students are underrepresented students.


Bucking national trends and highlighting UNO's role as a leader in global engagement, UNO's number of international students increased, with a 10.6% gain among undergraduates.


Growth in the number of undergraduate (+9.4%) and graduate students (+9.3%) taking exclusively online courses, as well as multimodal students - students that utilize multiple channels of learning, including classes with on-campus, online and community components. 


UNO welcomed more transfer students, a reverse of the decline seen last year.


The Honors Program saw significant growth among new students, reflecting UNO as a growing destination for highly able and motivated students. Among newly admitted students, ACT scores ranged as high as a perfect 36.


Like previous years, roughly four out of every 10 new Mavericks are first generation college students, meaning neither of their parents earned a degree from a four-year university.
"We welcome these new and returning Mavericks to campus only a few months after celebrating a graduating class that is among the largest in our university's history, a consistent trend over the last few years that we are all incredibly proud of," Chancellor Jeffrey P. Gold, M.D. said. "Our students know UNO is a point of access to exceptional education, a pathway to a brighter future. And while we have much to be proud of, there is no question that we must do more to address the barriers preventing students from beginning their academic journey or continuing their progress at UNO."
 The data shows first-to-second year retention of first-time, full-time students holding steady from the year before at just shy of 73%. Campus leaders expect that number to rise in the years ahead as UNO launches new initiatives in support of the Completion Imperative, a shared commitment to ensuring every student enrolled at UNO is able to complete their academic journey and earn their degree.
"Everyone is grabbing an oar and I believe our progress will reflect that effort in years to come," said Senior Vice Chancellor for Academic Affairs Sacha Kopp, Ph.D., pointing to increased investment in academic advising and expanded offerings in entry-level courses as examples of how UNO is working to improve retention.
"This is just a starting point; many ideas already exist within the UNO community and the deans have been working with their faculty and staff as well as each other on collaborative ideas that build on each college's strength," Kopp said.
Along with student support, numbers also continue to demonstrate UNO's commitment to access. This year's incoming first year class of 2,068 is historically strong, the fourth largest in campus history. Likewise, overall enrollment is part of a gradual growth trend over the last decade.
"It really is this simple: anyone willing to do the hard work is welcome here," said Vice Chancellor for Student Success Dan Shipp. "We are proud that we accept the vast majority of students who apply and we are committed to seeing them succeed. Efforts like the Completion Imperative and the new First Generation Guild show that mission in action."
Like last year, 86% of UNO's undergraduate and graduate students call Nebraska home – many of whom live within the greater Omaha metropolitan area.
About the University of Nebraska at Omaha
Located in one of America's best cities to live, work and learn, the University of Nebraska at Omaha (UNO) is Nebraska's premier metropolitan university. With more than 15,000 students enrolled in 200-plus programs of study, UNO is recognized nationally for its online education, graduate education, military friendliness and community engagement efforts. Founded in 1908, UNO has served learners of all backgrounds for more than 100 years and is dedicated to another century of excellence both in the classroom and in the community.
Become a fan of UNO on Facebook and follow UNO's Twitter updates. 
Contact Us
If you have a story idea, news tip, or other question, please email the UNO News team at unonews@unomaha.edu.