Educators Develop Experiential Learning, Community Service Skills at UNO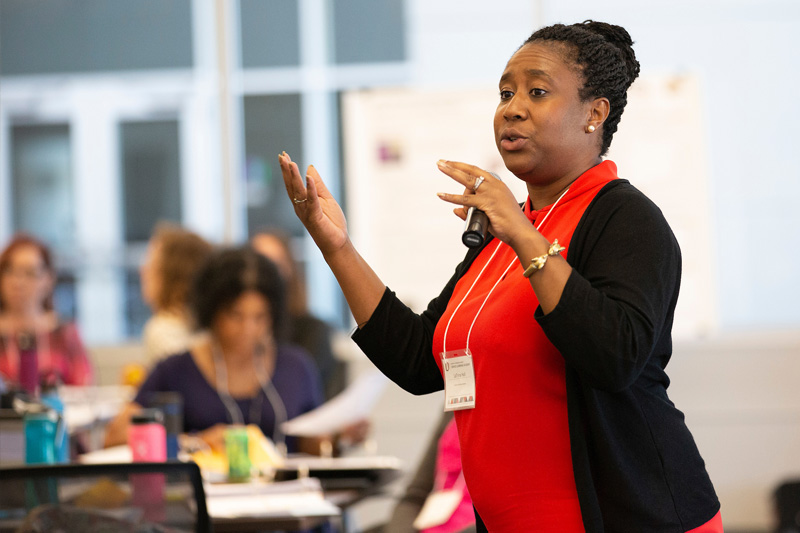 Most seminars on colleges campuses are led by faculty; however, for one week in the summer at UNO, educators are the students.

For 11 years, UNO's Service Learning Academy has helped advocate for UNO's commitment to engagement and discovery by hosting its summer Service Learning Seminar. Each year, UNO faculty are brought together with community organizations and P-12 educators to identify partnerships and opportunities where students of all ages can learn by giving back.

"We create an environment that positively allows folks to be able to come up with these ideas, and that is really intentional, but it also comes naturally from the partners and participants," explains Julie Dierberger, Paul Sather Distinguished Director of the UNO Service Learning Academy. "In the beginning you may have folks coming in not knowing what is going on but by the end they develop these complicated and detailed collaborations."

For Kristin Utterback, who oversees the King Science & Technology Magnet Center's Healthcare Academy, it was a new experience.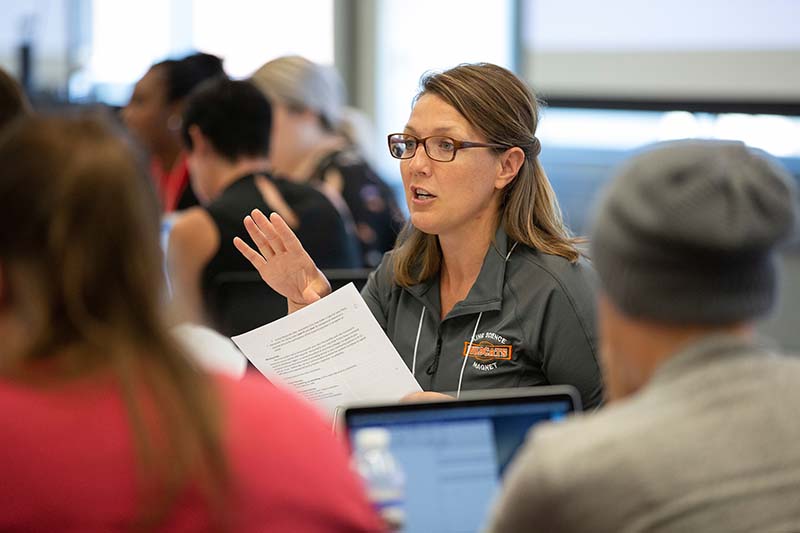 She was drawn to the event following a service learning experience last year where her students worked with UNO biology professor Bruce Chase and MSForward, a nonprofit providing exercise programming for individuals with multiple sclerosis, to develop exercise lessons for MSForward participants as well as poster presentations and demonstrations detailing the causes of MS on the human body. It's an experience she plans to bring back to the classroom this fall.
That's how we grow, is through that education piece and I think the impact that it can have on the UNO community and the community at large is just immeasurable.
- Robbie Quinones Summers, Continuity and Sustainability Manager for Inclusive Communities
"We are able to interact with people with this disease and just learn how to become more empathetic and put ourselves in the shoes of somebody who has a disease that they can't change," Utterback says. "I saw so much growth in my kids and they experienced things they would not have experienced otherwise."
LaTrina Parker, coordinator for the UNO P-16 Initiative, which pairs P-12 classrooms with community organizations and UNO students, says that kind of engagement is one of the ways that the Service Learning Seminar turns broad goals into tangible projects.

"A lot of the success comes from partnerships that are made at the Seminar," she says. "At the end of the week we have each participant run through a two-sentence idea and out of that we had several folks with similar goals who will be working together with one or more individuals that they had never met before."

Robbie Quinones Summers, continuity and sustainability manager for the Omaha-based nonprofit Inclusive Communities, has been involved in several UNO service learning projects over the years. She says that the Seminar provided an opportunity for her to see the broader picture of how these projects start - and the theories behind them.

"Just having that background rather than just letting us, the community, jump in to the process along the way is key to having successful programming," she says, adding that it is something she sees the benefit of every day working for Inclusive Communities, which brings together different groups to eliminate biases and barriers to strong community relationships.

"That's how we grow, is through that education piece and I think the impact that it can have on the UNO community and the community at large is just immeasurable."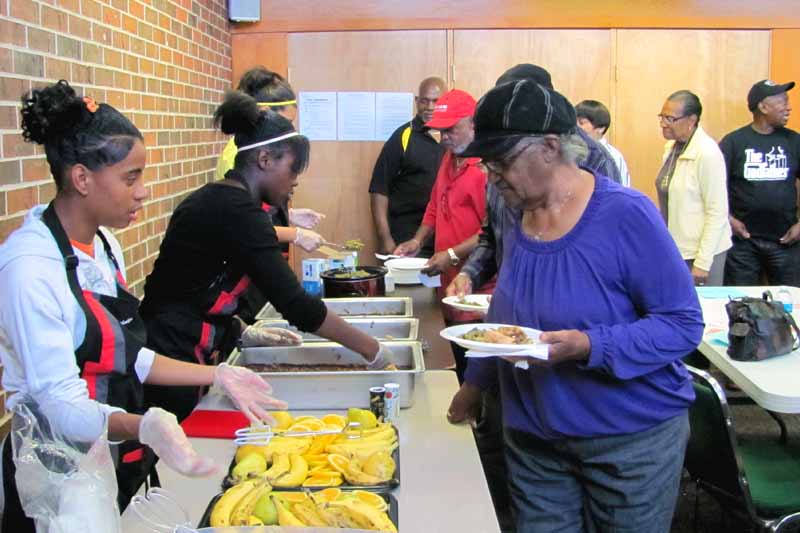 That concept rings true for Jeff Knapp, instructor for the Grace Abbott School of Social Work, who joined the Seminar for the first time after many years of incorporating service learning into his classroom.

In one of his courses, UNO students partner with students from Blackburn Alternative Program's culinary arts program. Together, they help prepare and serve meals each week for the residents of the Adams Park Community Center.

Knapp says that a social work professional won't get very far if they go into a community, a school or a home with biases or preconceived notions.

"I tell them you have to learn how to engage and build relationships and assess a person's needs. It's not just showing up; that's not enough. You need to apply the knowledge and the skills and grow from the experiences."

However, that education goes both ways. On the first day of the seminar he and the other participants traveled to different sites across Omaha and participated in a service project themselves. It was an experience Knapp says helped him empathize with his students.

"Any time it's something new and you put yourself out there you'll have fears, frustrations and excitements and this helped me understand that from their perspective. Now if they are worried about something I can empathize and help them navigate that experience in a meaningful way."

Dierberger and Parker say that while Seminar is only held once a year, UNO welcomes any and all opportunities for interested individuals to explore what service learning may look like to them - whether they are a student, faculty member, educator or community partner. All it takes, they say, is the curiosity and willingness to take that first step.

"For anyone thinking of how they can amplify their classroom experience, service learning just strengthens the material by adding an experiential application that gets you out of the classroom, connecting with other folks, and applying that knowledge," Parker says. "It truly is teaching, service and research all rolled into one."

Learn more about UNO's Service Learning Academy.

To start your service experience at UNO, visit the Community Engagement Roadmap.
About the University of Nebraska at Omaha
Located in one of America's best cities to live, work and learn, the University of Nebraska at Omaha (UNO) is Nebraska's premier metropolitan university. With more than 15,000 students enrolled in 200-plus programs of study, UNO is recognized nationally for its online education, graduate education, military friendliness and community engagement efforts. Founded in 1908, UNO has served learners of all backgrounds for more than 100 years and is dedicated to another century of excellence both in the classroom and in the community.
Become a fan of UNO on Facebook and follow UNO's Twitter updates. 
Contact Us
If you have a story idea, news tip, or other question, please email the UNO News team at unonews@unomaha.edu.