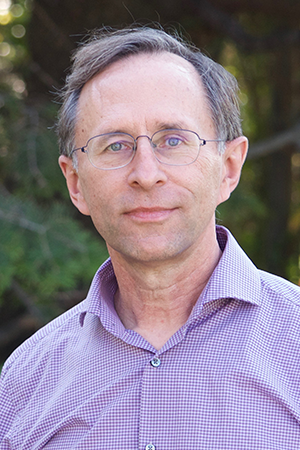 Professor Bruce Anthony Chase
---
email:
office:
AH  514B
office phone:
department phone:
lab room:
AH 501B
office hours:
T: 1-3 PM
fax:
402.554.3532
note:
This profile is pulling in data from Digital Measures. Postings on personal websites or social media do not indicate that the individual is speaking on behalf of UNO.
General Information
---
Biography
Dr. Chase is a professor in the Department of Biology at the University of Nebraska at Omaha (UNO), a primarily undergraduate institution. He came to UNO in 1990 after undergraduate work in Biology at the University of Chicago, doctoral training in developmental neurogenetics at Yale University, and postdoctoral training in molecular genetics at Stanford University. He has current, comprehensive expertise in molecular genetics and neuroscience, particularly in neurodegenerative disease, developmental and systems neuroscience, and genetic analyses in human and model experimental systems. He maintains a multifaceted and active research program that has involved national and international collaborations among scientists in academia, leading medical centers, and corporations. He is a dynamic, engaging, and insightful teacher-scholar with extensive leadership and mentoring experience documented by peer-reviewed publications, teaching awards, student outcomes, journal editorship, and extramural funding for both research and pedagogy.
Teaching Interests
Dr. Chase strives to be a dynamic teacher-scholar able to engage a wide range of students in thoughtful and reflective discussion. He seeks to expand students' intellectual horizons and help them to develop analytical and reflective skills that foster independence and support their career goals. Since coming to UNO in 1990, he has worked towards these goals by developing a wide range of courses for undergraduate and graduate students; consistently mentoring students in research in his laboratory, contributing to new opportunities for students by participating in the design, development and implementation of degree programs in Bioinformatics and in Neuroscience, joining collaborative efforts to support and enhance K-20 STEM education in Nebraska, and developing content and study guides for eight successive editions of a leading Genetics text. In 2010, he received the UNO Excellence in Teaching Award and the UNO College of Arts and Sciences Alumni Outstanding Teaching Award.
The life sciences have witnessed phenomenal advances in content and approaches to pedagogy since Dr. Chase arrived at UNO. He has strived to incorporate these advances in his courses: Introductory Biology, Genetics, Molecular Genetics, Advanced Genetics, Genomics, Developmental Biology, Developmental Genetics, The Evolution of Development, Bioinformatics, and Cellular and Molecular Neurobiology. He has also contributed to teaching doctoral courses at UNMC (Biochemistry, Neurobiology) and developed interdisciplinary graduate courses for K-12 teachers (Using Inquiry to Teach Biology) and Biology and Public Health students (Ethical and Policy Issues In Genomics). He remains committed to providing new course opportunities for UNO students to engage in cutting-edge advances in the life sciences. In 2015, he developed a laboratory class in Optogenetics to accompany Cellular and Molecular Neurobiology, and in 2016, revised the Developmental Biology lab into an inquiry-based Developmental Genetics lab that engages students in genomic and imaging techniques. In the 2016-17 academic year, he will implement a revision to the Advanced Neuroscience laboratory to introduce students to electrophysiology.
Dr. Chase has consistently mentored students in laboratory research. His goals are to develop students' abilities to identify important biological questions and skill in experimental design, laboratory technique, and data analysis and interpretation. Since 1990, he has have mentored over 65 undergraduates, most over multiple semesters, been the major advisor for 25 master's students, and advised three post-doctoral fellows. Most have joined the health professions or taken positions in biomedical research. Others entered PhD programs (e.g., Yale, Baylor, NYU, Indiana, Minnesota, Utah, Iowa, UNMC) and are now working in academia (e.g., post-docs at Harvard, MIT, UNMC, CalTech; faculty at U. Kansas, U. Montana) or the biotech industry (e.g., Novartis, Merck). Many obtained independent funding for their research and presented results at professional meetings; some co-authored peer-reviewed publications.
Dr. Chase has also undertaken individual and collaborative research to address challenges in STEM education. Just after arriving at UNO, NSF funding supported the development of undergraduate biotechnology laboratories. From 1997-2007, Dr. Chase served as a key member of Banneker 2000/CEMS/MSP, an NSF-funded effort to improve K-12 STEM education. In 2005, State of Nebraska funding supported his involvement in the professional development of grade 3-6 teachers. Between 2010 and 2012, he worked on an NSF-funded project to develop online, standard-aligned K-12 teacher-training modules in genetics, development, evolution, physiology and behavior. In 2012, the Kelly Fund supported his efforts to better understand STEM attrition throughout the NU system. These and other efforts in pedagogy have garnered over $1.5 million in support, and have transformed his perspective about what it means to be pedagogically successful in STEM.
Research Interests
Dr. Chase' research program uses genetics to understand human neurodegenerative disease and how the nervous system is maintained. In recent years, he and his students have explored the cognitive processes involved in olfactory dysfunction in Parkinson's disease, whether T. gondii affects dopamine-related behaviors in its obligate host, the cat, and use genetic approaches in Drosophila to understand the role of ADAM proteins in the nervous system. It has been consistently productive since coming to UNO. He has contributed to over 16 peer-reviewed publications in first-rank journals including Genetics, Developmental Biology, Neuroscience, Brain, Annals of Neurology, Fly, Acta Neuropathologica, Development, Growth and Differentiation, and Parkinsonism and Related Disorders, 7 book chapters, encyclopedia entries and invited reviews, and 88 research presentations at scientific meetings and invited seminars. Support for his ideas has provided over $700,000 in individual research funding from public and private sources including the National Institutes of Health, the National Science Foundation, the American Cancer Society, the Nebraska Department of Health and Human Resources, the U.S. Department of State, and the Parkinson's Disease Foundation, as well intramural support from UNO-UCRCA and UNO-FIRE. During a Faculty Development Fellowship (FDF) in 2005-6, he was awarded a Fulbright Research Fellowship in Greece, and during a FDF in 2013-14, was a visiting scholar at the University of Chicago interacting with members of the Departments of Ecology and Evolution, Statistics, and Human Genetics.
In the mid-1990's, Dr. Chase began working on the genetics of Parkinson's disease (PD), an incurable, progressive neurodegenerative disease. Work from Dr. Chase' lab on a kindred with rare familial PD contributed to demonstrating that the SNCA gene, which encodes alpha-synuclein, played a role in many forms of PD, and suggested that levels of alpha-synuclein are important to disease progression. Research in his lab continues to search for genetic factors causing PD and which can modify disease outcomes. Identifying such factors is essential to design etiologically based PD therapies. Two major and complementary projects are to use genomic analysis in a large Mennonite kindred to identify causal gene(s) for a set of overlapping neurodegenerative phenotypes and to identify naturally occurring genetic variants that are responsible for phenotypic variation in Drosophila models of PD. Both of these approaches should have a high impact on understanding the processes that lead to PD. A third project investigates the mechanism of olfactory dysfunction in parkinsonism and dementia.
A separate research effort in Dr. Chase' lab seeks to understand the role of ADAM proteins in the development and maintenance of the Drosophila nervous system. These proteins are involved in key developmental decisions and function via a distinctive set of protease, fusion, disintegrin, and signaling domains. Work from Dr. Chase' lab has shown that the mmd (mind-meld) gene encodes a set of ADAM proteins with expression that becomes developmentally restricted to the nervous system. Current work seeks to understand the specific roles played by the different mmd ADAM proteins in the formation and maintenance of the nervous system. It uses a functional genetic approach to evaluate hypotheses about these proteins' roles in membrane fusion, cellular identity, and the subcellular clustering of neurotransmitter receptors or ion channels.
Service Summary
Dr. Chase has been active in service within and outside of UNO. In the nearly 26 years he has been at UNO, he has served on and/or chaired every departmental committee, served on nearly all of the College of Arts & Sciences committees, served on over 18 UNO-wide committees, including as an officer in the Faculty Senate, and served on 10 University of Nebraska intercampus committees. Outside of UNO, he has been invited to serve on scientific review panels (NASA, National Institute for Environmental Health, American Institute for Biological Sciences, Slovak Department of Education, U.S. Department of Defense, Fulbright Foundation in Greece, National Science Teachers Association), and elected as president of the Nebraska Academy of Sciences (2006-7). Since 2009, he has served as editor of the peer-reviewed journal The Transactions of the Nebraska Academy of Sciences, which he transitioned from a subscription-based print journal to an open-access, online publication with a worldwide distribution.
Additional Information
---
Teaching Fields
General Biology; General and Advanced Genetics; Genetics, Evolution and Development; Bioinformatics; Neuroscience.
Research Interests
I am interested in understanding the genetic contributions to neurodegenerative diseases such as Parkinson's disease and Multiple Sclerosis, developing biomarkers that can aid in early diagnosis and classification of neurodegenerative disorders, and elucidating gene networks involved in neuronal development and maintenance. My research employs genetic analyses in experimental models of disease that include flies and transgenic mice, and, in collaboration with clinical investigators, molecular genetic and bioinformatic analyses of human samples.