UNO, Shizuoka University Celebrate Shared Research
In May, Shizuoka University hosted a conference in partnership with UNO on the work and impact of the famous early twentieth century philosopher Edmund Husserl.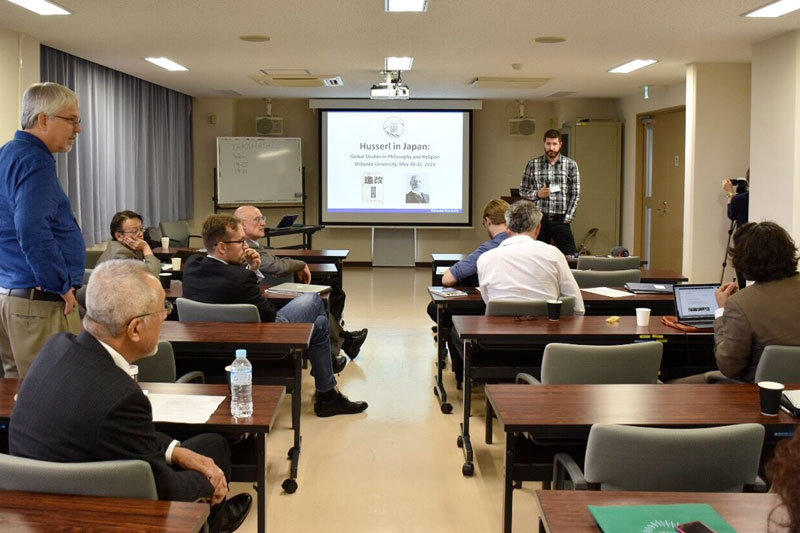 UNO associate professor Curtis Hutt (far left) joins UNO's Mark Celinscak, executive director of UNO's Sam & Frances Fried Holocaust & Genocide Academy at a session during the recent international academic conference on philosopher Edmund Husserl. The event was co-organized by UNO and its sister campus Shizuoka University.
Last month representatives from UNO joined administrators, faculty and students from its sister institution Shizuoka University for an international conference on the topics of philosophy and religion.
Members of UNO's Schwalb Center for Israel & Jewish Studies; Fried Holocaust & Genocide Academy; and Religious Studies program traveled to Shizuoka for the two-day conference, which brought together 20 scholars from around the world to discuss the work of Edmund Husserl, who was a mentor for future intellectual icons such as Edith Stein, Martin Heidegger and Emmanuel Levinas.

Husserl's experiences helped provide a common link for UNO and Shizuoka University, including being expelled from Freiburg University due to his Jewish heritage before going on to publish several important peices in a Japanese journal called "Kaizo."
"This was the first time that a conference addressed Husserl's throught in the context of Jewish scholarship," explained Curtis Hutt, an associate professor of religion and director of the Goldstein Center for Human Rights who co-organized the event with Shizuoka University president Kiyoshi Ishii. "This was a unique and important undertaking, as academic conferences on Judaism in Asia are extremely rare."

The visit from UNO faculty to Shizuoka followed an earlier visit by Ishii to UNO in September 2018, commemorating the 40-year partnership between the two campuses.

"Over the more than 30 years we've exchanged around 2,000 students, so this relationship is very important to us for international strategies and that's why I visited here to see Omaha's people directly and get their feedback," Ishii said during his visit.

The conference was well attended, including past and present presidents of philosophical associations as well as many Shizuoka University students.

Hutt said that the hope is to have a similar conference hosted by UNO in the near future, bringing more international scholars to Omaha in partnership with Shizuoka University.

"It may be an opportunity for us to reciprocate. They were amazing hosts."
About the University of Nebraska at Omaha
Located in one of America's best cities to live, work and learn, the University of Nebraska at Omaha (UNO) is Nebraska's premier metropolitan university. With more than 15,000 students enrolled in 200-plus programs of study, UNO is recognized nationally for its online education, graduate education, military friendliness and community engagement efforts. Founded in 1908, UNO has served learners of all backgrounds for more than 100 years and is dedicated to another century of excellence both in the classroom and in the community.
Follow UNO on Facebook, Twitter, Instagram, TikTok, LinkedIn, and YouTube.