UNO Magazine: A Place to Play
From an extracurricular activity to an established department. Theatre has deep roots at UNO.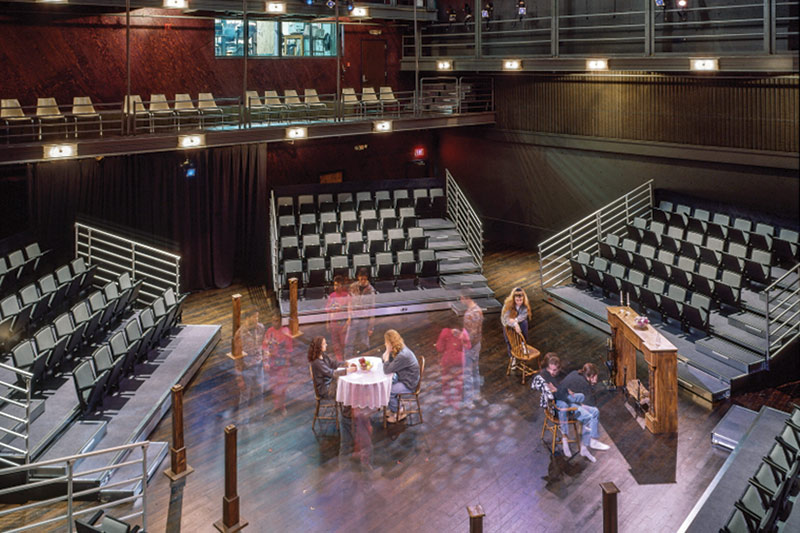 The following story appeared in the
 

most recent issue

 

of the UNO Magazine, which highlighted h

ow professors are serious about play, studying how it aids learning and development, using it to teach math or to aid recovery from a stroke, or just to have fun.

 Read the magazine online as a

 

Flipbook

 

or

 

download a PDF.
---
"To be, or not to be…" That was never the question.  
Theatre has deep roots at UNO dating back to 1913, when the department was just an extracurricular activity sponsored by the dramatics club. 
UNO's first theatre production, "Hicks at College" was performed on a makeshift stage at the campus' original location at 24th and Pratt Streets. Back then, theatre classes were offered through the Speech department, but its reputation grew through performances hosted at the Dodge Campus in the Arts and Sciences Hall's dual purpose gymnasium-auditorium and, in the 1980s, dramatic arts was dubbed its own department at UNO. 
However, it wasn't until the 1990s that a new home for the arts at UNO, including theatre, with functional teaching spaces was realized. The NU Board of Regents approved a building design in 1990 and, in 1992, that design became a reality. Today, it is known as the Weber Fine Arts Building in honor of the late Chancellor Emeritus Del Weber and his wife Lou Ann. 
Thinking Outside of the Box  
Unlike a traditional auditorium, today's UNO theatre students perform in what is a called a "black box" theater: a simple, unadorned space with a flat floor and black walls that can be flexibly used to create stage space. 
UNO's theatre, located on the basement level of the Weber Fine Arts Building, features mobile seating units and a full-tension wire grid system which provides ample lighting positions and flexibility. Three balcony levels also surround the stage floor, providing additional stage space or audience seating locations. The flexibility allows UNO's theater students and faculty to transform the Black Box Theatre into a living, functional work of art for each performance. 
Notable Performances 
There have been several notable plays that have taken stage inside of the Weber Fine Arts Building Black Box Theatre over the last few years: 
"Female Transport" (2013) was a design marvel on the set of an ocean transport ship circa early 1800's. The set was designed to move line and ocean liner and spew forth water. The female cast members, portraying convicts, also never left the stage, necessitating some ingenious costume transformations. 
"Kwaidan – Japanese Ghosts and Demon Stories" (2016) was a celebration of Omaha's 50-plus year relationship with its sister city, Shizuoka, Japan. The play took the audience on a trip throughout several UNO theatre program spaces throughout the Weber Fine Arts Building to view presentations of many different traditional Japanese spirit stories, woven together through an ensemble cast. 
"Metamorphose" (2018), by Mary Zimmerman, is a play set in a pool of 16 thousand gallons of water. During the cast's second rehearsal, all of the power went out in the Weber Fine Arts Building, resulting in the cast having to miss the rest of dress rehearsals that week. Miraculously it still opened on time to sold out houses. 
So What Comes Next? 
UNO Theatre continually celebrates its traditions while also expanding its offerings. In anticipation of a new musical theatre concentration UNO Theatre is partnering with the UNO School of Music to produce a musical to be performed each year. 
Additionally, as UNO finds ways to collaborate with its counterparts over at the University of Nebraska Medical Center (UNMC), UNO Theatre is doing the same, becoming an integral part of programs like the new joint Medical Humanities major and UNMC's Buffet Cancer Center's Healing Arts Program. 
UNO Theatre is also excited to be developing greater opportunities for national and international offerings, expanding upon current study tours in Stratford; offering a performance tour to Edinburgh, Scotland's world-famous Fringe Festival; and collaborating on tours with the School of the Arts and School of Criminology and Criminal Justice to London. 
About the University of Nebraska at Omaha
Located in one of America's best cities to live, work and learn, the University of Nebraska at Omaha (UNO) is Nebraska's premier metropolitan university. With more than 15,000 students enrolled in 200-plus programs of study, UNO is recognized nationally for its online education, graduate education, military friendliness and community engagement efforts. Founded in 1908, UNO has served learners of all backgrounds for more than 100 years and is dedicated to another century of excellence both in the classroom and in the community.
Become a fan of UNO on Facebook and follow UNO's Twitter updates. 
Contact Us
If you have a story idea, news tip, or other question, please email the UNO News team at unonews@unomaha.edu.