UNO, Blackburn Students Help "Get the Word Out"
UNO students are helping students from the Blackburn Alternative Program develop their presentation skills for a podcast based on a recent exhibit at the Joslyn Art Museum.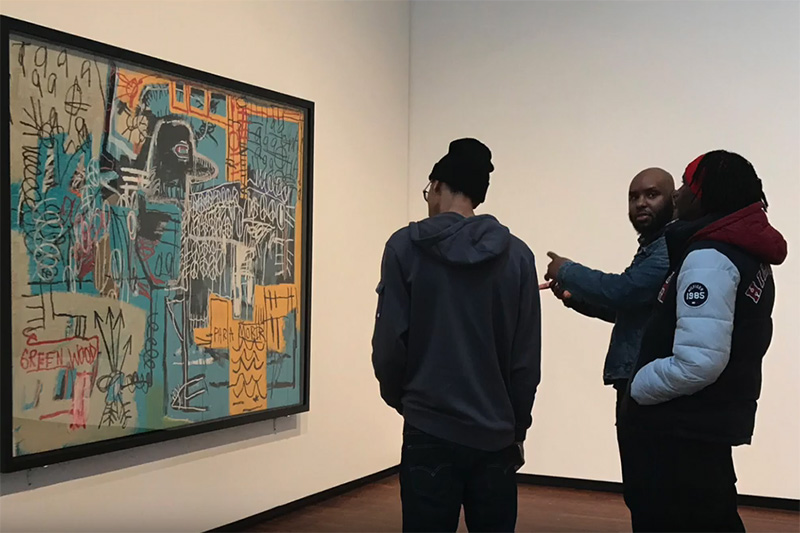 The University of Nebraska at Omaha's (UNO) Service Learning Academy and Department of Special Education and Communication Disorders have partnered with the Blackburn High School Alternative Program and the Joslyn Art Museum to produce a special podcast series based on the Joslyn's latest exhibit "30 Americans."
The "30 Americans" exhibit, which ran from Feb. 2 to May 5, explored the evolving roles of black subjects in art since the 1970s. The work on display highlighted some of the most pressing social and political issues facing our country today, including ongoing narratives of racial inequality; the construction of racial, gender, and sexual identity; and the pernicious underpinnings and effects of stereotyping.
These issues are the focus of five podcast episodes featuring reactions and analysis by eight students from the Blackburn High School Alternative Program. The group worked with students from UNO's Department of Special Education and Communication Disorders to help them develop and perfect their presentation skills.
"Being able to experience this exhibition through the Blackburn Alternative Program students' eyes is incredible." says Laura Huntimer, Director of School Programs and Interactive Media at the Josyln Art Museum. "They provide another layer of understanding of the works in 30 Americans and put them in the context of their own lives. The thoughts they share are raw and real, and we are privileged that these students are willing to trust us with them."
The process began with the students simply observing the exhibit themselves as the Joslyn recorded their reactions; either raw or written thoughts. Then, each student selected a piece of work in the exhibit and were inspired to create their own narrative for the selected piece, which is where students from Mitzi Ritzman's class came in.
Speech-language pathologists have unique knowledge of language and communication which provides the foundation for addressing problems related to literacy. The project allowed upper-level undergraduate students to experience an introduction to what the American Speech Language Hearing Association states is an integral part of the role of speech-language pathologists in a school setting.
"Young people need a platform to speak their truth," Ritzman says. "These students bring bold energy and authentic fearlessness; there is a beauty in this kind of courage - it gives us all reason to hope."
Ritzman's class was the second UNO class to work with high school students and Joslyn for a service learning project tied to the "30 Americans" exhibit. In Fall 2018, Peggy Jones' "Black Aesthetics" class worked with students from Nathan Hale Middle School to create a Family Gallery Guide to help prompt discussions about the artwork.
Laura Huntimer, director of school programs and interactive media at Joslyn, says the service learning experience is one that is core to the museum's mission.
"Hearing what students want to know more about; listening to their opinions and ideas; and developing materials for art interpretation essentially 'by students for students' is a vital part of that mission."
Anyone interested can listen to "Get the Word Out" can find it on the Joslyn Art Museum's YouTube page.
About the University of Nebraska at Omaha
Located in one of America's best cities to live, work and learn, the University of Nebraska at Omaha (UNO) is Nebraska's premier metropolitan university. With more than 15,000 students enrolled in 200-plus programs of study, UNO is recognized nationally for its online education, graduate education, military friendliness and community engagement efforts. Founded in 1908, UNO has served learners of all backgrounds for more than 100 years and is dedicated to another century of excellence both in the classroom and in the community.
Become a fan of UNO on Facebook and follow UNO's Twitter updates. 
Contact Us
If you have a story idea, news tip, or other question, please email the UNO News team at unonews@unomaha.edu.