Scott Scholars Earn Degrees, Are Ready to Make an Impact in Nebraska
Luke Zwenger of Bellevue, Nicole Aschoff of Norfolk and Ryan Ernst of Columbus all earned degrees this May thanks to the support of the Walter Scott, Jr. Scholarship Program.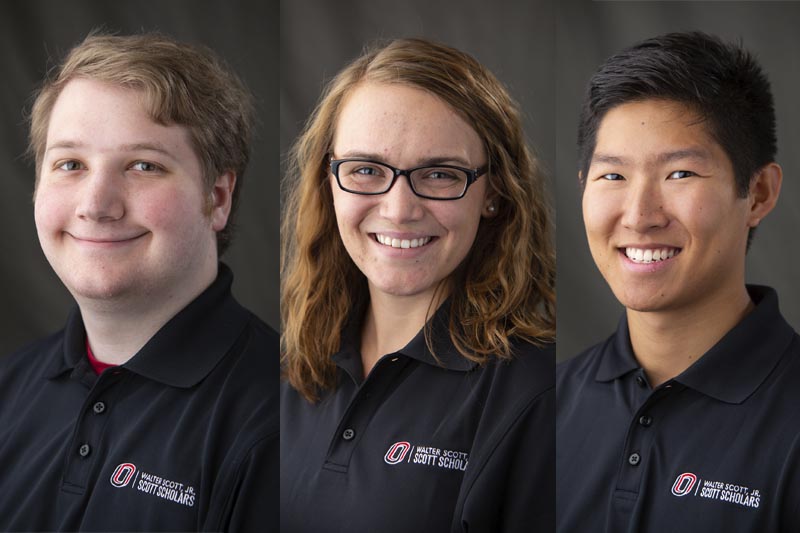 When it was established in 1997, the Walter Scott, Jr. Scholarship Program issued a challenge to high-achieving engineering and information technology students from across Nebraska to develop their technical, creative and leadership skills.
Each year, dozens of Scott Scholars come to Omaha to study one of the many programs offered by the UNO College of Information Science & Technology and UNL College of Engineering, as well as other STEM-related fields at UNO.
This May, three of these students, Luke Zwenger, Nicole Aschoff and Ryan Ernst, made good on their promise to remain engaged and complete their commitment to the program. They now join the hundreds of STEM leaders making an impact in the state.
These are their stories:

Luke Zwenger, Cybersecurity
Bellevue, Neb.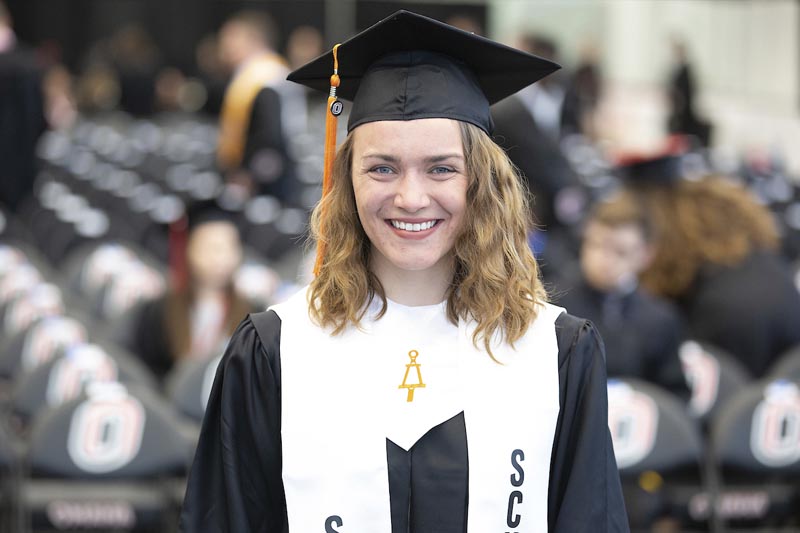 Nicole Aschoff, Architectural Engineering
Norfolk, Neb.

---

Luke Zwenger
When Luke Zwenger, a shy home-schooled student from Bellevue, Neb., first came to the UNO campus as a freshman - little did he know that four years later he would not only be a team leader and mentor to his peers, but he would be engaged in high-level conversations with some of the nation's leading cybersecurity experts.
Originally born in Italy on a military base, Luke has called Nebraska home since he was 3 years old. It's a community that has provided him educational support for as long as he's been in school.
"Several of my high school classes were taken with the direction of local home school parents who were also field experts," he explains. "I have also often and repeatedly been grateful to my UNO instructors. The vast majority of them have first off been patient, kind, and understanding. When my perfectionistic tendencies set in and I worried about not understanding concepts, my teachers cared and listened."
Luke says that his time as a Scott Scholar has been "nothing short of transformative" - primarily because he has taken on important leadership roles and taken advantage of opportunities to get involved on campus and in his career field.
In addition to taking on roles on the Scott Scholar Leadership Council and Scott Scholar Welcome Week committee, Luke has participated in NULLify, UNO's student cybersecurity group, UNO's Association for Computing Machinery (ACM), Maverick Students for Life, the Cardboard Club and through service projects organized by the JP II Newman Center.
These efforts made Luke a prime candidate to travel to San Francisco in December 2018 to visit the Aspen Institute's Third Annual Cyber Summit, which allowed Luke - and other Scott Scholars - to take part in panel events, have individual meetings with cybersecurity leaders and even tour Apple, Inc. headquarters.
"The panelists with whom I spoke were very kind in speaking to and listening to - legitimately attentive to the thoughts of - a young man not even out of college, still working on getting his footing and growing his understanding. They were, in short, also good examples of leadership; I can plainly see why those I spoke with carried the titles and accolades they did."
The experience in San Francisco will serve Luke well as he begins a full-time job at the Omaha branch of Raytheon, a U.S. defense contractor. He had previously served as an intern for Raytheon for the last two years.
Luke says he would tell Walter Scott thanks for the opportunities he's received because of the scholarship program.
"The generosity he has modeled is an inspiration and example I hope to emulate while also seeking to accomplish new things in a spirit of leadership. I might not be able to give on the same scale he can - yet. I do, however, aspire to be as freely charitable with my time and resources as he is. The financial freedom and leadership skills provided by the scholarship have given me a significant head start in doing so; for that I am extremely grateful."
---

Nicole Aschoff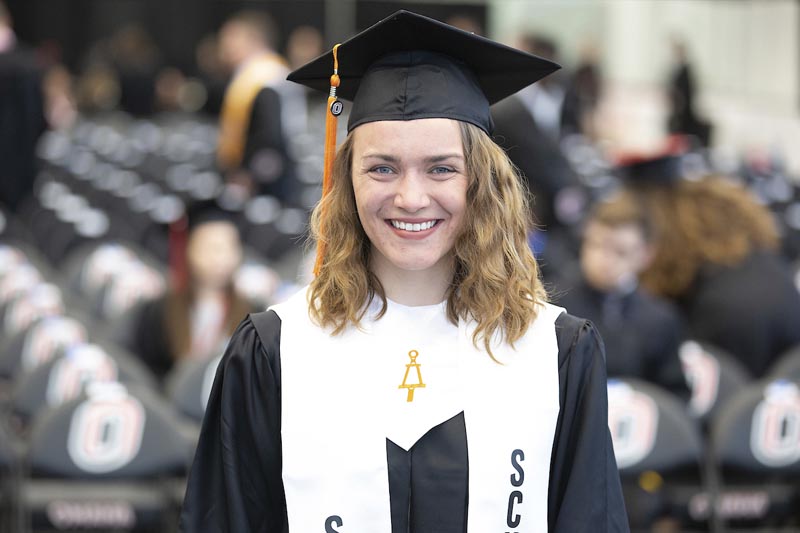 Roughly one in every five architecture or engineering professionals working in the United States today is a woman.

That statistic never deterred Nicole Aschoff, who recently graduated with her architectural engineering degree from UNL, spending four years on the UNO campus as a Scott Scholar.

"[My mom and dad] never once questioned me, or told me I shouldn't go into engineering as a female. They constantly encourage my sisters and I to chase our dreams and go after what we want, and without that I wouldn't be walking across the stage to get my diploma."

A native of Norfolk, Neb., Aschoff credits the Scott Scholarship program with bringing her to Omaha and creating unforgettable experiences as a student.

"I had the opportunity to study in one of the most prestigious architectural engineering programs in the nation, with no financial burden," she says. "While the financial reasons are extremely important, being a part of the Scott Scholar program really didn't stop there for me. Living in Scott Hall with other Scott Scholars, allowed me to walk down the hall, knock on a classmates door and work out challenging problems with other academically focused students."

In addition to her academics, Nicole was also involved on campus through the Earthquake Engineering Research Institute group; MavCatholic; the Architectural Engineering Student Leadership and Advisory Council; and the College of Engineering Dean's Leaders group, which allowed her to advocate for STEM education by visiting K-12 classrooms.

"These student groups and organizations have really made my college experience as wonderful as it has been. They have introduced me to wonderful people, helped with my soft skills and encouraged outreach and giving back."

During her time as a student, Nicole was able to intern with architectural engineering firms and travel abroad. In fact, she was able to work for three different firms across three states, most recently Omaha-based firm Olsson, as well as travel to Turkey thanks to a National Science Foundation grant to work on a conservation project for an ancient Roman temple.

With degree in hand, Nicole plans to stay right here in Omaha and begin her master's program in architectural engineering at the Peter Kiewit Institute.

She says thanks to Walter Scott and the Scott Scholars program she is not only more prepared to pursue her career goals, but she is dedicated to giving back to her community.

"I would tell Walter Scott, or Papa Scott to the Scott Scholars, thank you from the bottom of my heart. Through your scholarship, I have made lifelong friends, found a fantastic support system, and had outstanding opportunities for growth. While my parents taught me from a young age to give back to my community, you have instilled that need even more, and I look forward to the day that I can shake your hand and tell you how exactly I have been able to do that."
---
Ryan Ernst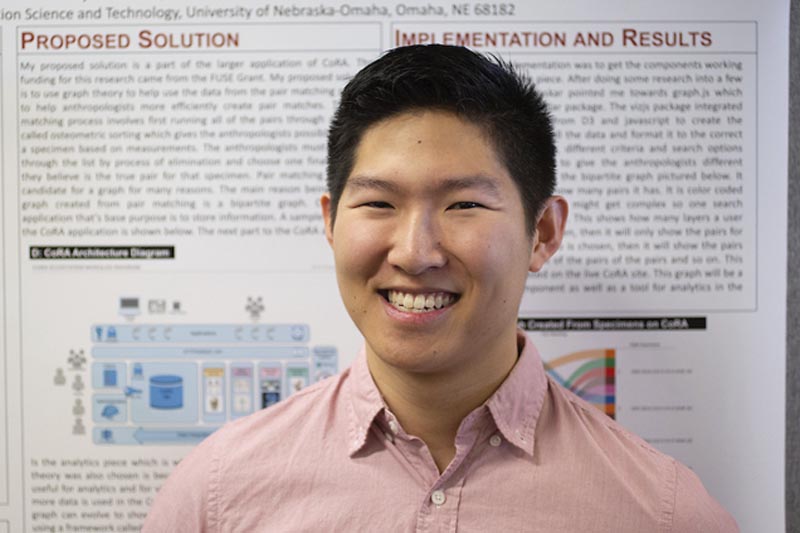 While he may have only just graduated, Ryan Ernst is making a name for himself in Nebraska and in the nation's capital.
A native of Columbus, Neb., Ernst ended his final semester as a UNO student by traveling to Washington, D.C., to present at "Posters on the Hill," an annual, nationwide undergraduate research event, as Nebraska's lone student representative. While there he was able to meet with Nebraska's elected leaders like Rep. Don Bacon, Sen. Deb Fischer and Sen. Ben Sasse.
"I had a chance to learn a lot through the opportunity and I also got the opportunity to
advocate for undergraduate research because there isn't enough of it," Ernst says.
The event was the culmination of a four-year career as a Scott Scholar, something he said has been "the biggest blessing" of his college career.
"I knew that it was a huge honor when I received it, but I didn't realize how much it would really impact my college life," he says. "I met so many friends who are also Scott Scholars and it also allowed me to focus on school at the beginning - because a lot of college students don't know what college is like before they get into it."
In addition to excelling in his research Ryan has been able to learn hands-on lessons through internships thanks to his role as a Scott Scholar.
"It's actually how I got my first internship, which ended up teaching me a lot. In fact, the interviewer was a Scott Scholar as well, so it really is just a community."
Ryan currently works at Offutt Air Force Base, assisting UNO professor Sachin Pawaskar with a project in partnership with the Department of Defense to help identify and pair commingled remains of fallen military service members; however, his first internship experience took him to a local software firm, Baldwin Hackett & Meeks, where he learned coding as well as interpersonal skills.
"I got to sit through a lot of their meetings, a few of their client meetings even, and just watching how they communicate with clients was huge. Class can be good for the fundamentals but you know, getting out there is very different and teaches you a lot so I always appreciated that."
Now that he's graduated, Ryan plans to continue his efforts with Offutt Air Force Base through the summer as he trains a new student worker to pick up where he left off. After that? He says his connections through the Scott Scholars Program will help him get his foot in the door professionally.
He says he owes his professional and personal outlook to Walter Scott and his commitment to supporting students.
"He does so much philanthropic work it's hard to thank him for just one thing because he does so much for the community and he has put a lot into Omaha and he's a lot of the reason that Omaha is as awesome as it is. I plan on staying in Omaha as well and I hope to one day improve Omaha as well and I really wouldn't have that example without him."
About the University of Nebraska at Omaha
Located in one of America's best cities to live, work and learn, the University of Nebraska at Omaha (UNO) is Nebraska's premier metropolitan university. With more than 15,000 students enrolled in 200-plus programs of study, UNO is recognized nationally for its online education, graduate education, military friendliness and community engagement efforts. Founded in 1908, UNO has served learners of all backgrounds for more than 100 years and is dedicated to another century of excellence both in the classroom and in the community.
Become a fan of UNO on Facebook and follow UNO's Twitter updates. 
Contact Us
If you have a story idea, news tip, or other question, please email the UNO News team at unonews@unomaha.edu.