Off-Campus Apartments
We realize that living on campus may not be the best option for all students. The Off Campus Housing Listing Service is UNO's officially recommended and sponsored service for finding listings for area housing options for UNO students, faculty, and staff. We strongly encourage students to investigate apartment complexes before signing a lease commitment. UNO does not inspect or offer any guarantee for the condition or quality of the rental units listed and does not endorse any of the listed properties. Students should never transfer or wire money. Please feel free to contact us if you have any questions or if there is anything we can do to assist you with your housing needs. 
---
St. John Paul II Newman Center
Join a great community of students in this unique student housing and community center located adjacent to the UNO Scott Campus. With fully furnished 2 and 4-bedroom suite apartments, JPII Newman offers students a vibrant and secure atmosphere to facilitate academic success and spiritual growth. Newman Hall can accommodate up to 162 residents in its secure, four-story building. On-site parking, wifi, cable, laundry, and the campus shuttle are all included in the cost.
Located at 71st and Pacific Streets (1221 S. 71st St.), the 100,000 square foot facility is made up of three primary spaces: an oratory, community areas, and apartment-style housing. With daily mass, regular community activities, and spaces to study and socialize, JPII Newman is a place where a UNO student's spiritual, residential, and social life come together.
Stop by when you are on campus or schedule a tour by calling 402.557.5575 or emailing housing@JPiiOmaha.org. For more information or to take a virtual tour visit the JPII Newman Center website.
If you need information about using grant or scholarship funds to live at Newman Hall, please contact your academic adviser or financial aid representative directly. In some cases, funds can be used for housing at JPII Newman.
Rates for 2021-2022

$710
2 Bedroom / 1 Bathroom / 750 ft2

$620
4 Bedroom / 2 Bathroom / 1,000 ft2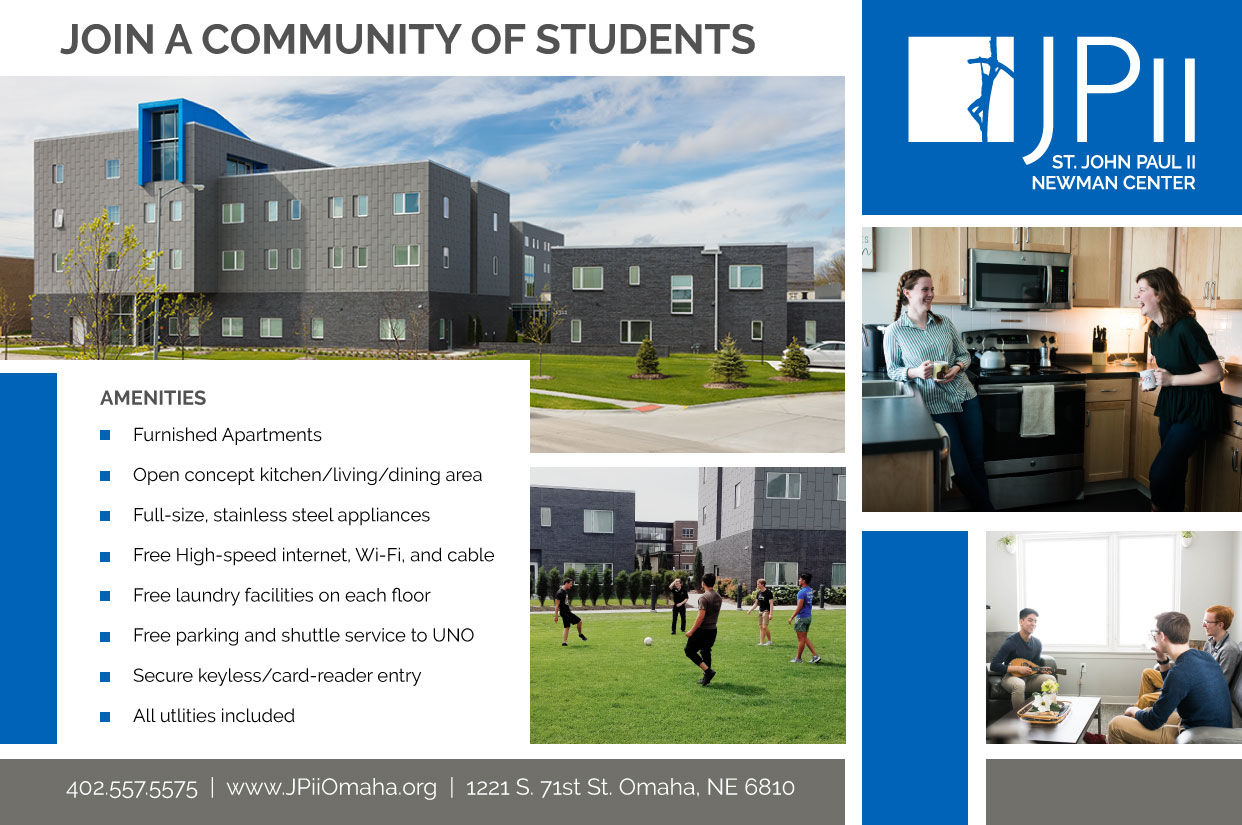 ---
UNO Negotiated Rates for Area Hotels 
 Hotel

Contact Info

Rate/Night

Extra Amenities

Courtyard Marriott

1625 South 67th St. 

402.951.4300 

$109         
NA
Hampton Inn by Hilton, Omaha-Aksarben/Midtown           

1401 South 72nd St.

402.933.5510

$99
NA
Residence Inn by Marriott Aksarben Village     

1717 South 67th St. 

402.951.4300

$124 (1-4 nights) 
$114 (5-11 nights) 
$104 (12-30 nights) 
$94 (31+ nights)                  

NA
---