UNO Updating Terrorist Data for Defense Department
published: 2019/04/23
contact: Sam Petto - University Communications
email: unonews@unomaha.edu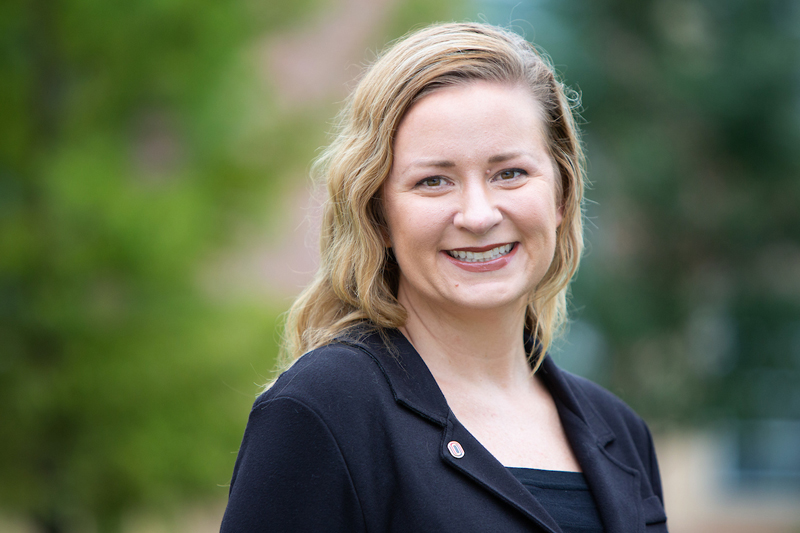 Project lead Gina Ligon, associate professor of management in the College of Business Administration and director of research and development in UNO's Center for Collaboration Science, said UNO's strategic organizational approach to terrorism research is a unique differentiator.
The University of Nebraska at Omaha (UNO) will collect and update data on some of the world's most dangerous individuals in a new project for the Department of Defense.
The effort is one in a suite of new data-related projects aimed at informing counterterrorism decision-making and part of a larger effort housed at the National Consortium for the Study of Terrorism and Responses to Terrorism (START) at the University of Maryland.
With support from a competitively-won federal contract from the Department of Defense, UNO faculty and students will spend the year updating a dataset that evaluates the practices of leaders in charge of terrorist organizations, including ISIS, Al-Qaeda, the Taliban and the Haqqani network, among others.
The Leadership of the Extreme and Dangerous for Innovative Results (LEADIR) dataset draws on a variety of records to create actionable data on leader's decision-making styles, influence, education and other "job-related" information.
Project lead Gina Ligon, associate professor of management in the College of Business Administration and director of research and development in UNO's Center for Collaboration Science, said the strategic organizational approach is a unique differentiator.
"The methods we use are similar to how you might look at a conventional, for-profit company's senior leadership." Ligon said. "It's a Maverick approach to researching violent groups. We know leadership and organizational structure are linked to performance, so why not draw on those ideas to help inform strategic national security decisions?"
"This contract raises our university's profile and encourages all of us to think more creatively about how we are leveraging our strengths," added Louis Pol, John Becker Dean of UNO's College of Business Administration. "In our college, the principles we are teaching and the questions we are asking apply to much more than leading a business. The Center for Collaboration Science shows the value of thinking more broadly about what we can accomplish together."
The project, which tracks changes in terrorism group leadership and organizational sophistication over time, shows that structural characteristics of how terrorists organize themselves are related to their innovation, lethality and organizational behavior in general. This has significant implications for how government resources to combat terrorist groups should be allocated. The data can provide warning signs of which groups will emerge as growing threats in the coming years.
"This is applied research at its finest," said Ken Bayles, interim associate vice chancellor for research and creative activity. "Boiled down to a sentence, this is about combing through data to provide actionable information that will make a difference in our nation's counterterrorism efforts. The fact we were selected for this project speaks highly of the impressive reputation Dr. Ligon and her team have built."
Through this project, the dataset will be updated through 2018 for strategically important organizations and their leaders. The grant funding, totaling $200,000, will pay for student work hours as they pull data from sources varying from terrorist autobiographies to government watchdog reports.
UNO doctoral student Michael Logan, from the School of Criminology and Criminal Justice, is using the dataset for his dissertation and broader research agenda on criminal organizations.
"Findings from the dataset have illustrated that, like conventional organizations, the acquisition of resources and human capital are strategically important for violent extremist organizations," Logan said. "Violent extremist organizations, with the right combination of tangible and intangible resources, are able to engage in sophisticated acts of violence."
LEADIR will be accessible to all Department of Defense employees. The dataset has been in development since 2008.
About the University of Nebraska at Omaha
Located in one of America's best cities to live, work and learn, the University of Nebraska at Omaha (UNO) is Nebraska's premier metropolitan university. With more than 15,000 students enrolled in 200-plus programs of study, UNO is recognized nationally for its online education, graduate education, military friendliness and community engagement efforts. Founded in 1908, UNO has served learners of all backgrounds for more than 100 years and is dedicated to another century of excellence both in the classroom and in the community.
Follow UNO on Facebook, Twitter, Instagram, TikTok, LinkedIn, and YouTube.