CultureFest Celebrates Diversity, Engages Community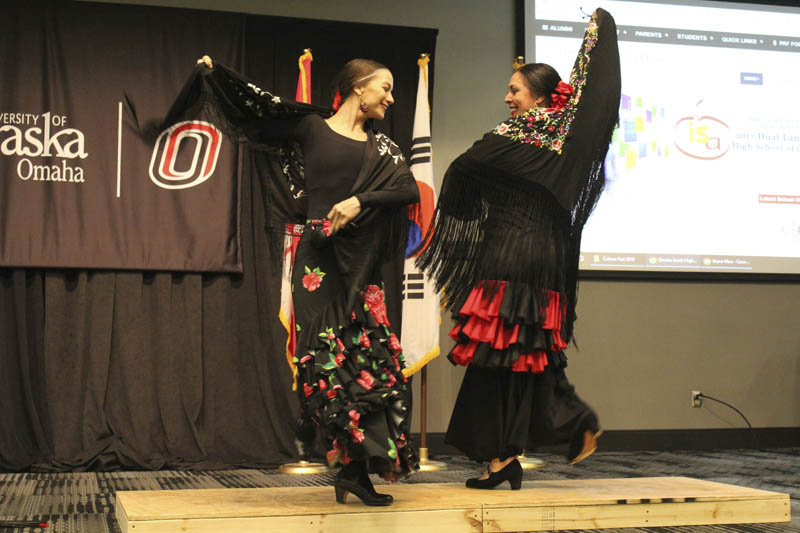 The greater Omaha area is home to more than one million people - each with a rich history and cultural heritage spanning the entire world.
On Sunday, April 7, UNO's Service Learning Academy - through its P-16 Initiative, which brings UNO students together with PK-12 partners and community organizations - joined teachers and students from Beveridge Magnet Middle School and Omaha South High School to highlight just a small fraction of those cultures through the annual CultureFest celebration.
"CultureFest acts as a platform, a snapshot of the different cultures we have in Omaha," explains Stephanie Diaz, a UNO graduate student in the Grace Abbott School of Social Work and School of Public Administration who is also graduate assistant for the UNO Service Learning Academy. "These cultures, some new arrivals and some historic ties to the city, have come to shape the identity of Omaha."
Now in its ninth year, CultureFest provides an opportunity for the community to learn more about the history, traditions and entertainment of multiple cultures through food performances, presentations, one-on-one conversations and more. This year, more than a dozen countries were represented, including Brazil, China, Gambia, Ireland, Japan and Mexico, just to name a few. This included performances from middle schoolers and high schoolers from Beveridge and South High, respectively.
"Learning happens everywhere, not just in the four walls of the classroom," says Shelia McCauley, the magnet/instructional facilitator at Beveridge Magnet School. "Collaboration and events like CultureFest, provide students opportunities to engage in learning experiences that are unique and go above and beyond the standard curriculum."
Among some of the entertainment this year included Flamenco dancing from Spain; traditional African dancing performed by students at Beveridge; songs performed on guitar and piano by students from South High School; a spoken word performance from students in UNO's ILUNO program; and a vocal performance from the African Culture Connection.
Participants were also encouraged to explore, engage and ask questions about each culture.
"We give participants 'passports' where they travel to the different tables, booths and performances and they are able to share some written reflections," Diaz explains. "Many times we receive notes about how individuals did not know we had certain cultures in our city and were happy to be able to see their cultures shared."
The event is something Becky Noble, curriculum specialist for the visual and performing arts at South High, says really resonates with her students.
"The Service Learning Academy and CultureFest are such an amazing part of UNO. They encourage global awareness and involvement in the community - all things that are so vital to being open-minded, involved, and socially aware. Our kids eat that up. They learn so much about the world around them, and about themselves."
Both Noble and McCauley have been involved in CultureFest for multiple years and it is something they have seen grow and expand as a popular community event, so much so that planning for the event's 10th anniversary will begin almost immediately.
"The collaboration for CultureFest begins in May of the previous school year," McCauley says. "We set the date for the next CultureFest and discuss the CultureFest plan. When each school year begins, the planning for Culturefest gains momentum."
"We talk about what might not have worked so well in the past and ways we can continue to improve on the event," Noble adds. "It would not be possible without the amazing work done by the staff and volunteers at Service Learning."
Through dozens of performances, hundreds of student participants and thousands of hours of preparation over the last nine years, CultureFest has had a lasting impact on the students involved as well as the community.
It is something Diaz says truly speaks to UNO's mission as a metropolitan institution and a global engagement leader.
"It's amazing how many cultures exist in our small city and this is a platform for them to share it through music, art and dance. If Omaha is UNO's campus then it is important that the UNO community learn about the culture of Omaha."
About the University of Nebraska at Omaha
Located in one of America's best cities to live, work and learn, the University of Nebraska at Omaha (UNO) is Nebraska's premier metropolitan university. With more than 15,000 students enrolled in 200-plus programs of study, UNO is recognized nationally for its online education, graduate education, military friendliness and community engagement efforts. Founded in 1908, UNO has served learners of all backgrounds for more than 100 years and is dedicated to another century of excellence both in the classroom and in the community.
Become a fan of UNO on Facebook and follow UNO's Twitter updates. 
Contact Us
If you have a story idea, news tip, or other question, please email the UNO News team at unonews@unomaha.edu.