UNO Magazine: A Healthy Dose of Art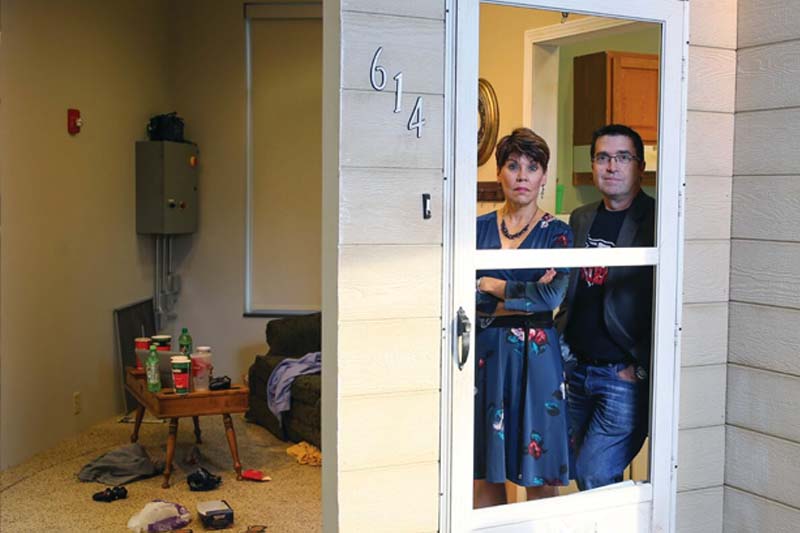 The following story appeared in the
 

most recent issue

 

of the UNO Magazine, which highlighted the efforts being made by UNO alumni, faculty, staff and students to promote health and wellness. Read the magazine online as a

 

Flipbookor

 

download a PDF.

-----

 

Since early humans first etched paintings on cave walls, appealing to healing spirits, art and health have intertwined.

It's a connection that spans time and cultures.

The ancient Greeks, for instance, believed that music, arts and healing were the domain of the god Apollo. Art, spirit and physical well-being are the essence of traditional Native American healing. And among Buddhist monks, the creation of intricate, brilliantly colored sand paintings, known as mandalas, are considered both sacred and healing art.

Modern scientific studies have further explored this connection.

A 2010 review of art and healing research published in the "American Journal of Public Health" found "clear indications that artistic engagement has significantly positive effects on health. Through creativity and imagination, we find our identity and our reservoir of healing."

Tapping into that reservoir has been the work of UNO faculty, students and alumni. Here are a few of their stories.


Setting the Stage for Healing
At Project Harmony's west Omaha office, a stage developed by a UNO faculty member and an interactive program directed by a UNO graduate are designed to enhance child welfare and bring healing to at-risk families.

Both stage and program are part of a state-of-the-art training institute at Project Harmony for child welfare professionals. Project Harmony is dedicated to ending the cycle of child abuse and neglect.

Steven Williams, who is unit coordinator of the theatre department at UNO and is an award-winning scenic and lighting designer with credits on more than 150 productions, designed a one-of-a-kind, rotating stage at Project Harmony.

About 12 years ago, Deb Anderson, a former social work professor at UNO and current senior director of early intervention and training at Project Harmony, came to Williams looking for theatrical advice.

Project Harmony was building a new facility in west Omaha that allowed for additional training space, and Gene Klein, executive director of Project Harmony, had approached Anderson.

"He said, 'Deb, you always train in a way that's experiential. What if we made a space for you to do that — like a theatre?" remembers Anderson, who earned her Ph.D. in public administration from UNO in 2000. "As soon as he said that, I said, 'Oh, I know some people I could reach out to.'"

One of those was Williams. Intrigued by Project Harmony's concept of a theater space dedicated to scenario-based training, he had an idea. About a month later, he returned with a working model of a rotating stage.

"They were kind of blown away by the prospect of what this could be," says Williams, who has taught theatre at UNO for 23 years.

After six months of planning, design and construction, the final piece was complete: a mechanical stage that can rotate, with a simple push of a button, to four predesigned scenes — a living room, kitchen, bathroom and front porch.

While Williams was constructing the stage, Project Harmony brought in law enforcement, legal and social services professionals to view the progress. "It would spark some kind of interest in them about, 'I had this case when …,' and then they would start telling their story," Anderson says.

That input helped Williams create reality-based scenes — capturing what child welfare officers, police officers or other related professionals were encountering when entering a home.

That carried over to the selection of hundreds of props. Williams' wife, Nancy, even spent time online researching meth labs. "She's probably on some FBI watchlist," he says, only half joking. Each scene also can be easily changed to portray different circumstances.

"You can set it up to be a fairly affluent living room," Williams explains. "But if you move the coat hanger on the wall over one hole, you'll notice that there is a fist-punch in the drywall."

The reaction from child welfare professionals has been overwhelmingly positive. Williams recalls an early conversation with Omaha's police chief.

"He said, 'You have no idea how this is going to impact how we are able to train our people, and what a big impact that's going to make on how we're able to benefit these children in domestic violence cases.'

"That was the coolest part for me. It's making a big difference."


Acting with a Purpose
"I'm not a drunk or bum on the street," explains Dan, an actor role-playing as a husband and father of two teenagers, who recently lost his job and is seeing a therapist at the urging of his concerned wife.

A few minutes earlier, UNO graduate Nick Zadina had welcomed about 20 child welfare professionals to Project Harmony and explained the morning's training. "Today, we are going to be looking at a family of four. You'll be able to watch as they are interviewed by various professionals."

Actors portrayed the four family members, and the roles of school counselor, caseworker, therapist and probation officer were played by Project Harmony staff and local counselors.

Zadina, a training specialist at Project Harmony for the past six years, wrote the script for this particular three-hour training, based on a conglomeration of real cases. "I love this exercise because it shows you the complexity of families," Zadina says.

The family's story unfolds bit by bit, followed by audience discussion. Finally, the curtain is pulled back in a 25-minute theatrical production — a behind-the-scenes look at the family's home life, performed on the rotating stage, which produces a few audible gasps from the audience.

"This is what you guys deal with every day," Zadina says afterward. "This is not easy stuff."

Zadina, who earned his master's degree in theatre from UNO in 2002, hires local actors to help with the training, including UNO graduates.

UNO theatre alumnus Brandon Rohe, a train dispatcher at Union Pacific, has played Dan for the last four years. "Child welfare has always been near and dear to me," he says. "I started as an education major at UNO until the theatre department sucked me in."

UNO theatre alumna Victoria Luther, a paralegal at a local law firm, played his teenage daughter, Lacey. "This has just been an amazing experience," she says. "I love what it does and how it affects people."


Theatre Plays a Role
From 2011 to 2016, Cindy Melby Phaneuf, a theatre professor at UNO and a nationally recognized member of the College of Fellows of the American Theatre, worked with health care professionals at the University of Nebraska Medical Center (UNMC) to develop health care scenarios in which UNO theatre alumni and students would role-play as patients.

The purpose was to educate and train physicians and medical and nursing students on best practices in dealing with patients.

Some of these role-playing scenarios were packaged as videos, focusing on everything from educating rural physicians about patient referrals to helping physicians communicate about end-of-life care and an award-winning series for medical and nursing students on increasing patient health literacy.

"I just loved the interaction between the arts community and the medical community, and how open they were to us," Phaneuf says. "The doctors and students really loved working on the project. They were curious about the acting process. It led them out of their comfort zone and to practice some strategies that they might not have thought of.

"I believe so much in the power of art in healing," Phaneuf says. "I think it allows people to connect to their emotional selves and connect to stories, realizing other people have similar stories, so they feel less alone or more empowered."


Art as Therapy
Betsy Funk, who earned a master's degree in social work and public administration from UNO in 2004, is a licensed independent mental health practitioner, a registered expressive arts therapist and co-founder of the Omaha Therapy Arts Collaborative.

"I use the creative arts, including visual art, music, movement and mindfulness practices —­ so, multimodal processing — to help people through the emotional ups and downs of their lives," Funk says.

As a registered expressive arts therapist through the International Expressive Arts Therapy Association, one of Funk's goals is to bring this type of training to the Omaha area. "In my studio, I do workshops for other mental health practitioners, so they can be exposed to it," says Funk, who traveled to Florida to study for her professional credentialing.

In her practice, Funk works with adults, teens and children, using art therapy as appropriate, with client approval. For those who have experienced trauma, for instance, she says art therapy allows them to express themselves without words. She then invites them to talk about their work.

"It's different than traditional art therapy, in that I don't have any predefined theories for their artwork," she says. "I don't analyze other people's work. I want them to tell me about themselves through their work."

In addition to individual clients, Funk has worked with school groups through Project Harmony.

"I think it allows people to safely use their creative potential, that everyone has inside of them, in a safe and comfortable way that can be transformative and healing and empowering for themselves."


Healing through Storytelling
Once a week, for the past eight years, UNO theatre alumna Rita Paskowitz has visited the Siena/Francis House, the largest homeless shelter in Nebraska, giving artistic voice to those pursuing alcohol and drug abuse rehabilitation.

Her business card simply says "storyteller." And she believes allowing a safe space in which people can create art or engage in storytelling can play an important role in the healing process.

"I remember one young man who said that coming to the creative workshops kept him sane while he was going through treatment," Paskowitz says. "The art that we did — writing, visual art, storytelling — just helped him get out of himself."

Paskowitz also uses music, storytelling, writing, dance and the visual arts in her longstanding community work in grief healing, which has included working directly with bereaved families and individuals, as well as with grief counselors.

"When people are doing art, there's something that happens in your brain," Paskowitz says. "I can't tell you how many people we touched, who thought, 'Oh, my gosh, I can use this with my clients.' Or, 'It has helped me with the grief that I'm dealing with.' It was just an amazing, wonderful thing."

Paskowitz graduated from UNO in 1972 with a degree in speech and drama and a minor in English, and currently teaches a master's-level class on storytelling designed for teachers.

She's also developed a program for the Douglas County Health Department for women grieving the loss of a child prior to or during the birth process, called HUGGS (Healing Unresolved Grief Group Support).

"I created a six-week program using stories as the basis for healing for these women," she says. "It was the hardest thing in my life I've ever had to do. But there is room for stories.

"Wherever anyone is broken, there is a story behind it. And there's always a new story ahead of you."
About the University of Nebraska at Omaha
Located in one of America's best cities to live, work and learn, the University of Nebraska at Omaha (UNO) is Nebraska's premier metropolitan university. With more than 15,000 students enrolled in 200-plus programs of study, UNO is recognized nationally for its online education, graduate education, military friendliness and community engagement efforts. Founded in 1908, UNO has served learners of all backgrounds for more than 100 years and is dedicated to another century of excellence both in the classroom and in the community.
Become a fan of UNO on Facebook and follow UNO's Twitter updates. 
Contact Us
If you have a story idea, news tip, or other question, please email the UNO News team at unonews@unomaha.edu.