Women in IT, Security Services Marks Transformation in ITS and Technology Culture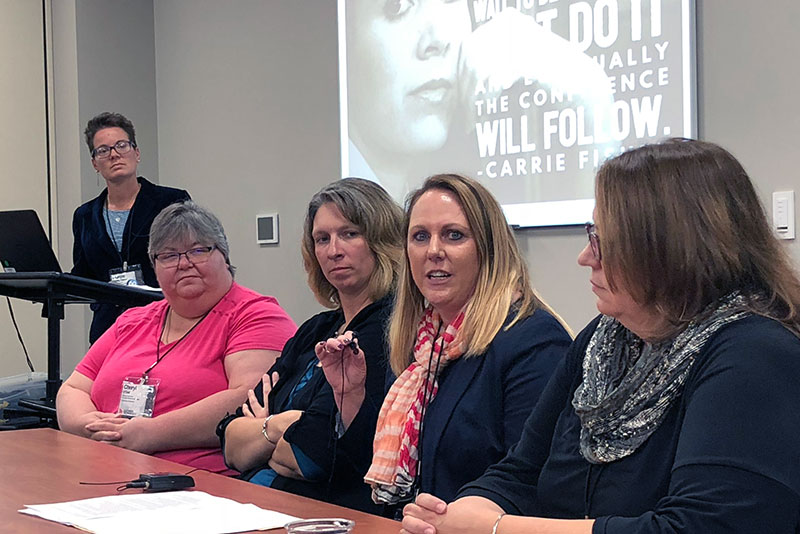 The stereotypes of who is in a technology job and what they may act and look like are long gone. At least, they should be. University of Nebraska Information Technology Services is proof.
Oct. 8-12 marks the second week of National Cybersecurity Awareness Month #NCSAM focusing on Millions of Rewarding Jobs: Educating for a Career in Cybersecurity. University of Nebraska ITS Security Services has many staff making a difference, and the path to their careers can take many different journeys. Yes, some have computer science or knew they would be in technology. Others not so much.
"You don't have to be a hardcore technical person as long as you're willing to take on new things and keep learning and building your skills," Andrea Childress, Executive Director in Security Services, said. "When I went to college there was no cybersecurity program of study. It's a rapidly growing sector where new areas arise every few years. No industry is immune so there is potential everywhere."
Childress, has been at the University of Nebraska at Kearney (UNK) for more than two decades, and moved into University of Nebraska ITS during its OneIT Initiative last year. The initiative unified all the ITS groups throughout the system while maintaining academic and administrative technology groups on campuses. Childress' colleague Cheryl O'Dell works in security and said it involves more than people think.
Working in cybersecurity is meaningful work. We're making people safer by helping them learn to defend themselves and their systems. It's a race between the attackers and defenders so the challenges change frequently.
- Andrea Childress, Executive Director
"Working in cybersecurity is a great career path," O'Dell said. "You can specialize in many different facets of security such as policy and procedures, forensic investigation, monitoring security equipment for alerts or anomalies, teaching others how to be cyber safe and secure, or any number of technical tasks like firewall management."
Having these specialties across the University of Nebraska system makes it strong against ever-increasing number of potential attacks. Childress, along with security staff, help protect all three campuses from UNK, University of Nebraska-Lincoln and University of Nebraska at Omaha.
"Working in cybersecurity is meaningful work," Childress said. "We're making people safer by helping them learn to defend themselves and their systems. It's a race between the attackers and defenders so the challenges change frequently. It's never boring!"
---
Learn more about UNO's Cybersecurity Program
---
Twenty-six percent of the computing workforce were women; but being a woman in Cybersecurity is even more rare, according to a computing workforce study from 2017. From the 2017 Global Information Security Workforce Study, a white paper from Frost & Sullivan, women represent only 14 percent of the Cybersecurity Workforce in North America. These numbers have not changed in some time.
At the recent Women Advance I.T. conference in Lincoln, Childress and Cheryl O'Dell from University of Nebraska ITS co-presented with others on "Women in Security (not Insecurity)" and shared career journeys. The notion of all security professionals being a hardcore hacker, and usually, male, doesn't help, said co-chair of the conference, Assistant Director, Marcia Dority Baker.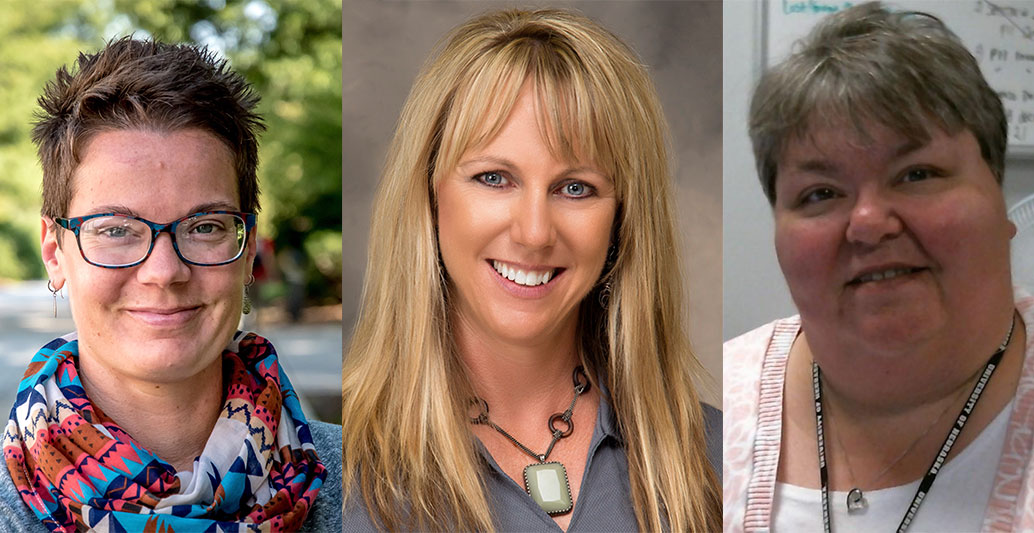 "We've seen a huge number of female elementary students in coding classes, which is awesome, but those numbers drop as students move towards high school, "Dority Baker, who began in library science, said. "The conference highlighted the need for leadership no matter where one is on a career path and seeks to bring in speakers with real-world experience to share their success stories for making change in their organization, campus or business."
Dority Baker's passion for the conference and growing women in IT is making a difference, but unfortunately as a whole, since the 1980s, women in IT has actually decreased. This while IT continues to need nuanced communication skills, collaboration, and empathetic listening to succeed. The big thing is, everyone is in it together, to promote the profession as a future career to everyone, men and women.
"One thing I have learned is that we need everyone to make it successful," Dority Baker said. "That's a great metaphor for life – we can't do it on our own. We need men and women to collaborate, amplify, cheer, provide feedback and encourage each other to move forward."
About University of Nebraska ITS
Through collaboration with partners across the University of Nebraska System, ITS has transformed into a more efficient, cost-effective department. ITS enhanced its ability to share information across the system to assist faculty, staff, and students in a more robust and timely manner.
Where appropriate, the resources of the campuses are linked in cooperative efforts. To maximize the benefit of resources available to the institution, the University system should realize economies that may accrue from scale of operations whenever possible.
All campuses maintain a campus CIO with units having strong ties to the campus in administrative and academic technology. Learn more about ITS' structure.
ITS Values: Be the Five
ITS delivers Innovative. Trustworthy. Solutions. United and Optimized.
In collaboration with our academic communities, ITS will:
Be excellent by exceeding expectations.
Be champions for our people and our partners.
Be great listeners who empower stakeholder needs.
Be forward-thinking through innovation to create solutions.
Be trustworthy through integrity, transparency, and communication.
Learn more about the ITS Strategic Plan
More on University of Nebraska ITS
For more on University of Nebraska ITS head to its.nebraska.edu and follow on social media @NebraskaITS on Facebook and Twitter.
Contact Us
If you have a story idea, news tip, or other question, please email the UNO News team at unonews@unomaha.edu.