Faculty Research Part of National Discussion on Reaction to High-Profile Deaths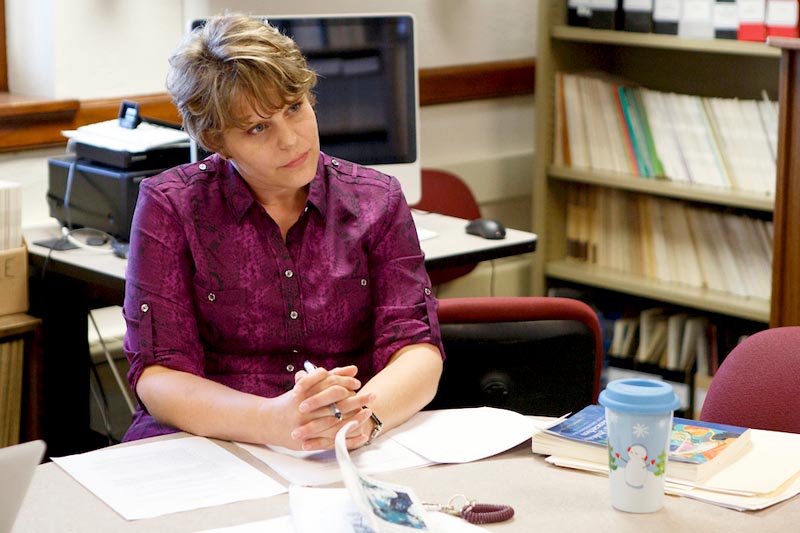 Paige Toller works with graduate students during a qualitative methods seminar held at UNO. Work from Toller and former UNO professor Lynette Leonard has been featured as part of an ongoing discussion about online discourse about recently deceased public figures.
Two public figures. Two different reactions.
The deaths of Aretha Franklin and Arizona Senator John McCain have been the source of countless news stories, tributes and shared mourning; however, a recent Washington Post article showcased that not everyone follows the old adage: "do not speak ill of the dead."
Central to the article is research published in 2012 by Paige Toller, UNO associate professor of communication and assistant director of the School of Communication. In the article, Toller joined former UNO assistant professor Lynette Leonard in examining negative commentary posted by complete strangers on a website called MyDeathSpace, which shared the public profiles of recently deceased users of the social networking site MySpace.
"It was basically people that, from what we gathered, had no apparent connection with the deceased," Toller told the Washington Post. They "were writing just very judgmental, negative, hurtful comments."

Read the Full Article
However, this trend is not limited to unique sites like MyDeathSpace. In the years since their article was published, the trend has shown up across multiple social media platforms and news websites.
"We were just shocked," Toller says. "Who does that? Who goes on and denigrates someone they don't even know? And now I think it's more commonplace especially with political posts and so the civility I think has changed in the sense that now it's viewed as acceptable to put what you think out there and call somebody names."
Toller, whose research largely looks at how people communicate during the grieving process, says it's not just politicians; celebrities are also at risk. While Aretha Franklin has largely been praised since her passing, more controversial celebrities like Amy Winehouse were the source of significant criticism from online communities.
"Her death was largely talked about online and while there were certainly people who were compassionate about her alcoholism and drug abuse problems, others were like… this is what you get when you lead that kind of lifestyle."
Luckily, Toller says that most people won't experience the same kind of online reaction that has follows well-known, public figures if they share information about a family member or close friend's passing.
"I think MyDeathSpace was really unique because it wasn't the loved ones of the deceased that were putting up links to their loved ones' obituary," she says. "If you have a loved one who dies and you post something on Facebook, for example, I think in that venue, in that space there is still an understanding that you don't speak ill of the dead."
Currently, Toller is working with Karyn Sporer, a 2016 Ph.D. graduate from the School of Criminology and Criminal Justice, exploring how grief is communicated by relatives of someone who has a severe mental illness or disability.
"There's a concept called ambiguous loss that I'm exploring and that's the idea of how are you able to grieve someone who may be psychologically or mentally gone, but they are still physically present. That is an aspect of grief where there really is no closure for these families until they are able to manage their situation or until that family member passes."
Ultimately, Toller says, how we communicate with each other about issues of grief and loss, whether they be personal connections or public figures, has significant impact on our emotional and social state.
"Grief is a universal experience, although how we experience and express grief is very individual. As a society, we have the opportunity and responsibility to help those who are grieving by offering messages of solace and support, both online and offline."
About the University of Nebraska at Omaha
Located in one of America's best cities to live, work and learn, the University of Nebraska at Omaha (UNO) is Nebraska's premier metropolitan university. With more than 15,000 students enrolled in 200-plus programs of study, UNO is recognized nationally for its online education, graduate education, military friendliness and community engagement efforts. Founded in 1908, UNO has served learners of all backgrounds for more than 100 years and is dedicated to another century of excellence both in the classroom and in the community.
Follow UNO on Facebook, Twitter, Instagram, TikTok, LinkedIn, and YouTube.