Evans to Lead Campus Security, Public Safety
Charlotte Evans has been named interim chief of police/director of campus security and public safety for UNO, UNMC and Nebraska Medicine, effective immediately.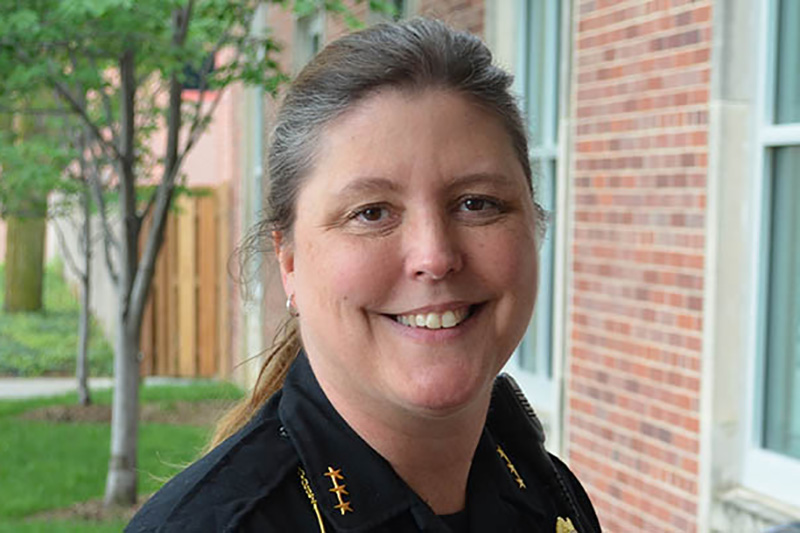 Charlotte Evans has been named interim chief of police/director of campus security and public safety for the University of Nebraska at Omaha (UNO) and the University of Nebraska Medical Center (UNMC) effective immediately.
"Charlotte brings with her considerable experience from both the University of Nebraska-Lincoln and UNO campuses," said Ken Hansen, who made the announcement earlier this month. Hansen oversees security and public safety in his roles as associate vice chancellor of facilities at UNMC and vice president of facilities at Nebraska Medicine.
Evans has served as chief of police/director of the UNO Public Safety Department the past three years. Prior to that, she spent 23 years at the University of Nebraska-Lincoln Police, where she advanced through the ranks from a police officer to assistant chief of police.
Evans will work alongside Gary Svanda, director of campus security at UNMC/Nebraska Medicine, who joined UNMC in 1971 and will retire at the end of this year.
"The more experience you can have side-by-side, the better," Hansen said.
"I am honored to be asked to fill this expanded role," Evans said. "The ultimate goal of this transition is to provide the safest environment possible for our community to learn, live, and work within the UNO and UNMC communities. My experience working in the campus environment has afforded me countless opportunities to work with the students, staff, faculty, and visitors of the University to promote a safer community. This new role comes with a new challenge of working to enhance safety in a medical environment. I know I have a great deal to learn and look forward to working with the community and with Director Svanda and his staff."
Campus leaders are doing a deep dive into public safety and security services at UNO and UNMC to evaluate and explore opportunities to share and/or consolidate resources, increase efficiencies, and enhance technologies used.
Recommendations likely will be made to campus leaders later this fall, Hansen said.
Evans is a native farm girl from Fairbury, Neb. She began her career in campus law enforcement 26 years ago as a police officer at the University of Nebraska-Lincoln Police Department (UNLPD). She moved through the ranks, working in or supervising every unit of the police department and also had the unique opportunity to be involved in the development, growth, and leadership of the UNLPD's Threat Assessment Unit, and in the creation of the campus wide Threat Assessment Partnership. In her last position there as assistant chief, Evans was responsible for the UNLPD's Patrol and Investigations (Criminal and Threat Assessment) Units and all special event security, including Husker football.
In June 2015, Evans accepted the Chief of Police position at the University of Nebraska Department of Public Safety (UNODPS) and went to work with the ultimate goal of providing a full service public safety agency to the campus community.
Evans has a bachelor's Degree in management and a master's degree in leadership. She has been an active member of the Association of Threat Assessment Professionals Great Plains Chapter for the last 10 years, and is now the chapter's board president.
She has two daughters, one son, and loves every opportunity to spend time with them and with her two young granddaughters.
About the University of Nebraska at Omaha
Located in one of America's best cities to live, work and learn, the University of Nebraska at Omaha (UNO) is Nebraska's premier metropolitan university. With more than 15,000 students enrolled in 200-plus programs of study, UNO is recognized nationally for its online education, graduate education, military friendliness and community engagement efforts. Founded in 1908, UNO has served learners of all backgrounds for more than 100 years and is dedicated to another century of excellence both in the classroom and in the community.
Follow UNO on Facebook, Twitter, Instagram, TikTok, LinkedIn, and YouTube.