Senator Lindstrom Visits UNO
Lindstrom discussed biomechanics and economic development during his visit to campus.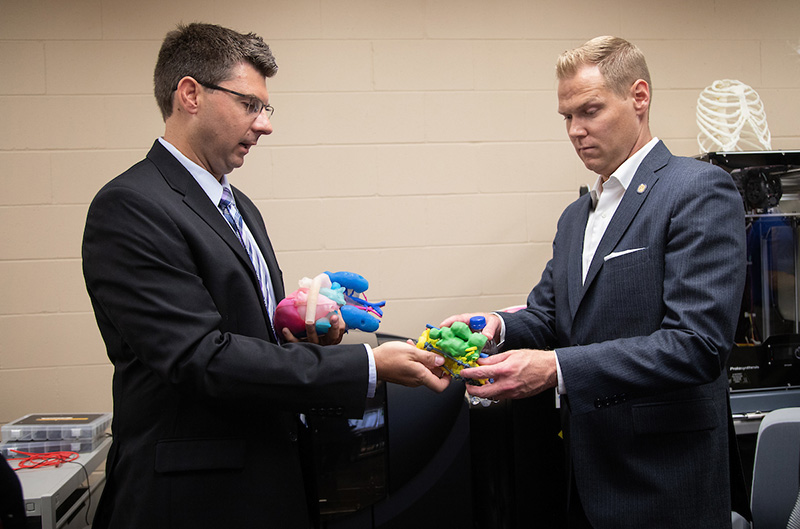 Senator Brett Lindstrom, representing District 18 in northwestern Omaha, recently toured the University of Nebraska at Omaha (UNO).
During his time on campus, he had the chance to visit the Biomechanics Research Building and meet with lab coordinator Jeffrey Kaipust, M.S. There he learned how the Department of Biomechanics works to solve complex biomedical problems and to improve quality of life through the development of new diagnostic and treatment strategies.
Lindstrom was impressed with the wide array of research and creative activity that takes place within the Biomechanics Research Building. From 3D printing prosthetics for those in need, to the research put into human movement variability, Lindstrom said it's important to see how UNO helps those around the state in their everyday lives.
"UNO and the university system has always been on the cutting edge of biotechnology, so as we look at incentive programs, we look at growth in the state and UNO's on the forefront of that and it's exciting to see."
He continued, "we invest in the university system and it's nice to see it in action. How it affects people in their everyday lives and making the quality of life better for Nebraska citizens."
Visit Campus
All government officials and legislative candidates are welcome to visit campus to better understand UNO, our impact on the state and faculty's varied areas of expertise. Contact UNO University Communications at ucomm@unomaha.edu to schedule your visit.
About the University of Nebraska at Omaha
Located in one of America's best cities to live, work and learn, the University of Nebraska at Omaha (UNO) is Nebraska's premier metropolitan university. With more than 15,000 students enrolled in 200-plus programs of study, UNO is recognized nationally for its online education, graduate education, military friendliness and community engagement efforts. Founded in 1908, UNO has served learners of all backgrounds for more than 100 years and is dedicated to another century of excellence both in the classroom and in the community.
Follow UNO on Facebook, Twitter, Instagram, TikTok, LinkedIn, and YouTube.