Graduate Student Has Passion For Science in the Lab, in the Community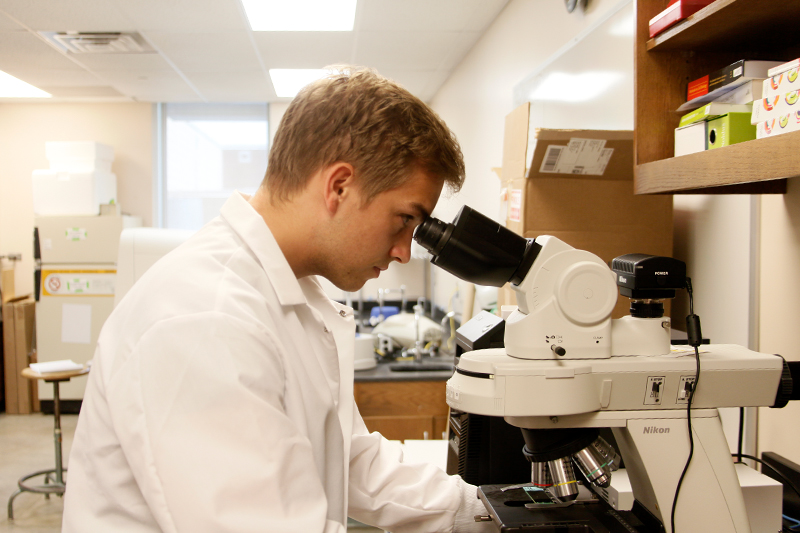 For centuries, scientists have been studying how the human brain functions and while, in that time, many important discoveries have been made, there are many more that are still left to be uncovered.
This opportunity for discovery, and to make an impact on people's lives, is what drives graduate student Matt Baker. He recently finished his second year as a graduate student in UNO's Department of Biology, studying the effects that stress can have on the brain.
"In our lab, the main goal of what we are doing here is really trying to understand what is going on in the brain that causes individuals to react to, and cope with, stress differently," he explains. "We actually do this by monitoring a number of different stress and anxiety-related behaviors in zebrafish."
Baker explains that the importance of understanding how stress impacts the brain goes well beyond scientific curiosity. It can improve the lives of millions of people and have a significant economic impact both for individuals and for society as a whole.
"More specific to our lab's work, mental illness and disorders really place a huge burden on society as well as the individuals that have those conditions, whether its treatment costs, healthcare costs, or loss of productivity."
This is the message that Baker recently brought to Nebraska's elected officials during a two-day April visit to Capitol Hill as part of an initiative from the American Institute of Biological Sciences. Thanks to funding from the Animal Behavior Society and UNO's Office of Research and Creative Activity (ORCA), Baker joined other scientists and fellow graduate students in meeting with members of Congress to discuss the importance of federal funding to support biological research and education.
"I emphasized how important it is to really understand what is going on in the brain - to ultimately understand that better and how we can make new therapeutic options based on novel targets in the brain, or even just understanding why so many individuals may be more prone to developing mental disorders rather than others," he explains.
It was also important for Baker to argue for continued federal funding, through organizations like the National Institutes of Health and National Science Foundation, because he has been able to focus entirely on his classes and research thanks to similar funding organized through ORCA. Baker received a Graduate Research and Creative Activity grant to fund his research efforts last summer. This summer he was awarded with the Rhoden Biological Fellowship through UNO's Office of Graduate Studies.
Research funding is also important to Baker's advisor, Ryan Wong, an assistant professor of biology, whose research explores a variety of complex animal behaviors, including reactions to stress. He says it is important to understand how similar biological systems in other animals work because it provides a roadmap to understanding our own.
"Mental illness and disorders really place a huge burden on society as well as the individuals that have those conditions, whether its treatment costs, healthcare costs, or loss of productivity"
- Matthew Baker, UNO Biology Graduate Student
"My lab recently got funding through the National Institutes of Health to support research in identifying the genes and brain regions that are utilized in animals that cope with stress differently," he says. "So, these are natural ways to cope with stress with the idea being that if we understand what is happening under natural conditions we can then begin to find targets that go awry in those who are impacted by or diagnosed with mental health disorders."
Working in Wong's lab allows Baker to feed his passion. While he had always been fascinated with biology, it wasn't until he attended a neuroscience conference as an undergraduate at Gustavus Adolphus College in Minnesota that he saw how fundamental processes in the brain can help explain how we behave and interact with the world around us.
"I first became aware of UNO after looking at different research labs that I might enjoy joining. I came upon Dr. Wong's lab and found that we share a lot of similar research interests," Baker said. "I have really enjoyed my time at UNO working with and getting to know faculty and students from the biology and psychology departments. Dr. Wong invests a lot of time and effort into all of his students and is great to work with. He has really helped me develop all of the skills necessary to be a successful, independent research scientist. I am very grateful for all of the time and opportunities he has given me."
Much like the scientists who came before him, Baker wants to take the next step in understanding the human brain. Specifically, he wants to understand how the human brain remembers stressful events or create associations with events, locations or even people that trigger anxiety.
Baker isn't just focused on research; however. As a member of the Nuero-Wow graduate student group he regularly finds volunteer opportunities to share his passion for neuroscience with the general public, including K-12 students. He hopes to use the lessons he learned in Washington D.C. to continue to engage in STEM public policy initiatives, both today and in the future.
"I think the main things I really learned was how to explain why your research is important and really target that towards very specific audiences and customizing your messages to find the most effective way of communicating what your research is about."
About the University of Nebraska at Omaha
Located in one of America's best cities to live, work and learn, the University of Nebraska at Omaha (UNO) is Nebraska's premier metropolitan university. With more than 15,000 students enrolled in 200-plus programs of study, UNO is recognized nationally for its online education, graduate education, military friendliness and community engagement efforts. Founded in 1908, UNO has served learners of all backgrounds for more than 100 years and is dedicated to another century of excellence both in the classroom and in the community.
Follow UNO on Facebook, Twitter, Instagram, TikTok, LinkedIn, and YouTube. 
Contact Us
If you have a story idea, news tip, or other question, please email the UNO News team at unonews@unomaha.edu.