Freshman Earns Place at Fulbright Summer Program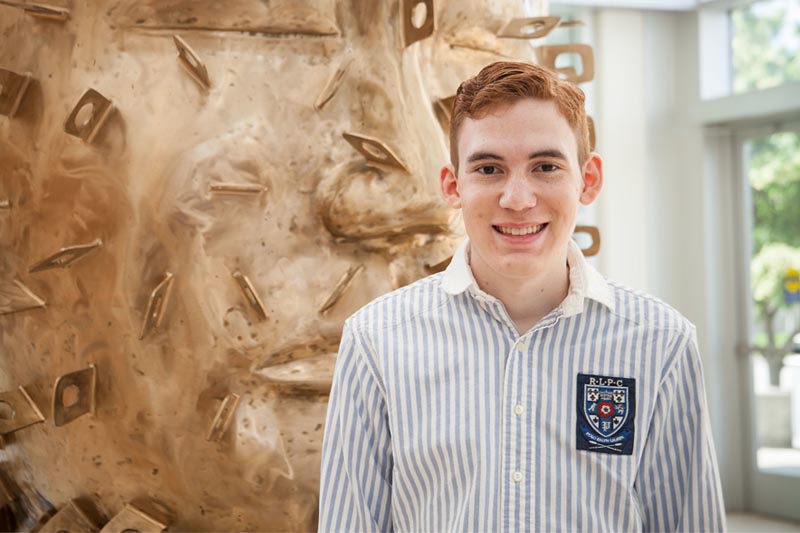 Freshman Brian Lacy earned a spot on the highly-selective Fulbright Summer Institute thanks to help from the University Honors Program
University of Nebraska at Omaha (UNO) freshman Brian Lacy, of Bellevue, has received a place on a prestigious, international summer program organized by the US-UK Fulbright Commission. The honor will take him to the United Kingdom this summer.
The Fulbright Summer Institute is one of the most prestigious and selective summer scholarship programs in the world, bringing students to study at universities across the UK. Lacy was selected by the US-UK Fulbright Commission to experience the UK on a three-week summer program at the University of Westminster in London.
Lacy, who is studying finance, banking and real estate at UNO, is one of just 60 students from across the country who will be participating and one of only five students specifically studying atUniversity of Westminster. While abroad, Lacy will focus on global leadership by participating in seminars with other international students, meeting one-on-one with faculty and exploring London to learn more about the city's history and culture.
"I am so excited to be immersed in the city while in London and work with faculty from around the world," Lacy said. "The 'Global Leadership' module at Westminster will focus on doing business in countries abroad and everything in business is becoming more globalized and I want to be prepared for what that future looks like."
In addition to studying finance, banking and real estate, Lacy is a member of UNO's University Honors Program, through which he learned about the opportunity. Honors Director Lucy Morrison practiced interviews with Brian and helped him through the application process.
"Brian is a great candidate for this scholarship," she said. "He is so excited and ready to embrace all aspects of this once in a lifetime opportunity."

"I am truly grateful to the honors program at UNO for not only helping me identify this amazing opportunity, but guiding me through the application and interview processes as well," Lacy said. "They were an invaluable resource to me and because of that support I get to experience such an amazing once-in-a-lifetime opportunity."
Lacy is also in the Delta Sigma Pi business fraternity and recently served in student government as a member of UNO's Freshman Leadership Council.
Fulbright Summer Institutes cover all participant costs and provide participants with a distinctive support and cultural education programme including visa processing, a comprehensive pre-departure orientation, enrichment opportunities in country, a re-entry session and opportunity to join the Fulbright alumni networks.
The Commission selects participants through a rigorous application and interview process. In making these awards, the Commission looks not only for academic excellence but a focused application, a range of extracurricular and community activities, demonstrated ambassadorial skills, a desire to further the Fulbright Programme and a plan to give back to the recipient's home country upon returning.
"As we celebrate the US-UK Fulbright Commission's 70th Anniversary year, we are so proud of what our programs have achieved, the number of Americans and Brits who have benefitted from educational exchange and of the "special relationship" that we continue to renew and strengthen," said Penny Egan, CBE, executive director of the US-UK Fulbright Commission. "The Summer Institutes provide students with a great opportunity to experience the UK higher education system, immerse themselves in British culture, and further develop intercultural understanding between our two countries."
For any media inquiries involving Lacy or UNO, please call UNO University Communications at 402.554.2358 or email unonews@unomaha.edu.
For media inquiries regarding the Fulbright Summer Institute, please contact:

Kirsty Callaghan
Communications Manager and Educational Adviser
0207 498 4020
press@fulbright.org.uk
Amy Moore
Director Awards Programme
0207 498 4016
amy@fulbright.org.uk
About the US-UK Fulbright Commission
The US-UK Fulbright Commission was created by treaty on 22 September 1948 and is part of the Fulbright programme conceived by Senator J William Fulbright in the aftermath of World War II to promote leadership, learning and empathy between nations through educational exchange. It achieves this through its Awards programme for US and UK citizens and through its EducationUSA Advisory Service. The Fulbright Commission offers grants at postgraduate and postdoctoral level for study in any discipline and at any accredited institution in the US and UK, as well as a number of special exchanges programmes for shorter projects or for younger scholars. The Commission's programmes are funded by a range of partners including leading US and UK universities, charities and both governments. For more information visit www.fulbright.org.uk.


About the UK Summer Institutes

Each year, the Commission supports up to 60 US undergraduate students to undertake a demanding academic and cultural summer programmes at leading institutions in the UK. This year we are hosting the following nine Summer Institute programmes at host institutions across the UK: AIFS Summer Institute at Shakespeare's Globe; University of Bristol Summer Institute; University of Exeter Summer Institute; Queen's University Belfast Summer Institute; the University of Westminster Summer Institute; the University of Sussex Summer Institute; the Scotland Summer Institute (at the Glasgow School of Art and the University of Strathclyde); and the Aberystwyth University Summer Institute in Wales. For more information visit http://www.fulbright.org.uk/fulbright-awards/exchanges-to-the-uk/undergraduates.



About the University of Nebraska at Omaha
Located in one of America's best cities to live, work and learn, the University of Nebraska at Omaha (UNO) is Nebraska's premier metropolitan university. With more than 15,000 students enrolled in 200-plus programs of study, UNO is recognized nationally for its online education, graduate education, military friendliness and community engagement efforts. Founded in 1908, UNO has served learners of all backgrounds for more than 100 years and is dedicated to another century of excellence both in the classroom and in the community.
Follow UNO on Facebook, Twitter, Instagram, TikTok, LinkedIn, and YouTube.