Alsafwani Finds Fit in Emergency Management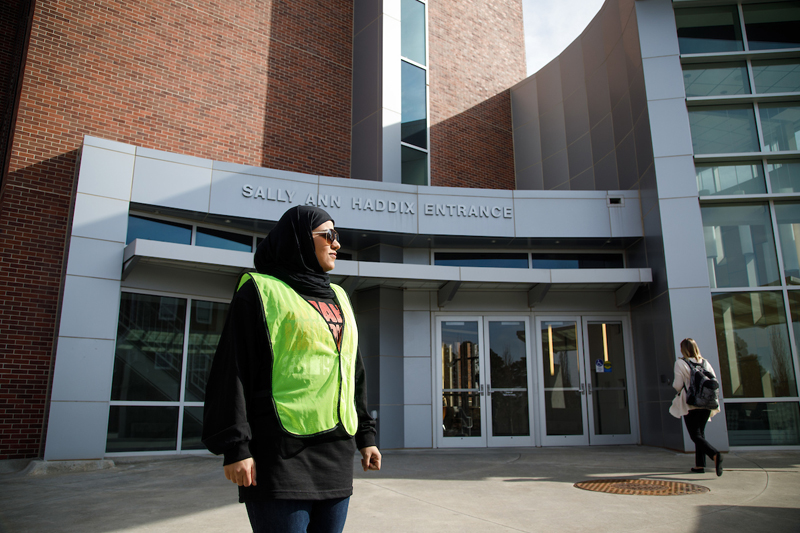 Hameidah Alsafwani stands by to answer questions and monitor activity during a campus severe weather drill.
Switching majors nearly three years into her college career turned out to be a blessing for Hameidah Alsafwani.
She knew she was studying the wrong field, but had no idea which program would be a better fit.
Something made her take notice when a friend mentioned emergency management.
"I think it was a sign," Alsafwani said. "I spent basically all night looking it up, reading about the program at UNO. It just opened my eyes."
She liked that the work involved solving problems and helping people. She thought it was a good fit for her pragmatic personality.
"Having that open mindset of this needed to be done right now, rather than panicking. I've always been this person since I was little and it resonated."
Alsafwani switched majors and decided to take another jump at the same time, signing up for one of the vacant College of Public Affairs and Community Service Student Government representative seats.
Looking back, UNO's '17-'18 Student Body Vice President said she is grateful she decided to get involved.
"There was Hameidah before Student Government and there was Hameidah after. That was the greatest opportunity – the greatest thing I've ever done."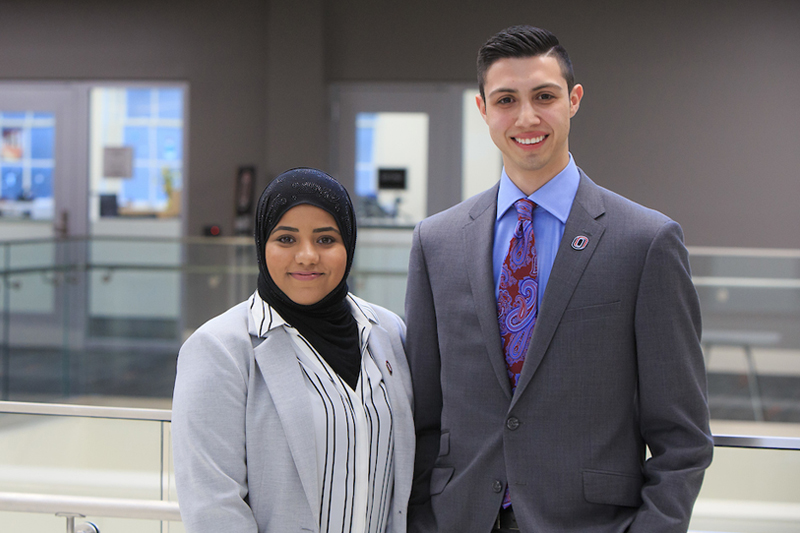 From left: Hameidah Alsafwani, '17-'18 Student Body Vice President, and Carlo Eby, '17-'18 Student Body President - Student Regent
Alsafwani also took on an internship at the Douglas County Emergency Management Agency, where she has assisted with a variety of projects, including coordination of a county-wide siren test.
Eventually, Alsafwani would like to leverage her experience and education to work in international emergency management. Born in Oklahoma and raised in Saudi Arabia, she is fluent in Arabic and English, and is now working on learning Spanish.
Alsafwani is on track to graduate this May, but will be back to pursue a master's degree in Public Administration. After looking at a few universities, she decided she couldn't see herself anywhere but UNO.
"The level of welcome, the level of compassion from every single individual on this campus – everybody just loves being a Maverick. I love being a Maverick."
About the University of Nebraska at Omaha
Located in one of America's best cities to live, work and learn, the University of Nebraska at Omaha (UNO) is Nebraska's premier metropolitan university. With more than 15,000 students enrolled in 200-plus programs of study, UNO is recognized nationally for its online education, graduate education, military friendliness and community engagement efforts. Founded in 1908, UNO has served learners of all backgrounds for more than 100 years and is dedicated to another century of excellence both in the classroom and in the community.
Follow UNO on Facebook, Twitter (X), Instagram, TikTok, LinkedIn, and YouTube.