Mallory Kountze Planetarium Celebrates 30th Year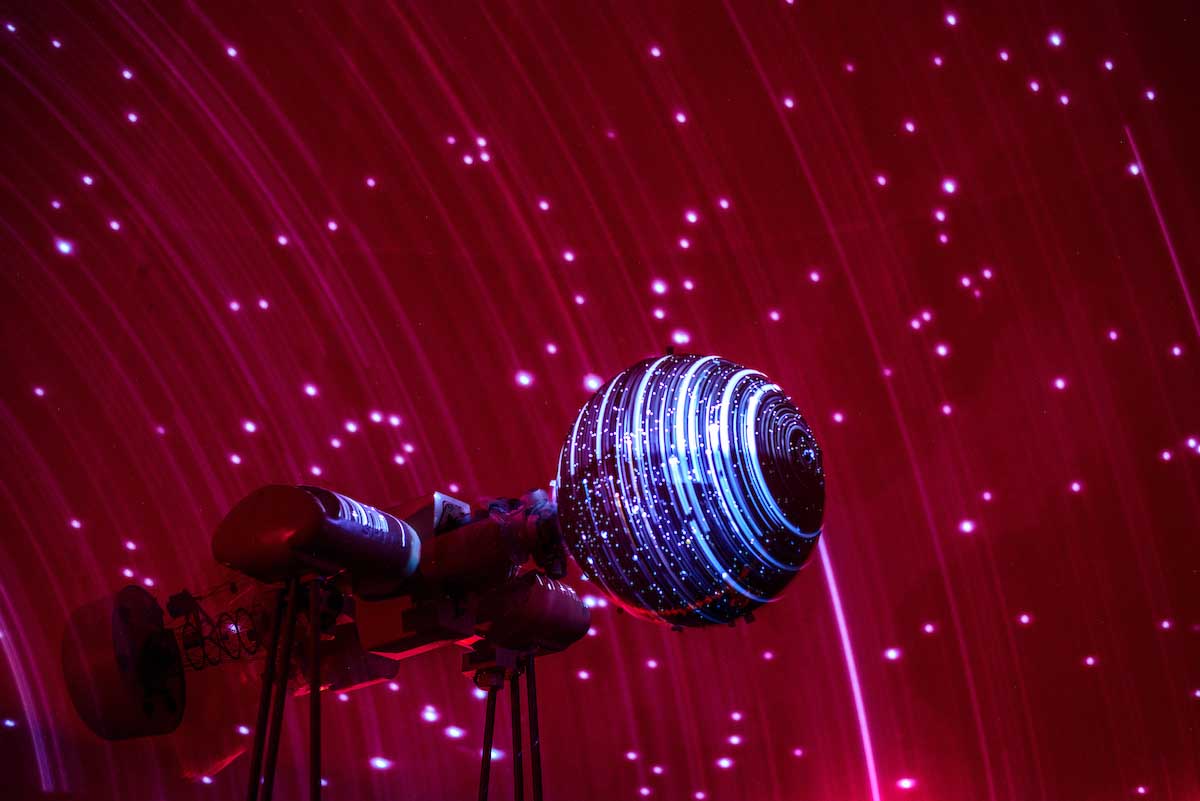 Tucked away in the Durham Science Center since 1988 the Mallory Kountze Planetarium is celebrating its 30th year at UNO. The planetarium has hosted all sorts of events over the years, some of which may surprise you – even including a few wedding proposals.
Krista Testin, director at the planetarium, is doing her part to expand the planetarium's programming to offer a wider array of options for students and the general public alike.
"A lot of people only know it as the place they went to for extra credit for their astronomy class," she said.
The word is getting out, however. This month, the planetarium sold out one of its monthly "What's Up" shows, which shows viewers a current picture of what star formations can currently be seen in the night sky, free of light pollution.
Testin, who owns a degree in space education, can tailor the experience in the planetarium to meet the needs of any group. She hopes this flexibility will lead to increased programming variety and accessibility for other departments to use it on campus.
"With my background and previous experience, I can pretty much 'astronomy' anything," she said.
The monthly "What's Up" shows are the planetarium's bread and butter, attracting astronomy enthusiasts, as well as students from K-12 schools and random Omahans looking for a fun, low-cost activity.
"Astronomy students come in and want to have visuals of their vocabulary words and how the planets move," said Testin. "Trying to explain retrograde motion and showing a little zigzag in a book is OK, but actually seeing it and how it relates to other star motion paints a much clearer picture."
One unique use for the planetarium is when ROTC aviation cadets come in to use the planetarium to learn about longitude and latitude in the night sky.
Private shows, which can be booked for just $75, give Testin a chance to show off the planetariums versatility.
"A lot of people come in and not know what they want, so I work with them," Testin said. "Someone will come in and say, 'I want to know about black holes,' and I'll say, 'This is what I can offer you.'"
As the only publicly-accessible planetarium in Omaha, Testin has seen her fair share of interesting requests. A local artist recently held his album release at the planetarium while a few couples have rented out the planetarium for a private show that ended with marriage proposals. She has also collaborated with other campus units, including working with the UNO Criss Library to host poetry readings and Campus Recreation to host yoga in the planetarium. She hopes work with the UNO School of Art and Art History for a 360-degree art show. There's also been laser light shows.
"I can work with just about any department on campus and do something for them," Testin said.
It's a memorable and unique experience for everyone who attends an event, especially wild and crazy elementary and high school students.
"Even the not-so-well-behaved younger students behave well in the planetarium," Testin said. "They just look up and are in awe."
If you're on a tight budget, there aren't many better options for entertainment.
"It's only $4 (to attend a show)," Testin said. "I can't think of a cheaper date night."
Contact Us
If you have a story idea, news tip, or other question, please email the UNO News team at unonews@unomaha.edu.