Local Students Officially Commissioned As Air Force Officers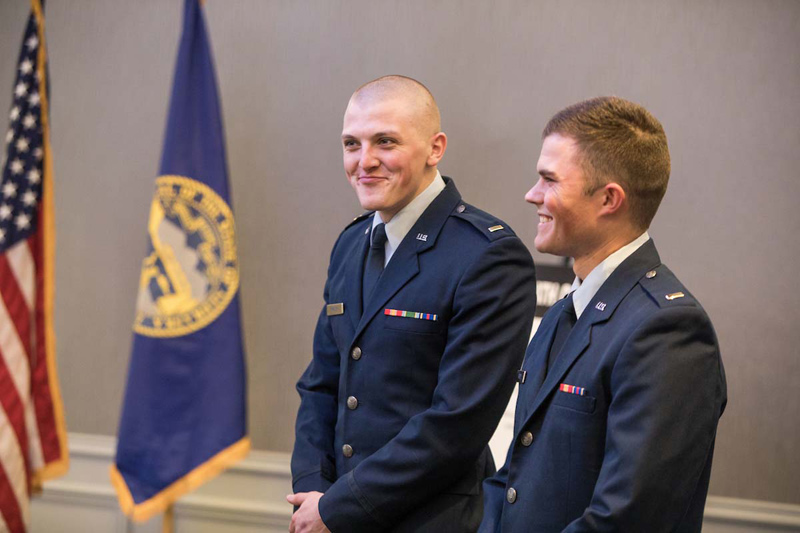 Commencement at Baxter Arena was not the only graduation ceremony that occurred at the University of Nebraska at Omaha (UNO) this December.
Every year, the UNO chapter of the Air Force ROTC commissions students (cadets) into the United States Air Force as second lieutenants (2d Lt.).
This semester, Clarkson College graduate Kalvin Krieser and University of Nebraska-Lincoln engineering major Tyler Reed were officially commissioned. Thanks to a partnership with local colleges, students from across the metro area able to enroll in UNO's Aerospace Studies program and the AFROTC.
Family and friends attended the ceremony along with members of UNO's leadership.
In order to be officially commissioned, cadets must meet established benchmarks in academics, physical fitness and leadership.
"Military is looking for healthy and fit people," said Col. Sean Coveney, chair of the Aerospace Studies Department.
Coveney says it's a tough road becoming a second lieutenant in the Air Force. On top of their academic studies, cadets must meet physical standards and also pass medical tests. If you want to be in the Air Force, you have to be what is called "world-wide deployable," meaning you have to be medically cleared to serve at any one of the Air Force's bases around the globe.
"They're really jumping through some hoops," Coveney said. "It's very competitive.
"We look at leadership, motivation, the ability to uphold the standard, and the results they get when they are assigned a task," he added.
During the ceremony, each new officer is given the Oath of Office, awarded the gold bars of a second lieutenant, and they are presented with a rank insignia by the AFROTC alumni group.
Each new commissioner is also given their commissioning certificate, signifying their official appointment as an officer of the United States and a military challenge coin, welcoming them as airmen in the Air Force.
The U.S. Air Force closely follows ROTC programs around the country so they know how many bodies they will have down they road. Coveney says they start tracking cadets' progress over two years prior to graduation. It's a fairly quick turnaround from ROTC to being active duty.
An added benefit to UNO's AFROTC program is its proximity to Offutt Air Force base. It's a luxury that not all programs have.
There's a group of young officers, called the company grade officer group, who often meets with cadets at UNO and shows them what life is like on the base. Cadets are able to get a first hand look at career opportunities.
"We have a great relationship with Offutt," Coveney said. "The educational benefits of having Offutt down the street is phenomenal."
To read more about UNO's commitment to being a military friendly campus, visit the Office of Military and Veteran Services' webpage.
Contact Us
If you have a story idea, news tip, or other question, please email the UNO News team at unonews@unomaha.edu.