Biomechanics Research Building Will Host Workshop for High Schoolers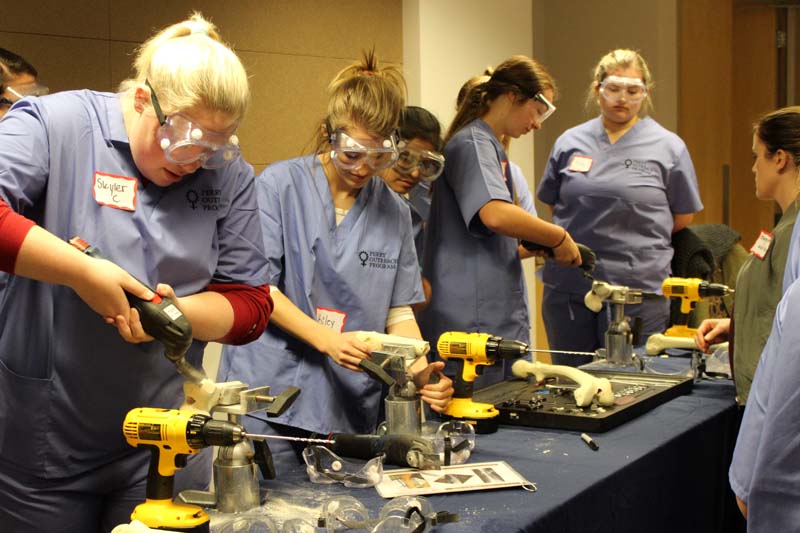 The Perry Initiative is designed to inspire young women to pursue STEM careers in medicine and engineering - two fields where women make up a small fraction of the workforce.
OMAHA – An upcoming event hosted by the University of Nebraska at Omaha (UNO) and University of Nebraska Medical Center (UNMC) will seek to inspire young women to pursue a career in most male-dominated medical field in the country.
On Saturday, Nov. 18, faculty from UNO and UNMC are bringing 40 high school girls from around the region to UNO's Biomechanics Research Building to participate in the Perry Outreach Program, an all-day experience where participants will learn hands-on medical techniques and engineering skills through performing mock surgeries.
According to the Association of American Medical Colleges just five percent of the more than 19,000 orthopedic surgeons in the country are female. In fact, half of the 10 most disproportionate gender distributions in medicine between men and women are in some sort of surgical field.
Additionally, women make up just 13 percent of those with bachelor's degrees in mechanical engineering and only 20 percent of engineering degrees earned in the United States overall.
"This is truly a way to engage young women into the broader STEM fields," explains Amelia Lanier, COBRE (Centers of Biomedical Research Excellence) Outreach Coordinator for UNO. "Our event is part of a national effort that provides opportunities that these girls just aren't going to get otherwise."
The Perry Outreach Program is part of the Perry Initiative, a national effort founded in 2009 in honor of Dr. Jacquelin Perry, one of the first female orthopedic surgeons in the country.Dr. Susan Scherl, professor of orthopedic surgery at UNMC and an orthopedic surgeon at Nebraska Medicine and Children's Hospital and Medical Center, has led the Perry Initiative workshops at UNMC over the last three years. This is the first year the event is being hosted by UNO.
"The day is always fun, but pretty intense," Scherl explains. "There are six surgical modules that the students complete, including suturing, ACL reconstruction, and simple and complex fracture repair with plates and intramedullary nails. It's great to see how engaged they become while performing their operations."
The event, which is free to participate in for students, will feature surgical modules broken up into morning and afternoon sessions prefaced by presentations made by Lanier and Scherl. Students will have the opportunity to do everything from learning to suture using pigs' feet or performing a knee arthroscopy on replicas of human bones.
As part of the event, participants will receive their own scrubs to wear and take home, as well as a certificate of completion.
Biomechanics professors and graduate students from UNO, as well as volunteer clinicians from UNMC, will also help guide the participants through their surgeries.
"It is a fun filled educational day of speakers and hands on modules where the girls get to use saws, drills, screws and get a glimpse into what orthopaedic surgery is like," says Dr. Maegen Wallace, an assistant professor of orthopedic surgery at UNMC; surgeon at Nebraska Medicine and Children's Hospital and Medical Center; and Perry Initiative volunteer. "This will be my third year participating. Each year has been a fun experience for me and the participants."
About the University of Nebraska at Omaha
Located in one of America's best cities to live, work and learn, the University of Nebraska at Omaha (UNO) is Nebraska's premier metropolitan university. With more than 15,000 students enrolled in 200-plus programs of study, UNO is recognized nationally for its online education, graduate education, military friendliness and community engagement efforts. Founded in 1908, UNO has served learners of all backgrounds for more than 100 years and is dedicated to another century of excellence both in the classroom and in the community.
Follow UNO on Facebook, Twitter, Instagram, TikTok, LinkedIn, and YouTube.