ISSUED: (Thursday, February 22, 2018 14:05 PM)
WEATHER ANNOUNCEMENT:
All on-campus classes and activities after 3 P.M. have been canceled on Thursday, Feb. 22, 2018.
More Information
CLOSE

X
Shirley and Leonard Goldstein Lecture on Human Rights
Championing Human Rights Around the World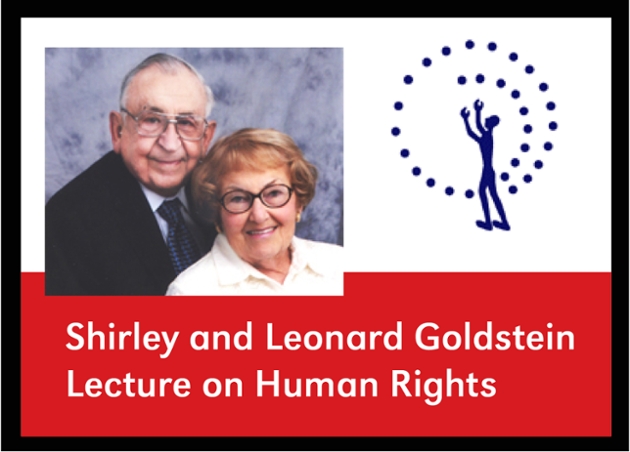 ---
2018

Flier
Eddie S. Glaude, Jr., Princeton University
---
---
2016
Different Kinds Of Minds Contribute to Society
Temple Grandin
---
2015
Rights and Resources: Understanding Contemporary Challenges to Human Rights in Central America
Angelina Snodgrass Godoy 
---
2014
Human Rights and the Rights of Nature in an Era of Climate, Energy, Food and Water Crises
Winona LaDuke
---
2013
What Makes a Family? Is Same Sex Marriage a Human Right?
Zach Wahls
---
2011
The Black Swan of the Middle East
Sarah Leah Whitson, Executive Director, Middle East and North Africa Division Human Rights Watch
---
2010
Are Human Rights Organizations Helping or Hurting Relations between Israel, Palestine and the Arabs?
Robert L. Bernstein, Publisher and Human Rights Activist
---
2009 
Hope for Darfur
Brian Steidle, former Marine Captain and executive director of HOPE (Helping Other People Everywhere)


---
2008
An Evening with Minky Worden
Minky Worden, Media Director Human Rights Watch 


---
2007
An Evening with Natan Sharansky 
Natan Sharansky, Chairman of the Institute for Strategic Studies, The Shalem Center 

---
2006
Human Rights in Development Competing Claims and Economic Empowerment
Stephen P. Marks, Francois-Xavier Bagnoud Professor of Health and Human Rights 
Harvard School of Public Health and Visiting Professor, School of Law City University of Hong Kong

---
2005
Genocide Emergency Sudan: Who will survive today?
Jerry Fowler, J.D. Staff Director Committee on Conscience, United States Holocaust Memorial Museum

---
2004
Human Rights: Morality versus Power 
David Chandler, Senior Lecturer Centre for the Study of Democracy University of Westminster, London 

---
2003
Tainted Legacy: 9/11 and the Ruin of Human Rights 
Dr. William Schulz, Executive Director, Amnesty International

---
2002
Easy Targets: Children and Human Rights 
Jo Becker, Children's Rights Division Advocacy Director Human Rights Watch


---
2001
China's Great Leap: What Olympic Legacy for Human Rights in China?
Lashawn R. Jefferson, Director of the Women's Rights Division, Human Rights Watch


---
2000
An Evening with Kenneth Roth
Kenneth Roth, Executive Director Human Rights Watch 


---
1999
On the tenth anniversary of the crackdown at Tiananmen Square
Xiao Qiang, Champion of Democracy 


Our Campus. Otherwise Known as Omaha.
The University of Nebraska does not discriminate based on race, color, ethnicity, national origin, sex, pregnancy, sexual orientation, gender identity, religion, disability, age, genetic information, veteran status, marital status, and/or political affiliation in its programs, activities, or employment. Learn more about Equity, Access and Diversity.
scroll to top of page