Haunted Heartland Brings Spooks, Success
Listen to MavRadio's Haunted Heartland show Tuesday, Oct. 31 at 6 p.m. on MavRadio.fm, KVNO 90.7 HD2, or the apps TuneIn or RadioFX.
published: 2017/10/27
contact: Charley Reed and Nolan Searl - University Communications
email: unonews@unomaha.edu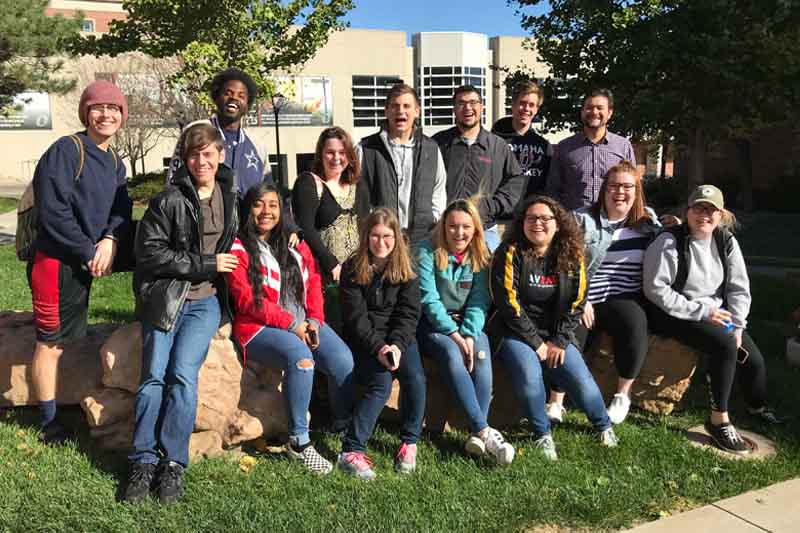 Ghosts. Goblins. Grade-A entertainment.
Halloween may only come once a year, but for the students involved with MavRadio, the entire fall semester is a lead up to one of the group's biggest productions of the year: Haunted Heartland.
"Everyone in MavRadio knows what Haunted Heartland is and what it's about and I would argue it's probably the pinnacle of what MavRadio is today," explains Lyle Kwiatkowski, a senior and one of the hosts for this year's Haunted Heartland production.
Students in Jodeane Brownlee's Radio II class have put on the live, three-hour, Halloween-themed show since 2012. Initially, it was meant as a one-time project, but it has since grown into a staple program for the student-run radio station.
"I was teaching Radio II for a few semesters prior and was trying to find a way to incorporate some kind of live broadcast," Brownlee, an instructor for the UNO School of Communication and MavRadio's advisor, said. "I threw out the idea of what became Haunted Heartland. The first group named it and I liked it so it stuck, but the idea was to go out and do a package and then where the story was that's where you would do your live remote."
I would argue it's probably the pinnacle of what MavRadio is today."
- Lyle Kwiatkowski
In Haunted Heartland's first year, five students participated, producing shows on everything from Ouija Boards to unsolved murders. Since then, the production has expanded to include 14 students this year and has even led to national student broadcasting awards for those participating.
Brownlee says Haunted Heartland is a unique experience for the students because the format is not something commercial stations are able to dedicate the time or resources to.
"That's where we have the benefit of being nonprofit and educational. We can take some more risks that a commercial station really can't do."
This is the first year in the history of Haunted Heartland that they will broadcast live on Halloween itself. In previous years, due to the dates that Halloween has fallen on, they've aired the show earlier and then re-aired the broadcast.
Following the live broadcast, which can be heard on mavradio.fm or KVNO 90.7 HD2, the broadcast will re-air on Wednesday, Nov. 1, and then be uploaded to the MavRadio website as a podcast.
Kwiatkowski, who will be joined as host this year by fellow seniors Zachary Padilla and D.K. Kellum, hopes this year will be extra special.
"Coming in as the new host you always want to be better than the last host and so you try and listen for the traits that have been really successful with the past shows," he says. "A lot of previous hosts have been more serious and on the spooky side - they tried to keep it in character - but me and DK and Zach, we've kind of pitched it to [Brownlee] that we want to keep it lighthearted and funny this year so people can listen in and have a few laughs but also be scared."
While members of MavRadio are heavily involved in the production aspect of Haunted Heartland each year, it is the students in Radio II who make up the bulk of the production. Not only do the students produce the stories ahead of time, but they will be live, on site, that evening to provide additional information to the hosts.
Just some of the stories that will be included on this year's broadcast include a history of the Mexican holiday Dia de los Muertos, a feature on the Spirit Halloween store chain, the day-to-day lives of morticians and how there is a phobia for pretty much anything.
As part of these stories, Kwiatkowski says experts from across UNO and the Omaha metro were consulted to provide expert knowledge and advice on each topic.
One expert is, Dr. Justin Weeks, a clinical psychologist at UNMC and Nebraska Medicine whose expertise is in anxiety disorders and phobias. Having recently been interviewed by the Omaha World-Herald on people's fear of Friday the 13th, Weeks says the experience students get through programs like Haunted Heartland are extremely important.
"Hands-on experience is one of the best methods for learning, and is crucial to a well-rounded training experience – across all fields."
Brownlee agrees.
"For the students, not only is it informative, and they do some investigation and they enterprise their own stories, but it gives them the camaraderie, team work and practical experience to go live. That's really what you need, I think, as a radio student."
In addition to their stories, the students have also worked on the music that will accompany the stories, commercials, promotions for Haunted Heartland and any other element needed to put together a live radio show.
In all, Kwiatkowski says the whole experience, from beginning to end, is a team effort and requires a professional level of dedication, attention to detail and support from the UNO and Omaha communities – all elements he says will shine through when the broadcast airs on Halloween.
"That personal touch really speaks to the people of MavRadio and the students who put a lot of work into these pieces to make them the best they can be so they can eventually submit them to contests and really feel like they really made an impact in the Omaha community."
Recent Grad Makes The Most Of Haunted Heartland Experience
Haunted Heartland does a lot more than spook thrill seekers on their favorite holiday. It's a chance for UNO students to try their hand at reporting and producing something of their own.
Spring 2017 UNO graduate Andy Prescott used Haunted Heartland as a way to get some voiceover experience on the radio. An actor and theater major, Prescott wanted to prove he was a capable storyteller as well.
After winning a 2017 Award for Excellence for his story "The Haunting of O'Connor's Pub," from the Broadcast Education Association's National Festival of Media Arts Awards, he has certainly proved himself as more than capable.
Unbeknownst to him, Mav Radio advisor Jodeanne Brownlee submitted his story to the awards.
"I didn't even see it coming," Prescott said.
He had heard claims of O'Connor's Pub in Omaha's Old Market being haunted. His instinctive investigative reporting skills soon kicked in, and he looked into it.
Prescott teamed up with local ghost hunting organization Prism to look into the claims of spirits at the Irish pub.
While he did not experience any supernatural occurrences himself, he believes there is something eerie in the works.
"(Some) people serve as a catalyst," he said.
After interviewing several people at the bar, he concluded that some people were more susceptible to supernatural experiences than others.
"Everyone had a genuine interest in sharing their stories," he added. "Nothing seemed fabricated or stretched out."
Although it was fun to be on the scene and reporting on a local urban legend, Prescott's favorite part of Haunted Heartland was collaborating with his classmates on their stories.
"I love brainstorming and serving as a producer," Prescott said. "(Our class) worked as a collaborative unit and pushed our stories forward.
"It was fun to help with the others stories. It's not always about you, you're part of a cog."
As he works towards his master's in acting at the University of Florida in Gainesville, he'll look back on his experience with Haunted Heartland and Mav Radio with fond memories.
"It was a lot of fun, it really brought our class together."
Contact Us
If you have a story idea, news tip, or other question, please email the UNO News team at unonews@unomaha.edu.