Ticket Information for Curling Night in America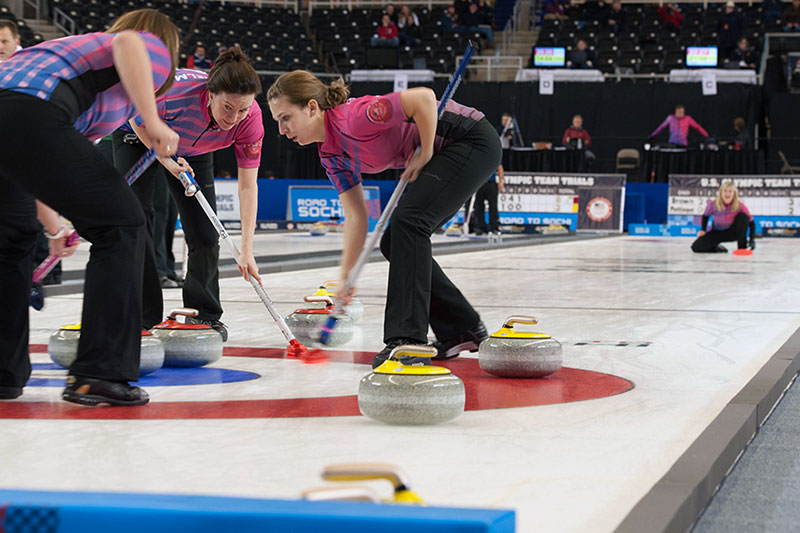 You don't have to wait until the 2018 US Olympic Trials to get your curling fix. Some of the top teams in the world will be at Baxter Arena this week to participate in NBC Sport's "Curling Night in America."
Learn all you need to know with helpful information provided below.
Ticket Information
The competition, which runs Thursday, Aug. 24, through Saturday, Aug. 26, will feature three American teams taking on China, Japan and Scotland in team and mixed-doubles competition. The best part: UNO staff, faculty and students can get in for free.
Each date will have three sessions each for a total of nine sessions. The sessions take place at 9 A.M., 2 P.M. and 7 P.M. Students, faculty, and staff who present a valid MavCARD at the Baxter Arena Box Office will receive one (1) free ticket per session. This offer is only valid for one (1) ticket per session and can be individually redeemed for all nine sessions.
UNMC students, faculty and staff are also eligible for free session tickets with their UNMC ID.
Additional tickets can be purchased through any Ticketmaster outlet nationwide or online at ticketmaster.com. Tickets can also be purchased at Baxter Arena or by calling 800.745.3000. Box office hours are Monday through Friday, from 10 A.M. to 4 P.M. with extended hours Aug. 24-26 from 8 A.M. to 8:30 P.M. All tickets will be general admission.
All-session ticket packages are $23 for adults and $13 for youth. All-session tickets are transferable between family and friends. Day passes are $11 for adults and $8 for youth. Single session tickets are $8 for adults and $6 for youth. Youth tickets may only be purchased in person at Baxter Arena.
U.S. Olympic Curling Trials
Last summer it was announced that Omaha and Baxter Arena would host the 2018 U.S. Olympic Team Trials for curling.
From Saturday, Nov. 11, through Saturday, Nov. 18, some of the nation's finest athletes will compete for a chance to go to the 2018 Olympic Winter Games in Pyeongchang, South Korea.
Tickets are currently available on Ticketmaster.com.
UNO is proud to be the Education Sponsor of both Curling Night in America and the Olympic Team Trials for Curling.
Curling 101
Do you know what a skip is? A hack? Skip-and-roll? If not, no big deal. This glossary from NBC Olympics explains all of the curling basics. Be sure to take a look before you head to the bonspiel (curling match).
History of Curling in Omaha
The beginnings of curling in Omaha began in 1960 at the old Ak-Sar-Ben Race Track location inside the hockey rink and a couple years later, inside the old 4H Barn during the winter. In 2000, the track and barn were closed and curling in Omaha is now done at UNO's Baxter Arena on the Holland Community Ice.
Read the full story of Omaha's curling legacy
Contact Us
If you have a story idea, news tip, or other question, please email the UNO News team at unonews@unomaha.edu.