Curl Up With a Story of Curling's Historical Ties to UNO, Omaha
What many might not know is that Omaha's standing as a long-time national leader in the sport of curling dates back decades. The same sport UNO's Baxter Arena is hosting this November for the as teams face off to compete in the 2022 Winter Olympics.
When people think Omaha sports, they may think of a few big events like the College World Series and the Olympic Swim Trials, minor league teams, or Omaha Mavericks Hockey.
But what many might not know about is Omaha's standing as a long-time national leader in the sport of curling.
Yes, curling. The same sport UNO's Baxter Arena is currently hosting with the United States Olympic Curling Trials.
Many people see it as an odd thing, or peculiar hobby taking place at Baxter Arena's Holland Community Ice on the weekends. But, make no mistake, curling has been in Omaha and even thrived for four decades from 1960 to 2000.
And it's also pretty easy to see why Omaha and UNO's Baxter Arena were once again chosen for the Olympic Curling Trials, given the arena's location and alumni connections to UNO.
"The old curling club had a storage room where we kept supplies used in the annual setup process," said Chad Roza, who is now helping with the junior program and passing the game down to his young children. "One of the items in the room was a wooden 'Omaha University' trunk."
The beginnings of the club are now a bit blurry as no permanent home for all of the club's gear, equipment, trophies, and archives has existed since 2000. But hidden in garages and basements around Omaha are the stories and pictures of four decades of Omaha curling - all on today's Scott Campus and in the Aksarben Village area.
Halfway between Pacific and Center Streets sat the 4-H Barn. The barn adjacent to the hockey arena was home to cows, pigs and other livestock by summer. But come October, it was curling season.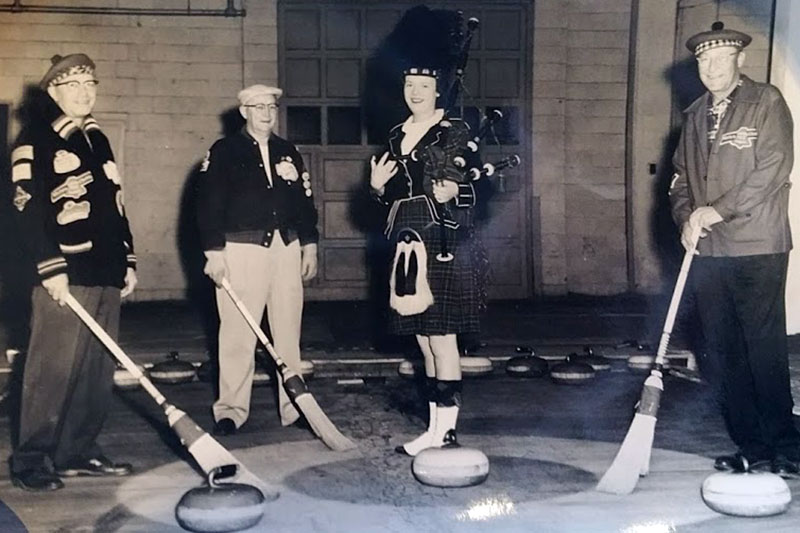 "Every single year they'd put up the walls and we'd go in there with a firehose and clean it all up and paint the walls," said Doug Jaixen, UNO alum, former president of the curling club and long-time curler who has a few books, stones, and other club materials at his home in Bellevue. "There'd be dirt, hay, (manure) and everything else, and we'd spray it all out and clean it up to lay down water after we'd paint the lines and rings on the floor."
That was an Aksarben Curling Club tradition beginning in 1960. A man by the name of Darwin (Dar) Curtis from the Chicago Curling Club approached Jake Isaacson, general manager of the Ak-Sar-Ben Race Track, to put the sport of curling on the map in Omaha. Remember that name, "Dar Curtis." Pro hockey had stopped in 1951 as the Omaha Knights hadn't restarted until the following year in 1959. Isaacson and a handful of Omahans started curling on the hockey ice in the Ak-Sar-Ben Coliseum to fill empty ice slots, before work was done to bring in some pipes to freeze ice next door at the 4H barn on two small sheets of curling ice. The barn used to be a fire station, Jaixen said.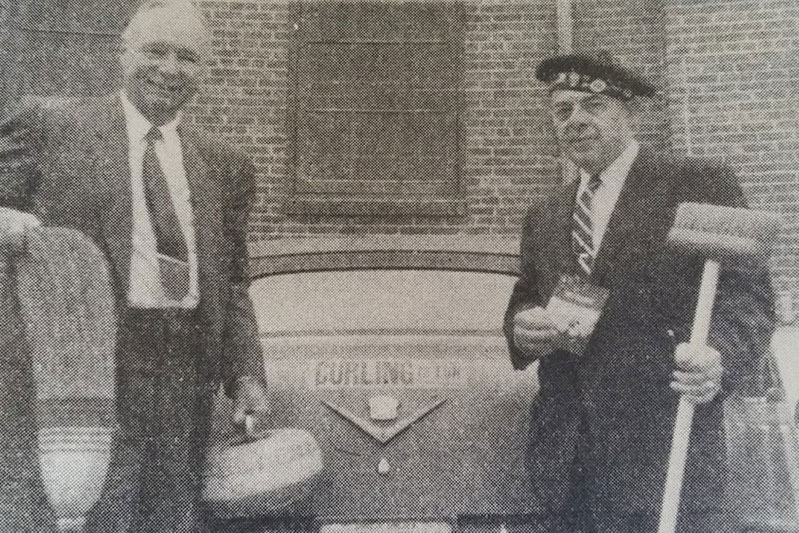 "The rumor was the guy who ran General Electric in town was from Minnesota," Jaxien tried to remember back to oral traditions passed along decades ago in Omaha. This meant the man had knowledge of the game, which was mostly popular in pockets of Minnesota and Wisconsin, and put up some cash and convinced workers to try the sport.
Even as early as 1963, UNO, known then as Omaha University, was involved in the club. An article in the Gateway noted Bert Kurth, who founded the UNO intramural program, was bringing curlers down to the rink for decades, right up until the rink closed in 2000. Kurth retired in 1980, according to the Gateway, but his legacy lives on to this day. Twenty-four fraternities are listed in the standings of a second season, back in a 1966 Gateway article.
Kurth's name is also found all over the scrapbooks Jaixen has that highlights bonspiels (tournaments) and league nights from 1960 to 1980. It was the 1980s and 1990s where today's club members, remember the beginnings and almost the end of the club.
"We had an incredible junior program pretty much because of Jim (Jordan) and my mom," Jaixen said. "Every Saturday there'd be two full sessions of under 12s and over 12s.
They'd cook a ton of hot dogs and bring hot chocolate and sell them for 25 or 50 cents."
Jim Jordan's sons, Scott, Kevin, and Patrick, all curled with other kids like the Jaixens, Bechers, and Rozas, just to name a few. Everyone has their story of how they got into the game back then.
"My parents worked for First National Bank and every year the department they were in did something different that wasn't the usual thing as a work outing," Jaixen said. "One year they tried curling and were hooked. They quit their bowling league and curled from then on."
This got Jaixen and his brother Steve, interested in the game. They still curl to this day. However, the members now curl at Baxter Arena. Without the dedicated curling ice, it's more difficult to build a culture like they had back then. Baxter's Holland Community Ice is providing that temporary location to reinvigorate the club.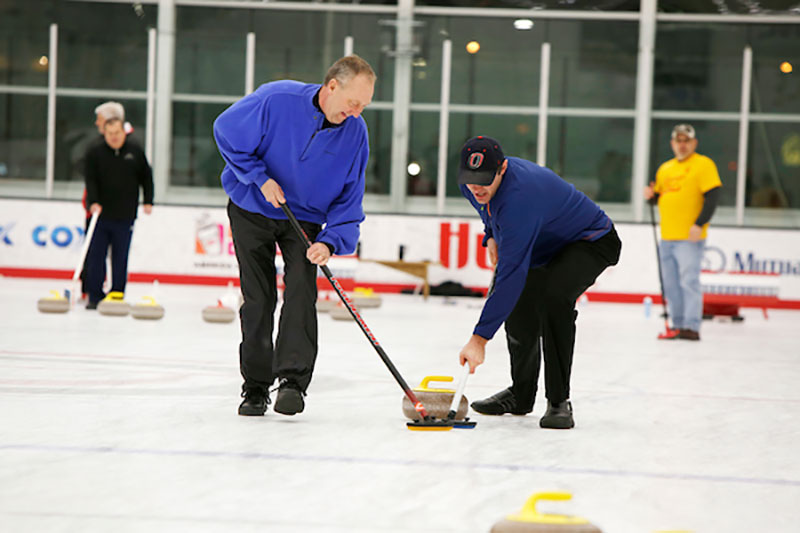 "I started when I was 12, which was actually pretty old for the club. We had a lot of younger kids. But everyone would just start by doing the waddle waddle flop," Jaxien said, referencing a term of little kids pushing the stone down the ice and falling down before they push it. "Just go push the rock down the ice. It doesn't matter how, just go have fun. Then as they got older, they would get more into the strategy."
Saturdays were just one of many full days at the rink. Curling was every day at the old barn.
Monday was women's night with two draws. Tuesday and Wednesday were men's nights with two and three draws each. Thursday was competitive night while Friday was mixed night (two men and two women). Saturday night after juniors, the club was open for practice or games.
"Sunday was the most sought after mixed league," Jaixen recalled. "They would curl from 8 a.m. to 6 p.m. Don Johnson was a cook at Trackside (now Tracks) and they'd bring in food and everything and everyone would be there all day."
I had a key, we'd practice five times a week and curl in league nights two or three times. We weren't from Minnesota or North Dakota where they could bonspiel (go to tournaments) every weekend. We had to practice and compete against ourselves or the men. It made us better. It made us really good to practice that much.
- Doug Jaixen
This jam-packed schedule meant teams, especially the young ones, started to get good.
"I had a key: we'd practice five times a week and curl in league nights two or three times," Jaixen said. "We weren't from Minnesota or North Dakota where they could bonspiel (go to tournaments) every weekend.
We had to practice and compete against ourselves or the men. It made us better. It made us really good to practice that much."
This practice and local competition sprung the kids of Omaha to national championship caliber. In 1996, a women's junior team won a national championship and went to World's in Red Deer, Alberta, Canada. Then, in 1998, 1999 and 2001, the men's junior team won and went on to win bronze twice at world juniors, skipped by Chad's brother Andy Roza. The women's team made it to world championship's in 2000, and finished sixth.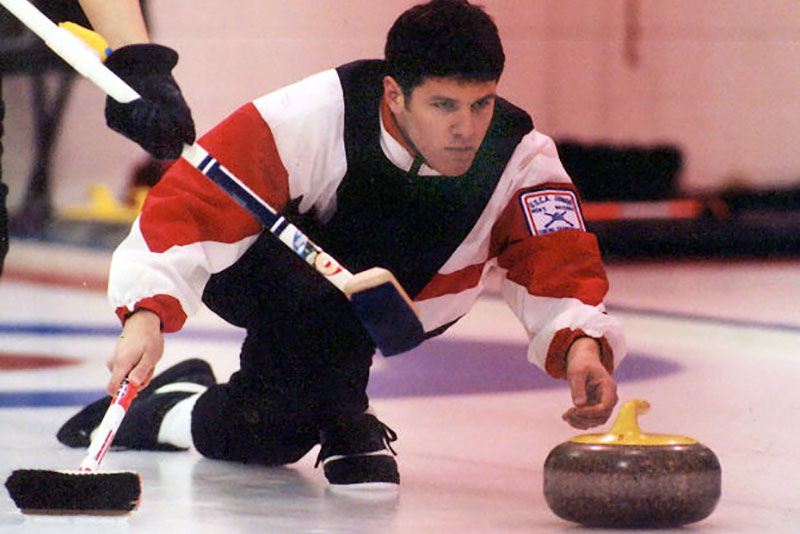 Omaha had some of the best young, up-and-coming curlers in the country.
"I was the silver medal king," Jaixen joked of his younger brother Steve who played on those successful men's junior teams. "We paved the way and they rode our coattails."
As curling was approved for an official medal sport in the Winter Olympics in 1998, teams competed at the pre-trials. They were young, and they lost, but they were on their way to someday potentially representing Omaha and the country at the Olympics.
But then, the rink in the old 4-H Barn was gone.
Many different reasons led to the end of the rink. The Ak-Sar-Ben Race Track had stopped racing and land was being sold off. The operation of the barn and utilities ended. Comfortable with the setup and leasing, the club never made alternate plans in time to find a new permanent location. It's led to 17 years of finding hockey ice to curl on to keep it going.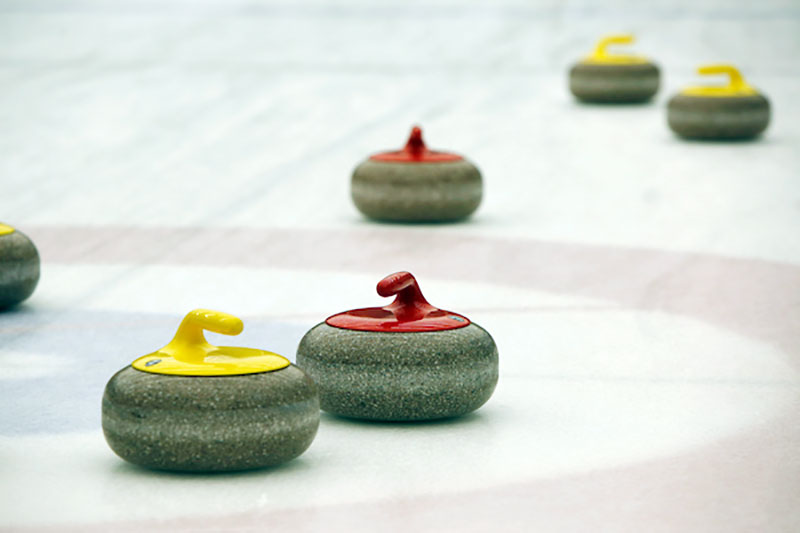 Jaixen said, despite the cost of ice, and losing some of the long-time members, getting new curlers in the long-run will help find dedicated ice again. Today, he's no longer president but he is happy more than 200 members are curling full-time, and the club has more than 700 on their mailing list. It's also an official 501c3 and can accept donations online as it pairs the Olympic Trials event with asking for money to build or partner with a facility or group.
"The club is now filling the maximum available arena ice each season, which is great, but unfortunately, that means that the club can no longer continue to grow," said Aksarben Curling Club president Steve Taylor. "We (have to) transition to a dedicated facility to provide more people in Omaha an opportunity to curl over the coming years, especially underrepresented groups like juniors, college, seniors, and those in wheelchairs.
Taylor said that's what makes the game so great -- it's for everyone. And with more than 200 members this year, the maximum it had over its 40 years at the Ak-Sar-Ben 4-H Barn, with a little bit of help and the Olympics coming up, there may soon be a new home for the recreational bonspieler and elite athlete.
And as fun as it was being hooked up to the hockey ice, Taylor, Jaixen, Rosa and all the members know a dedicated ice compressor would make a world of difference, too.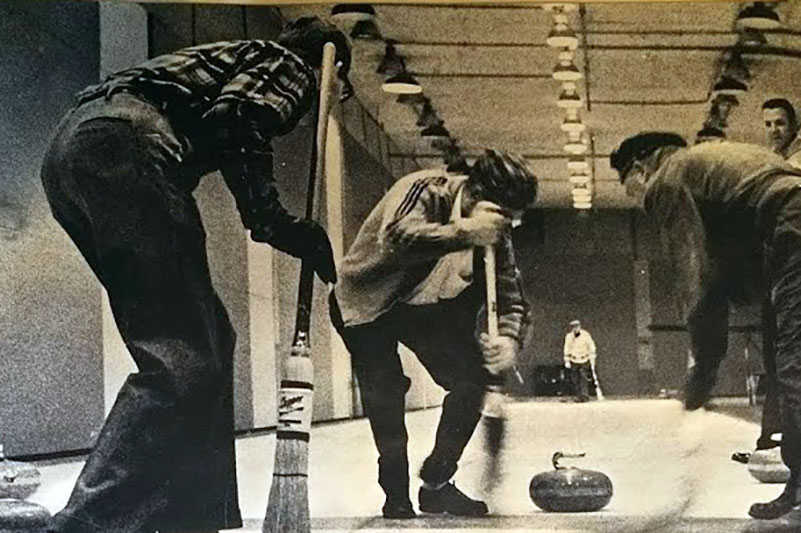 "You knew based on who the hockey team was playing next door how the ice would be," Jaixen recalled of the Ak-Sar-Ben days. "If they were playing a slow team, the ice temperature went down, which for curling meant the ice would be slower. If they were playing a fast team, the ice would be warmer, and curling ice would get faster.
"You'd be out there and see the temperature guage start to go whoop, and you knew you were in for a whacky finish."
Luckily for the Olympic hopefuls, the ice is pristine at Baxter Arena and as more people locally get familiar with the game, perhaps Omahans will once again be known for their curling legacy.
Contact Us
If you have a story idea, news tip, or other question, please email the UNO News team at unonews@unomaha.edu.