UNO Aviation Students Soar to Success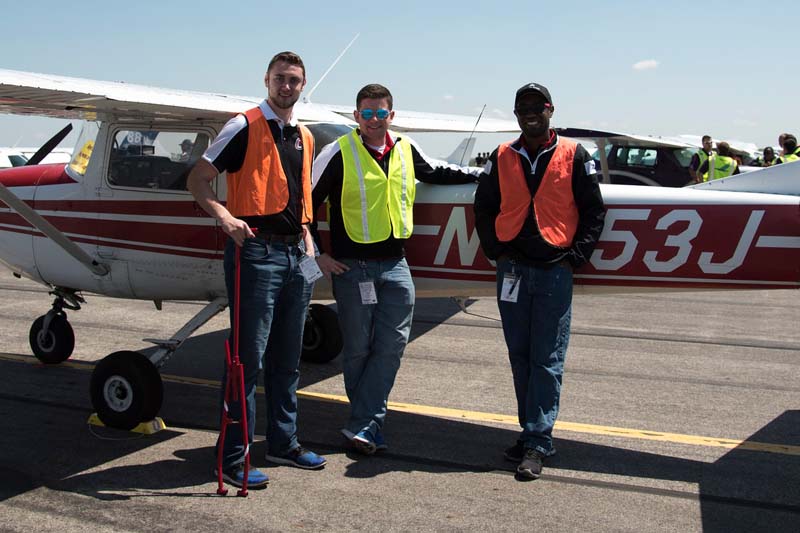 OMAHA – Aviation students from the University of Nebraska at Omaha (UNO) took to the skies recently and proved that they are among the nation's top competitive collegiate teams, finishing among the top 15 programs in the country.
UNO's Flying Mavs, who placed No. 15 overall, were one of three teams representing the Midwest at the National Intercollegiate Flying Association (NIFA) national championships and the only from the state of Nebraska. Last October, the team finished second in their region to advance to the national competition.
The competition, which took place at the annual Safety and Flight Evaluation Conference (SAFECON), began on Tuesday, May 9, and went through Sunday, May 14, in Columbus, Ohio at the The Ohio State University, which hosted the event.
UNO was also awarded the Collegiate Aviation Progress Award as the most improved team from the previous year and were ranked No. 10 in competition for the Judges Trophy, which bases scoring on competitor achievement relative to the number of contestants in the field, rather than overall point totals.
Events included both on-the-ground and in-the-air skills tests in categories like preflight aircraft inspection, liftoff, landing and aircraft knowledge.
Overall, UNO placed 10th in the Ground Events category and 17th in the Flight Events category.
Several individual Flying Mav competitors also placed highly in their respective events, including Phillip Wier and Austin Naylor, who finished fourth in the Message Drop category; Brandon Perkins, who finished ninth in Aircraft Preflight Inspection; Adam Recker who finished 10th in the Instrument Simulated Flight competition and finished 12th in the Ground Trainer competition; and Keaton Stengel, who finished 15th in the Ground Trainer category.
Perkins was also recognized as UNO's "Outstanding Team Member" in the competition.
"I am extremely pleased with how the team performed this year," said Scott Vlasek, coach of the Flying Mavs.
"We made significant strides and the fact that we ended up 10th in the Judges Trophy and won the Collegiate Aviation Progress Award reflects that. The team is on a positive trajectory and I am excited to see what 2017-2018 holds for the Flying Mavs."
This was the eighth consecutive year that UNO has advanced from the regional competition to the national championships.
Next the Flying Mavs will host the 2017 Regional SAFECON from October 16 to 20, 2017. Collegiate programs from across the Midwest will compete for three bids to the National SAFECON in 2018, which will be held at Indiana State University in Terra Haute, IN.
In 2012, UNO's Aviation Institute received the Loening Trophy as the top collegiate aviation program in the country. In 2014, Scott Vlasek, aviation instructor and Flying Mavs coach, received the Top Coach award at SAFECON.
A full list of results can be found on the SAFECON website.
Contact Us
If you have a story idea, news tip, or other question, please email the UNO News team at unonews@unomaha.edu.